Fondation Bertarellis $9 million gift aims to unravel complexities of the human brain
Fondation Bertarelli's $9 million gift aims to unravel complexities of the human brain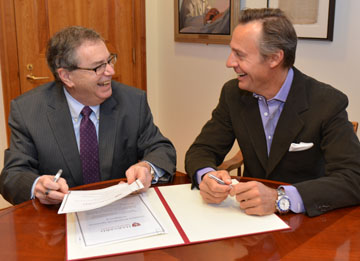 Helen Keller, AB 1904, said, "Alone we can do so little; together we can do so much."
This is particularly true in the fields of science and medicine, where collaboration is critical to understanding disease, solving medical mysteries, and improving and saving people's lives.
Driven by the power of scientific teamwork, Fondation Bertarelli has given $6 million to expand the Bertarelli Program in Translational Neuroscience and Neuroengineering at Harvard Medical School and the École Polytechnique Fédérale de Lausanne, Switzerland (EPFL). A second gift of $3 million establishes the Bertarelli Catalyst Fund for the Dean of HMS, with the goal of enabling key research opportunities at the School.
Launched in 2010 with an initial $9 million gift, the Bertarelli Program established partnerships between scientists, engineers, clinicians, and students at HMS and the EPFL—one of the premier European schools of engineering and science—to accelerate the translation of basic biomedical developments into improved health for people with neurological disorders. This new investment will continue to inspire neuroengineering advances by bringing basic and clinical investigators together with experts in device design for sensory and other neurologic systems. It also will create new and broader opportunities for innovation.
"The strength of the program is in what it achieves as a whole—facilitating and encouraging scientists and medics from wholly different disciplines, backgrounds, and locations to work together," says Ernesto Bertarelli, MBA '93, co-president of the foundation with his sister, Dona Bertarelli, and a member of the HMS Board of Fellows.
"I look, for example, at the work being done on paralysis and hearing problems, and I am heartened and excited by the fact that we have different research programs, from the two universities, working together and combining specialties, all with a common goal. It is how science should be, I believe," says Bertarelli.
Beyond the Sum of Its Parts
What is neuroengineering? According to David Corey, PhD, professor of neurobiology at HMS and director of the Bertarelli Program at HMS, answering this question was one of the primary considerations in designing the program. "It combines engineering, neurology, and neuroscience, yet it becomes more than the sum of its parts by focusing on new solutions for neurological and psychiatric disorders and seeking neuroscience knowledge that will be useful for patient care immediately rather than down the road. In just two years, it is clear the program is delivering on that vision," he says.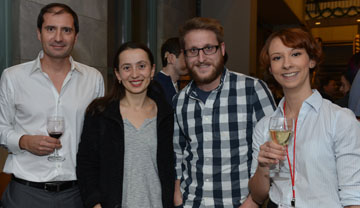 From multi-photon imaging microendoscopes that can diagnose hearing loss in the cochlea to robotic and molecular methods that can help restore function after paralysis due to spinal cord injury, the third annual Bertarelli Symposium highlighted the kind of collaborative, pioneering advances the program's creators intended to stimulate.
It also highlighted initial findings from the first six research grants awarded through the Bertarelli Program. In following these projects, former Dean Jeffrey S. Flier, MD, says he has been incredibly impressed with the way investigators from very different disciplines have united to solve clinical problems in imaginative ways.
"They are using the best basic science from their respective fields to accomplish what none could have done on their own," explains Flier. "We are delighted at the continued generosity of the Bertarelli Foundation. This type of forward-thinking support is exactly what's needed to help us continue to unravel the profound complexities of the human brain."

Through this campaign, we will address the greatest health care challenges of our time to help people live longer, healthier lives. Learn more »
The Benefactor
Partners in Education, Discovery, Service, and Leadership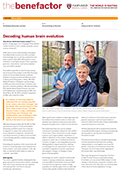 Download and read archived issues of our bi-annual publication to honor and acknowledge our most generous friends and supporters.