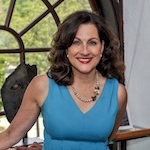 Senior Advisor to the Dean for External Relations and Issues Management
Gina Vild is senior advisor to the Dean for External Relations and Issues Management. In this role she serves as the strategic partner to Dean George Q. Daley in promoting HMS as a force for good—promoting positive social change, addressing health disparities and inequalities and elevating HMS' impact in the world.
Prior to this she served as the associate dean and chief communications officer for the Office of Communications and External Relations at HMS for 11 years. In this role, she and her team supported the School's mission as a world leader in biomedical research and medical education, and as a thought leader that informed health care and global health policy with a focus on enhancing public confidence in the scientific enterprise. She was responsible for the overall communications strategy that ensured the School proactively contributed to national and international discussions about biomedicine and medical education. She also managed internal communications initiatives for HMS's nearly 12,000 faculty, as well as for students and staff.
Gina has more than 25 years' experience in communications, strategic planning, government relations and marketing. Before joining HMS, Gina served as director of marketing and communications for cancer and women's health at Massachusetts General Hospital, and as director of communications for Dana–Farber Cancer Institute and the Jimmy Fund. She has also worked for the Massachusetts Institute of Technology (MIT) and in state and local government, including having served as deputy communications director for Ohio Governor Richard Celeste. While living in England, she managed global accounts for an agency focused on consumer and healthcare marketing. Over the years Gina has led talented, award-winning teams in academia, healthcare and government, and has innovated around strategic communications, brand management, digital and social media as well as consumer and B2B marketing.
In 2018 Gina co-authored with Sanjiv Chopra the book The Two Most Important Days, How to Find your Purpose and Live a Happier, Healthier Life published by St. Martin's Press. She currently is writing a book on the topic of resilience. Gina blogs for the magazine Psychology Today. Gina holds a Bachelors of Arts degree from Hiram College in Ohio where she concentrated on communications and political science. She can be reached at gina_vild@hms.harvard.edu.