Alumni Benefits from the HMS Office for External Education
Alumni Benefits from the HMS Office for External Education
25% off "Functional Genomics & Drug Discovery: Strategic Approaches for Decision Making" program (June 4-5)
There has been increasing interest and investment in applying genomics and related technologies to drug discovery and development. However, much uncertainty remains about how to best leverage these tools throughout the pharmaceutical value chain.
This interactive HMS executive education program takes place on campus from June 4 to 5 and provides an opportunity to delve into the use of genomics in rare and common diseases, and throughout the drug discovery, development, regulatory, and post-regulatory phases.
The program is intended for mid- to senior-level science and business leaders who make scientific, strategic or investment decisions related to drug discovery and development. It is most appropriate for professionals in the biotech and pharmaceutical industries, or related investing, venture capital, and other professional services.
Program faculty are preeminent experts in genomics and drug discovery and development, drawn from industry and academia.
Click here for more information and enroll using the code HMSALUMEXEC for a 25% discount off the program fee » 
Apply soon, space is limited!
25% off Online Continuing Medical Education Courses
Continue your education with self-paced, online courses taught by HMS's renowned faculty, including clinicians, researchers, and educators. HMS Global Academy has both accredited and non-accredited content available for medical professionals.
Included on the platform is the Opioid Use Disorder Program, a free 24-credit-hour program funded in part by the National Institute of Drug Abuse. 
Click here to explore the Global Academy course listings and enroll using the code Alumni25 for 25% off »
One Month Free of Harvard Health Online or One Free Special Health Report
Drawing on the in-depth expertise found among our more than 11,000 HMS faculty and researchers, Harvard Health Publishing creates current, trustworthy, and actionable consumer-facing health content.
Harvard Health Online provides you with unlimited, immediate access to health news and information, including hundreds of pages of web-only content, email delivery of Harvard's four monthly newsletters, and thousands of archived articles.
Our Special Health Reports cover a variety of topics, from hypertension, cholesterol, and nutrition and fitness, to pain management and mental health.
Click here to get one month free of Harvard Health Online or one free Special Health Report »
$200 off HMX Fundamentals for Friends and Family of HMS Alumni
HMX Fundamentals is an online program created to communicate foundational concepts in new ways and expand access to the deep knowledge of the Harvard Medical School community.
Led by renowned HMS faculty, the courses combine the rigor of the medical school curriculum with an interactive multimedia experience including detailed visualizations, real-world scenarios, and patient interactions demonstrating how concepts are applied to clinical practice. Available courses include physiology, biochemistry, immunology, and genetics.
Here's how it works:
The Office for External Education may also be able to provide special group offers for alumni-referred organizational training programs. Please contact onlinelearning@hms.harvard.edu to discuss offering HMX Fundamentals courses to your organization.
Never Stop
Learning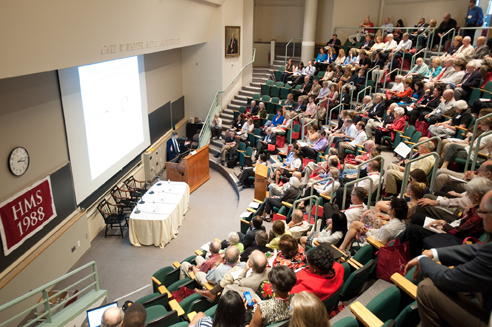 As a graduate from Harvard Medical School, you can continue your learning experience by accessing online and on-campus programs. Learn more »