Estate gift supports cultivation of the best doctors, researchers, and students
Estate gift supports cultivation of the best doctors, researchers, and students
Upon her recent death at the age of 102, HMS received this unrestricted gift to support the priorities and ultimate success of the School.
"Unrestricted gifts like Florence McGuire Roe's enable the School to make strategic investments in those areas that create the greatest impact," says Wesley Benbow, MBA, interim executive dean of administration and chief financial officer.
"With the help of gifts like these, Harvard Medical School can continue to cultivate the best doctors, researchers, and students who are changing the face of medicine," Benbow adds.
Roe began her professional career in 1931, when she moved to Washington, D.C., eventually becoming secretary to a senior official in the U.S. Department of the Treasury. While in the nation's capital, she met her husband, Frederick, one of President Franklin Delano Roosevelt's infamous "dollar-a-year" men, who assisted with the rebuilding of Europe following World War II.
An active Republican, Roe remained interested in politics and public affairs throughout her life. She was also considered a gourmet chef, having studied with Mme. Dione Lucas of Le Cordon Bleu culinary school fame. Family members remember Roe most for her generous heart and superior sense of style, as noted in her Chicago Tribune obituary.
The Benefactor
Partners in Education, Discovery, Service, and Leadership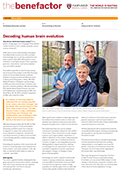 Download and read archived issues of our bi-annual publication to honor and acknowledge our most generous friends and supporters.