Ending global tuberculosis deaths once and for all
Ending global tuberculosis deaths once and for all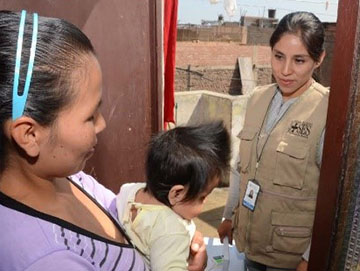 People living in other parts of the world, however, face a much different fate. Despite being a treatable and curable disease for decades, TB remains a death sentence for 1.8 million people living in low- and middle-income countries each year, 400,000 of whom have HIV. In fact, TB has now surpassed HIV as the leading infectious killer of adults globally.
How can this be? According to Kolokotrones University Professor Paul Farmer, MD '90, PhD '90, and Salmaan Keshavjee, MD, ScM '93, AM '95, PhD '98, in Harvard Medical School's Department of Global Health and Social Medicine, TB and multidrug-resistant forms of the disease (MDR-TB) run rampant in developing countries due to the lack of resources available and political will to combat them. Beyond these local limitations, Keshavjee says global policy-makers have not encouraged low- and middle-income countries to invest in tried and tested approaches to stop the epidemic.
As a result, the disease often is not properly detected and diagnosed, patients do not have access to the recommended four-drug combination treatment regimen, and health systems are not equipped to monitor patients to ensure they are responding to treatment. When medicines are not taken successively for their duration—ranging from six months for TB to more than a year for MDR-TB—the disease-causing bacteria live on and spread through the air in the communities where TB patients live and work.
Harvard Medical School is spearheading a program to address these fundamental gaps and help end TB and MDR-TB deaths once and for all. With generous support over the last two years from the Global Public Health team at Johnson & Johnson, HMS has built a scientifically based roadmap outlining the steps needed to achieve this goal and has ignited the conversation to enlist a host of cities around the world to join together in this lifesaving work.
Building on the program's successes, Johnson & Johnson Global Public Health has provided an additional $2.7 million to support the next phase of this action plan, which centers on operationalization and evaluation with local partners on the ground in places like Chennai, India; Lima, Peru; Karachi, Pakistan; and Kisumu, Kenya.
This new phase also focuses squarely on children with TB—a cohort that Keshavjee and Mercedes Becerra, AB '91, ScM '93, ScD '99, director of the HMS Program in Infectious Disease and Social Change and a professor in the Department of Global Health and Social Medicine, say has been ignored largely in previous strategies.
Children First
According to Becerra, TB in children differs greatly from the disease in adults because much less is known about it, it is more difficult to diagnose and often more deadly, and changes in the disease are not yet linked systematically to changes in local epidemics. At the same time, she believes that changes in childhood TB may be the best signal of how well local partners are doing at beating the epidemic in a relatively short timeframe.
"That is why we are putting special emphasis on developing new methodologies that can be piloted immediately in children through our network. Figuring out how to see and monitor what is happening in children affected by TB can be the cornerstone for an alternative way for local coalitions to self-assess their progress in the relatively short term, within a few years as opposed to decades," says Becerra.
Adrian Thomas, VP, Global Public Health at Johnson & Johnson, says that the company's major objective is to eliminate TB and MDR-TB by broadening and accelerating research and development efforts, simplifying treatment and care, and ensuring patients—including children, a particularly vulnerable population—are able to receive treatment.
"No one company or organization can do this alone. Success in combating global threats like TB requires sustainable commitment and partnership from the private sector, governments, and international aid organizations," says Thomas.
According to Keshavjee, who is director of the Harvard Center for Global Health Delivery—Dubai, support from Johnson & Johnson Global Public Health has been invaluable because this is an atypical research study with an ambitious agenda that other funders were hesitant to support.
"Johnson & Johnson had the vision to realize that the platform we are setting up for delivering care for TB is the same platform that we need for other communicable and non-communicable diseases.
That is what is needed for health care in the 21st century: mechanisms to better link hospitals and clinics to people who need care in the communities where they live and work. It is truly opening up a new path forward, and the energy is palpable," says Keshavjee.

Through this campaign, we will address the greatest health care challenges of our time to help people live longer, healthier lives. Learn more »
The Benefactor
Partners in Education, Discovery, Service, and Leadership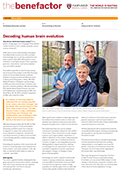 Download and read archived issues of our bi-annual publication to honor and acknowledge our most generous friends and supporters.