Elections
2018 Council Election
Alumni Council Candidates
 
Councilor: Second Pentad
(Classes of 2008–2012)

Councilor: Fifth Pentad
(Classes of 1993–1997)

Councilor: Ninth Pentad
(Classes of  1973–1977)

Councilor-At-Large
---
CANDIDATE FOR COUNCILOR: SECOND PENTAD
Classes of 2008–2012
Joanna Mimi Choi, MD '09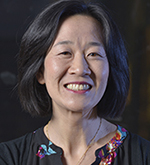 Los Angeles, Calif.
Assistant Clinical Professor of Pediatrics, Olive View-UCLA Medical Center
BIOGRAPHY
(Joanna) Mimi Choi, MD, MPH, is a pediatrician with a passion for working with underserved communities to transform health at a systems level. Born and raised in the Bay Area, she studied cross cultural issues in health policy as a Human Biology major at Stanford University, interning both with the National Institutes of Health and the World Health Organization. She then worked at Glide Health Services in San Francisco and as a clinical trials coordinator at Massachusetts General and Brigham and Women's Hospitals before making her way to Harvard Medical School.
Over the course of her pathophysiology blocks at HMS, Mimi came to appreciate the field of pediatrics as she realized that much of adult disease stemmed from origins as early as preconception and childhood. In addition to working with Students Teaching Early Prevention (STEP), Mimi also led Students for Environmental Awareness in Medicine (SEAM) and the university-wide Environment Society at Harvard. She also served as the first student writer and editor for Harvard Health Publications, creating medical content for the lay public.
After graduating from HMS in 2009, Mimi returned to California to do her residency in the Pediatric Leadership for the Underserved (PLUS) program at UCSF. During her time there, she partnered with school nurses in San Francisco Unified School District to create a motivational interview based model for approaching teenagers identified as overweight or obese through state mandated screening. It was through this work and her patients at San Francisco General Hospital that Mimi gained a better appreciation for the structural factors leading to health disparities and the need for further training in health management.
Mimi then moved to Los Angeles in 2012 to pursue her Master's in Public Health through a Maternal Child Health Fellowship at UCLA. During this fellowship, she also worked as a pediatrician and medical director at the second largest Federally Qualified Health Center (FQHC) in Los Angeles. She then transitioned to working with the Department of Health Services for Los Angeles County in 2015, directing urgent care and graduate medical education for the Department of Pediatrics at Olive View-UCLA Medical Center, as well as leading pediatric quality improvement initiatives county-wide. Additionally, she serves on the Board of Directors for both the LA Trust for Children's Health and her former FQHC, St John's Well Child and Family Center.
Outside of work, Mimi enjoys going on food adventures with her husband, three-year-old and six-month-old daughters, and staying active through yoga, hiking and swimming.
PERSONAL STATEMENT
It is such an honor to be under consideration for the HMS Alumni Council. Having helped organize the Los Angeles Recent Grad Spring Reception over the past few years, I am deeply appreciative of the diversity of everyone's postgraduate pursuits, especially when we consider that we all started our careers in the same marble building on the Quad. From working with the underserved in South Central Los Angeles to performing plastic surgery in Beverly Hills, we touch every facet of medicine, and yet we still easily connect over our shared experiences in Longwood when we gather for brunch.
In fact, it was only in leaving Boston that I truly came to appreciate the extent and influence of our alumni network. As a peds resident in San Francisco, it was always a treat to run into classmates in the cafeteria and a point of extra bonding with attendings when we discovered our mutual training backgrounds. Now both in my work in Los Angeles and nationally, I continue to encounter and collaborate with fellow HMSers in the trenches of health policy and systems change.
One of the most exciting aspects of participating in the Alumni Council is the opportunity to work closely with Dean Daley. The practice of medicine has already changed drastically in the nine years since my graduation, and there is no doubt that things will only continue to transform. The science of what we know is constantly evolving, and the systems in which we practice are very much in flux. Now, more than ever, is it important to equip our student doctors with the tools to successfully navigate and meaningfully impact this ever changing world of medicine.
Our alumni network runs deep and is one that we can all better leverage and strengthen. If elected, I pledge to actively engage and inform this work, so that we can continue to nurture and link the medical leaders of today with those of tomorrow.
Download this candidate's curriculum vitae
---
CANDIDATE FOR COUNCILOR: SECOND PENTAD
Classes of 2008–2012
J. Sawalla Guseh, MD '11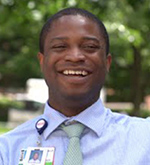 Brookline, Mass.
Clinical and Research Fellow in Cardiovascular Medicine, Massachusetts General Hospital
BIOGRAPHY
J. Sawalla Guseh, MD is currently a clinical and research fellow in cardiovascular medicine at Massachusetts General Hospital.
Dr. Guseh is a 2011 graduate of Harvard Medical School (HMS). He completed an internal medicine residency at the Massachusetts General Hospital (MGH) and served as Medical Chief Resident from 2016 - 2017. He is currently a cardiovascular disease fellow at MGH. He is board certified in Internal Medicine and is pursuing a postdoctoral fellowship in molecular cardiology at the MGH Cardiovascular Research Center in the laboratory of Dr. Anthony Rosenzweig where he studies the functional role of noncoding RNA in cardiac adaptation.
Dr. Guseh was born in Monrovia, Liberia and grew up in Durham, North Carolina. He received his A.B. in the biochemical sciences with Honors from Harvard College in 2006 and was a recipient of the Thomas Temple Hoopes Prize. He lives with his wife Dr. Stephanie H. Guseh who is a current maternal-fetal-medicine and genetics fellow at Brigham and Women's Hospital and who also graduated from HMS '11. Together, they actively raise two young children.
PERSONAL STATEMENT
Why is Harvard Medical School Special?
Ever since stepping foot onto the Longwood campus in the summer of 2007 I suspected that Harvard Medical School was a different place. As I met classmate after classmate and teacher after teacher this suspicion was confirmed. It is a place bursting with thought, reflection, and a passion for discovery. There were those who cared deeply about the science of disease while never forgetting the underlying common humanity shrouded by illness. Although the tutorials, seminars, and lectures have faded somewhat into memory, the memories of the people and how they made me feel continue to echo to this day. Little did I know how my classmates, curriculum and our teachers would widen my experience and color the world in a new light. The capacity of a school to do this widening of experience is what makes HMS special.
Of note:
I met my wife in my first year at HMS which is the other part that makes HMS (extra) special.
Why the Harvard Medical School Alumni Council?
As I considered putting forth my name for the Alumni Council, I reflected upon what it means to be an alumnus of an institution like HMS. I know that for me, my friends, my classmates, and my colleagues this can have many meanings and some are hard to put into words. My time at HMS left me with feelings that are woven into a sense of duty and obligation to our communities and to society. Driven principally by a sense of duty, as a member of the council, my hope is to be able to offer insights that help the council integrate the diversity of interests and intellects of the many HMS alumni. In so doing, I aspire to offer informed guidance regarding the future directions that HMS might take. More importantly I hope to contribute to conversations that surround how we might continue to provide value to generations of graduates while pari passu reminding alumni of the fresh excitement of our time together and why it is we chose medicine as our craft and why we chose HMS for our introduction to medicine.
Download this candidate's curriculum vitae
---
CANDIDATE FOR COUNCILOR: FIFTH PENTAD
Classes of 1993–1997
Allison L. McDonough, MD '97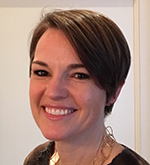 Newton, Mass.
Oncology Focused Primary Care Physician, Primary Care Associates (MGH West)
BIOGRAPHY
Allison McDonough is the founding medical director of Oncology Focused Primary Care, a branch of Massachusetts General Hospital Cancer Center's Cancer Survivorship program. Her clinical practice is composed primarily of people with cancer of a history of cancer, and she is involved in multiple ongoing clinical research projects focusing on better understanding and improving the care of cancer survivors.
Allison completed her Residency in Medicine at Brigham and Women's Hospital, and then practiced at MGH Revere HealthCare Center for ten years. During that time Allison spent three years developing and leading Partners-wide programs aimed at improving care for high risk and underserved populations. She was deeply involved in efforts to decrease hospital readmissions across Partners.
From 2010 to 2014 Allison and her family lived in Amsterdam, Netherlands, and Stockholm, Sweden. During this time, she rekindled her earlier passion for end of life care and developed her interest in cancer survivorship.
PERSONAL STATEMENT
I am delighted to be considered for a role on the HMS Alumni Council, whose mandate is to promote connections amongst alumni, between alumni, and the School. And between alumni and current students. The value of these connections has been reinforced many times and in many different ways in my own life and career and it would be an honor to contribute to this important work
This past summer the class of 1997 celebrated our 20th HMS Reunion. I was happy to help organize the reunion (with a lot of help from classmates and staff!) but was not sure what to expect from the event. What unfolded was an intensely inspiring and energizing weekend of reconnecting with an amazing group of people whose breadth and depth of passion, curiosity, and intellect, not to mention humor and perspective, was extraordinary. The experience reminded me anew of how lucky I am to be a part of the HMS community. Fostering the interconnectedness of our School community can benefit us all at so many levels both personal and professional, and this realization has provided me additional motivation to be considered for the Alumni Council.
In my career in medicine I have worked in a number of different settings, starting in community based primary care, and then in systems level high risk population management, and now in primary care with a specialty focus and an active clinical research agenda. With each different environment and focus I have gained a different perspective on our medical system and the many roles that physicians play. This has given me insight into the diverse ways in which HMS prepares students for careers, and the enormous valued of our community fostering innovation, career satisfaction and success. I hope that these experiences will make me a valuable member of the Alumni Council.
Download this candidate's curriculum vitae
---
CANDIDATE FOR COUNCILOR: FIFTH PENTAD
Classes of 1993–1997
Marc S. Sabatine, MD '94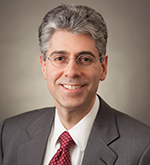 Newton, Mass.
Professor of Cardiovascular Medicine, Harvard Medical School and Brigham & Women's Hospital
BIOGRAPHY
Marc S. Sabatine, MD, MPH is Chair of the Thrombolysis in Myocardial Infarction (TIMI) Study Group, the Lewis Dexter, MD, Distinguished Chair in Cardiovascular Medicine at Brigham and Women's Hospital (BWH), and a Professor of Medicine at Harvard Medical School (HMS).
Dr. Sabatine graduated magna cum laude from Harvard College, received his medical degree magna cum laude from HMS, and has been his HMS class agent since graduation. He did his Internal Medicine residency, Chief Residency, and Cardiology clinical fellowship at the Massachusetts General Hospital (MGH).  He received a Master of Public Health degree from the Harvard School of Public Health.  Dr. Sabatine is board certified in Internal Medicine and Cardiology and attends in the coronary care units at both BWH & MGH. He is a Fellow of the American Heart Association, the American College of Cardiology, and the European Society of Cardiology.
As Chair of the TIMI Study Group, Dr. Sabatine leads an Academic Research Organization whose mission over the past 30+ years has been to advance the knowledge and care of patients suffering from cardiovascular disease and its risk factors.  To that end, Dr. Sabatine has led several practice-changing, large-scale, international, randomized controlled trials of novel antithrombotic, lipid-lowering, anti-diabetes and other pharmacotherapies.  A pioneer in the multimarker approach to risk stratification, Dr. Sabatine has several NIH and American Heart Association grants supporting the application of proteomics and metabolomics for discovery of novel biomarkers.  He has a long-standing interest in pharmacogenetics and has made seminal observations on the ability to use genetics for personalized medicine.
Dr. Sabatine has authored over 200 original research, peer-reviewed articles including in the New England Journal of Medicine, JAMA, and the Lancet. He has been recognized as one of the most highly cited researchers for several years running. Dr. Sabatine has given Cardiology or Medical Grand Rounds at top academic centers around the world and has authored numerous review articles and book chapters, and is the editor of Pocket Medicine, a widely-used handbook of internal medicine. He is on the writing committees for several U.S. and European practice guidelines. He is a Deputy Editor for JAMA Cardiology.
Dr. Sabatine has tutored or lectured Harvard medical students for the past 17 years. He lectures the internal medicine residents at both BWH and MGH as part of their core curricula, and takes both Resident and Cardiology Fellow Report at both BWH and MGH. He has mentored over 2 dozen research fellows who have gone on to take academic cardiology positions nationally and internationally.
Dr. Sabatine is the recipient of multiple honors and awards including the ACC Zipes Distinguished Young Scientist Award and has been inducted into the American Society of Clinical Investigation. Dr. Sabatine is the Co-Director of the BWH Research Oversight Committee and a member of the Partners' Academic Executive Committee.
PERSONAL STATEMENT
Today really seems, as Dickens wrote, to be the best of times, and the worst of times in medicine. Phenomenal scientific advances have provided us with incredible tools to help our patients: molecularly tailored chemotherapy and engineered cellular therapy, gene therapy, minimally invasive surgery, and many others, with regenerative medicine and nanotechnology in the wings. There is so much more we can do for our patients now than when we were students. Yet it also seems to be the darkest of days for medicine and science more broadly. Access to healthcare, funding for research, and respect for the role of the scientist in providing necessary facts in complex dialogues all appear imperiled.
No longer can we take for granted the important role of the physician and the physician-scientist in national issues of significance. No longer can we focus solely on our clinical practices, our laboratories, or our classrooms.  Rather, as the Harvard Medical School community, we need to lead by example in all domains. We need to deliver the best care we can and ensure our neediest patients have access to the care they need. We need to discover the next therapies and ensure that support exists for fundamental research that will be the foundation for future breakthroughs. We need to teach the next generation of students and ensure they understand the awesome responsibility that comes with being a physician.
I have been at Harvard Medical School since the first day of school when I moved into Vanderbilt Hall. I have a deep love for this institution and would be honored to serve as Councilor for my Pentad. I envision the Alumni Council being more important now than ever, representing the diverse views of 9500 living alumni, and helping HMS remain an active leader in all things related to medicine.   
Download this candidate's curriculum vitae
---
CANDIDATE FOR COUNCILOR: NINTH PENTAD
Classes of 1973–1977
Harold J. Bursztajn, MD '76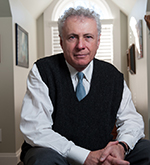 Cambridge, Mass.
Psychiatrist and Forensic Psychiatrist, Private Practice; HMS Faculty
BIOGRAPHY
Harold J. Bursztajn, M.D., is an Associate Professor of Psychiatry (part-time), Founder of the Program in Psychiatry and the Law, and Principal Mentor for students at Harvard Medical School (HMS).  He has been affiliated continuously with HMS since he entered medical school in 1972.  He maintains a private clinical and forensic psychiatric practice in Cambridge, serves as president and co-Founder of the American Unit of the UNESCO Bioethics Chair and its American Bioethics Culture Institute, mentors HMS students and faculty, and serves as a confidential adviser to HMS alumni nationwide.
Having come to this country from Poland at the age of 9, Dr. Bursztajn majored in philosophy at Princeton University, where he was a University Scholar.  At HMS he spent an additional year as a Special Fellow in the Department of Preventive and Social Medicine.  After an initial residency in pediatrics at Children's Hospital Medical Center in Boston, he did his residency in psychiatry at Massachusetts Mental Health Center (MMHC) from 1979 to 1982, becoming Chief Resident in Psychiatry and the Law.
In his teaching, research, and patient care, Dr. Bursztajn has worked to develop, share, and apply an interdisciplinary, psychodynamically informed analysis of informed, shared decision making under conditions of uncertainty, conflict, or ambiguity.  That model, first developed with his co-authors in the book "Medical Choices, Medical Chances," became a foundation of his work with Thomas Gutheil, M.D., at MMHC, where they founded what is now the internationally recognized HMS/Beth Israel Deaconess Medical Center (BIDMC) Program in Psychiatry and the Law (PIPATL). 
Dr. Bursztajn's core interests in risk management, medical decision making, and the informed-consent process have generated research, teaching, and publication in a broad range of special and general interest areas.  These include protecting the rights of physicians treating the most fragile patients throughout the life cycle.  For example, he has presented in numerous national and international settings on the relevance of health-care choices made during the Shoah (which his parents survived) to the treatment of vulnerable patients in situations of limited resources and moral hazard. 
Contexts for this work include informal pro bono consultation to Harvard undergraduate and HMS students, staff, faculty, and alumni and consultation on publications and grant applications.  Educational activities include weekly interdisciplinary seminars of PIPATL, individual tutoring and supervision of international fellows, and formal teaching presentations.  Dr. Bursztajn consults to physicians of all specialties, health care institutions, and the judiciary on clinical, risk-management, and security issues.  He teaches and advises locally, nationally, and internationally. 
Dr. Bursztajn's honors include being a recipient of the Clifford A. Barger Excellence in Mentoring Award at HMS and serving as HMS Alumni Representative to the Harvard University Alumni Council.  In recognition of his contributions to medical education, he was invited in 2015 to give the Flexner Dean's Lecture at Vanderbilt University School of Medicine.
PERSONAL STATEMENT
Having immigrated to the United States from postwar Poland with my family at the age of 9, I made my way through medical school with a scholarship, loans, and work-study.  Since then I have continued to work to make medical educational opportunities available to people from underserved communities through my scholarship fundraising activities.  
Early in my career my interest in the psychology of judgment and decision making coalesced with my training in psychodynamically oriented psychiatry, and I focused on the importance of a treatment alliance between patient and physician.  At a time when the supportive context of the doctor-patient relationship is being weakened by corporate management and economic pressures, I remain committed to helping patients, families, and physicians make wise decisions under conditions of uncertainty, conflict, limited resources, or moral hazard.  
In recent years I have explored these themes at the societal level, as in my Flexner Dean's Lecture at Vanderbilt, Healthcare from Hell to Here: Moral Courage and Vulnerability from the Shoah (1939-1945) to Today.  In that context I have considered the therapeutic power of photographs that commemorate dignity, resilience, and community, like those taken by Henryk Ross in the Lodz ghetto in Nazi-occupied Poland (http://www.psychiatrictimes.com/articles/healing-power-photographs). Likewise, I supervise HMS student projects and theses.  In recognition of current hazards, I consult to physicians and institutions (including governmental) on risk-management and security issues. Protecting patients' and physicians' autonomy and well-being from adolescence to old age continues to be a special interest of mine, as in my work with PIPATL and the American Unit of the UNESCO Bioethics Chair.  
I look forward to continuing to collaborate with our alumni community, as well as with students, colleagues, and HMS leadership—as I have done since graduating from HMS in 1976—to advance patient care, medical education, and biomedical research.
Download this candidate's curriculum vitae
---
CANDIDATE FOR COUNCILOR: NINTH PENTAD
Classes of 1973–1977
Ted R. Kohler, MD '76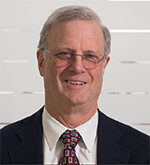 Mercer Island, Wash.
Professor of Surgery, University of Washington, VA Puget Sound Health Care System
BIOGRAPHY
I was born and raised in small town, Marion, Ohio. For reasons I'll never know, I always wanted to be a doctor, even though there were no physicians in my family. I read The Citadel and the Life of Albert Schweitzer and watched Dr. Kildare, Ben Casey, and Marcus Welby on TV. I operated on frogs in my basement with the help of my pediatrician. I followed in my brother's footsteps to Harvard, where I pursued my love of biochemistry and fluid dynamics. I then went on to HMS, where I played guitar in the  second-year show and subsequently married the pianist, Hope Druckman. She is now an internist and the ideal life companion - full of loving compassion, wisdom, and the patience to deal with my many quirks and foibles. We have two socially-minded, adult children. 
I trained in general and vascular surgery at the Brigham and then jumped at the chance to join the faculty at the University of Washington, where I had spent a year as a trauma fellow. After five years as a trauma and vascular surgeon at Harborview Medical Center (the only Level I trauma center for our five-state area), I took the opportunity to move to the Seattle VA, where I was the Chief of Vascular Surgery and Director of the Vascular Laboratory for 25 years. Along the way I took a sabbatical to obtain a masters degree in epidemiology at the UW while recovering from a femur fracture (a result of finding my limit by exceeding it). I moved up the academic rank to professor based on both clinical and basic science research involving the arterial response to injury, healing of prosthetic devices, and non-invasive diagnosis of vascular disease. I participated in various ways in national clinical trials of vascular devices, including helping plan the VA Cooperative Trial of endovascular versus standard abdominal aortic aneurysm repair. 
Throughout my career I have been fueled by my interactions with trainees.  My most valued academic honor is the 2013 Department of Surgery Teacher of the Year Award. I have greatly enjoyed my student interactions, especially during the five years that I was the site director for their surgery rotation at the VA. I derived particular pleasure from mentoring those who were excited and often surprised to find that they loved surgery, and equally getting to know the stories and concerns of those headed for other specialties or uncertain of their path. 
Recently retired, I relax with pursuit of my lifetime hobbies of classical guitar, travel, and reading fiction, humor, and various authors' attempts to explain what it's all about. I still am fueled spiritually by ongoing opportunities to teach and mentor trainees at all levels. In response to the many crises we face, I am becoming more politically active, participating in local and national groups to promote social justice and healthcare for all.
PERSONAL STATEMENT
I am passionate about helping others, which I've done through my practice of surgery, teaching, mentoring, and volunteering. I spent the bulk of my thirty-four year academic surgery career at the University of Washington and the Seattle VA hospital, caring for a population that had few other healthcare options. I welcomed the single-payer environment free of the business and administrative concerns of the private sector but abundant with opportunities for research and teaching. I am energized by teaching students, residents, and fellows. Recently retired, I continue to mentor and teach at all levels. I instruct first-year students in the gross anatomy lab, meet with students in the surgery interest group to turn them on to the world of hemodynamics, blood flow, ultrasound, and surgical techniques. I teach surgical skills to residents in the virtual OR, and I derive special joy in tutoring math weekly to a sixth grader in a low-income school district. I ardently believe that we cannot be a healthy society without healthy citizens, and it is our responsibility as physicians to work to this end. I participate in both local and national groups promoting healthcare for all. I would be honored to serve as your representative on the Alumni Council and would welcome the opportunity to hear your concerns and comments and bring them to the council. As a council member, I would look forward to sharing my own experience and passion for educating students and residents in a manner that instills a love of learning, compassionate care, and recognition of our social responsibility not just to provide quality health care to individuals, but to make it available to all. 
Download this candidate's curriculum vitae
---
CANDIDATE FOR COUNCILOR-AT-LARGE
Classes of 1973–1977
Lawrence J. Kadish, MD '67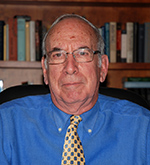 Crayville, N.Y.
Retired Medical Director, Executive Vice President, and General Surgeon, White Plains Hospital Center
BIOGRAPHY
My undergraduate degree is from Princeton University, Class of 1967, Summa Cum Laude and Phi Beta Kappa.
Four years at HMS were followed with my MD in 1967.  Then Surgical internship and residency at Albert Einstein College of Medicine followed (1967-69 and 1971-74). The residency program was interrupted by 2 years in the USAF, including one year in SEA during the Vietnam War. This was a difficult year, separated from my wife, Anna and our children. But it was also an instructive year as I saw how a hospital was created and functioned in an isolated foreign area. 
After residency I entered private practice of General Surgery at White Plains Medical Center (WPMC) and St Agnes Hospital. In 1975 I became a Fellow of the American College of Surgeons.  Subsequently I went "up the ladder" to the presidency of the Westchester Chapter of the American College of Surgeons and  presidency of the Medical Staff of WPMC. After my term as President of the Medical Staff, the BOD of WPMC appointed me as Medical Director, a position I held part time until 2000 and fulltime until my retirement in 2009.
WPMC was a member of the NY Presbyterian System and I became a member of that system's CMO Committee. After a few years, I was asked to chair that committee and had a pivotal role in creating safety standards for the System's approximately 25 hospitals. After 9/11, the CMO Committee created an interactive logistics and personnel grid to allow real-time support to any hospital that needed help due to an urgent incident that threatened its resources. NYS DOH later reviewed this plan and adopted it for statewide use. 
Also after 9/11, Westchester County established a Hospital Committee which I was asked to chair. That committee worked with the County DOH IT group to monitor chief complaints daily in each hospital ER and created an algorithm to identify a surge of chief complaints that might indicate an epidemic or act of terrorism.
From 2005 until 2017, I served on the BOD of Burke Rehabilitation Hospital the BOD Performance Improvement and Malpractice Committees.
After retirement, Anna and I moved to Taghkanic, NY (post office Claverack)  where we have had a "weekend home" since 1978. I wanted to use my surgical background to volunteer in an ambulance corps, but there was none in rural Taghkanic. The town fire company answers all significant medical calls. At age 69 I became a certified volunteer firefighter in NYS and still serve as an active member of the Taghkanic Volunteer Fire Company as well as serve as its Medical Director. I am also certified by NYS DEC as a Search and Rescue Volunteer 
PERSONAL STATEMENT
A personal statement starts with our family. Anna and I met on the first day at HMS as classmates. We married in 1965 and graduated together, Class of '67. Anna was a clinical and research Pathologist at Albert Einstein College of Medicine. We are proud of all three of our children. Debbie is a child psychiatrist, HMS '92. Rachel is a published novelist. Sam teaches high school math. We are an outdoor family. Anna and I, our kids and their spouses and all seven grandkids hike, swim, fish, ski and snowshoe, often together. 
I chose private practice of surgery and sought partners with high standards of care and who were self critical and honest about their results. Measurements of quality of care, errors, and systems to prevent errors were imperative for me. The positions of Medical Director at WPHC and Chairman of the NY Presbyterian CMO Committee allowed me to address the above issues directly. I think that the legacy of my tenure in these two positions is one of fairness and honesty as well as open-mindedness.
To my surprise, being an active firefighter has much in common with the discipline of being a surgeon. Each fire call is different as each patient-related issue is different. The cross section of the community in our fire company has kept me in close touch with a different social class of people to the betterment of all of our lives. 
Much of my life has been devoted to delivering safe care in a thoughtful manner. If selected as Counselor at large, I will continue to apply thoughtful energy to represent HMS Alumni to the best of my ability. 
---
CANDIDATE FOR COUNCILOR-AT-LARGE
Classes of 1973–1977
Alfred Sommer, MD '67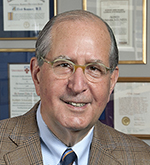 Baltimore, Md.
Dean Emeritus and Professor, Johns Hopkins Bloomberg School of Public Health
BIOGRAPHY
Al Sommer graduated from Union College in 1963 and HMS in 1967. He then spent two years as an intern and resident in medicine at the Beth Israel Hospital, Boston, after which he joined the Epidemic Intelligence Service of CDC, spending most of his three years in East Pakistan (now Bangladesh) studying the epidemiology and control of cholera and smallpox; nutritional surveillance; and disaster assessment and relief.
In 1973 he obtained a Masters degree in epidemiology from Johns Hopkins, and in 1976 completed his ophthalmology residency at the Wilmer Eye Institute. From 1976-79 he and his family lived in Indonesia, where he began his detailed studies on vitamin A deficiency and xerophthalmia, demonstrating that even mild deficiency depressed immune competence and dramatically increased infectious morbidity and mortality. His subsequent randomized trials demonstrated that a single, large, oral dose of vitamin A, twice a year, would save the sight and lives of 1 million children every year, which led the World Health Organization and UNICEF to launch a global program for the control of vitamin A deficiency. The World Bank has called this program among the most cost-effective of all health interventions.
After a year as a Visiting Professor at the Institute of Ophthalmology and Moorefields Eye Hospital, in London, Sommer returned to Hopkins in 1980 to found the Dana Center for Preventive Ophthalmology, which pioneered the development of early diagnostic signs of glaucoma, and developed strategies now employed in the global control of xerophthalmia, trachoma and river blindness. During this time, Sommer led the development of the American Academy of Ophthalmology's "Preferred Practice Patterns", one of the earliest clinical guidelines in any subspecialty.
In 1990, Sommer became Dean of the Johns Hopkins (now "Bloomberg") School of Public Health. During his 15 years as Dean, the School's endowment increased 10 fold, and its facilities and research programs more than doubled.
Sommer continues to serve as a Professor of Ophthalmology in the School of Medicine, and Professor of Epidemiology and International Health in the School of Public Health. He is a University Distinguished Service Professor and inaugural Gilman Scholar at Johns Hopkins University.
Sommer has published 6 books and over 300 scientific articles, and is an elected member of both the National Academy of Sciences and the National Academy of Medicine. He is the recipient of numerous awards, including the Lasker Clinical Research Award; the Alpert Foundation, Dana Foundation, Dan David, and Prince Mahidol Awards; and has received the Laureate Award of the American Academy of Ophthalmology and election to the Ophthalmology Hall of Fame by the American Society of Cataract and Refractive Society.
Sommer served as a corporate Director of Becton Dickenson and of T. Rowe Price, and as Chairman of the Board of the Albert and Mary Lasker Foundation (on which he still serves). He is a Director of the Bloomberg Philanthopies, and Chairman of the Board of Johns Hopkins International. He and Jill have been married for 54 years
PERSONAL STATEMENT
Medicine has always been a dynamic, evolving profession. As a student at HMS, I would never have anticipated the course my career took, nor the opportunities it offered. I had intended to pursue a "traditional" clinical academic career. While I've enjoyed my time as an academic clinician, I've been unexpectedly immersed in issues of global health, biomedical research, administration, health policy, and the "business of medicine".
The organization, practice and financing of clinical and academic medicine, biomedical research, and the education of tomorrows physicians has probably never been at as many cross-roads, nor experienced as many cross-winds, as they do today. The "hype" and emerging realization of "personalized" medicine, the increasing overlap of the role of "public health" with the requirement that medical centers enhance the health of the communities they serve, changes in health care financing and the support of biomedical research, and pressures on traditional medical education provide both risks and opportunities that will greatly impact our profession in both the near and long term. 
I appreciate the potential opportunity to serve on our Alumni Council, to share the perspectives I've already been exposed to, learn from those being pursued by HMS and its affiliated hospitals, and hopefully contribute to new and effective strategies for harnessing the opportunities (and avoiding pitfalls) that this new world of health care financing, and its impact on the practice of medicine and training of future practitioners and academics, presents.
Download this candidate's curriculum vitae
---