'Stand Up For Your Vision'
Class Day keynote urges graduates to hold true to their values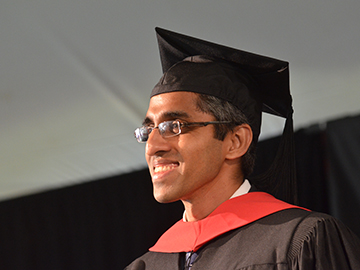 Stand up for your values, and you can change not only your patients' lives but also health care in this nation—and the world.
That was the message Vivek Murthy, HMS instructor in medicine at Brigham and Women's Hospital and recent Surgeon General nominee, shared with the newest graduates of Harvard Medical School and Harvard School of Dental Medicine.
Read more and view the keynote address»
---
Values, Vision and Courage
HMS & HSDM graduates welcomed into "the sacred lineage of healers"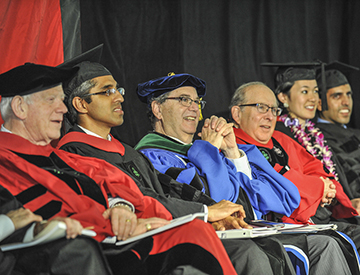 The idea of finding the courage of one's convictions was a consistent theme of speakers at the May 29 Class Day ceremonies on the Quad. Speakers also reminded the new physicians and dentists that they now were prepared to begin their work on improving the lives of patients partly because of the support and encouragement they had received over the years leading up to this day.
Read excerpts from Class Day speeches»
---
Murthy to Be 2014 Class Day Speaker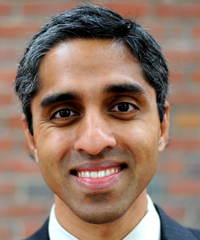 Vivek Murthy, nominee for Surgeon General of the United States, founder of Doctors for America and a Harvard Medical School instructor in medicine at Brigham and Women's Hospitaland Brigham and Women's Faulkner Hospital, will be the Harvard Medical School and Harvard School of Dental Medicine Class Day speaker on May 29, 2014. Read more»
Harvard Magazine: Vivek Murthy Named Class Day Speaker for Harvard Medical Area

---

HMS Graduation Information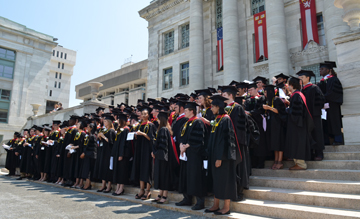 Graduation is a day of ceremony and celebration at Harvard University and Harvard Medical School. Students are granted the M.D. and any other advanced degrees they have earned; they are hooded and they receive their diplomas. Read more»