'Put Patients First'
IOM president offers guiding principles for a new generation of medical professionals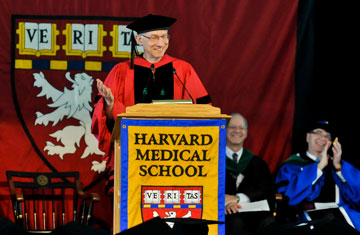 Keynote speaker Harvey Fineberg, HMS '71 and president of the Institute of Medicine, advised graduates to be honest with patients and themselves. Image: Steve Lipofsky
The newest graduates of Harvard Medical School and Harvard School of Dental Medicine heard words of celebration and challenge from their deans and from keynote speaker Harvey Fineberg during Class Day ceremonies on May 30. The remarks were leavened with reminders that the professional journeys they begin today will be different than those of their predecessors because medicine itself is changing rapidly.
On an exceptionally warm spring day under white tents on the HMS quad, the Class of 2013 was showered with whoops of applause for the graduates and oohs of tenderness for the children some of them held as they accepted their crimson hoods. Before they switched the tassels on their mortarboards from left to right, however, the day's speakers dispensed advice about the professions they are joining.
"Put patients first," declared Harvey Fineberg '71, president of the Institute of Medicine, the health arm of the National Academy of Sciences. "If you put your patients first, everything else will fall into place."
An emeritus professor of health policy and management at the Harvard School of Public Health and a graduate of Harvard College, HMS, the Harvard Kennedy School of Government, and the Graduate School of Arts and Sciences, Fineberg has also been the provost of Harvard University and devoted his career to health policy and medical decision-making.
Fineberg warned the graduates that putting patients first won't always be easy. Now more than ever, he said, patients come to doctors armed with information. Watson, the IBM computer that beat "Jeopardy!" champion Ken Jennings, is just the beginning of improved information at the fingertips of both doctors and patients, he said.
Information and education, however, may not be enough to prepare new doctors for the questions they will face from patients. Even precision medicine—the ability to better match treatments to individuals—will no doubt improve care, but that's not all there is to medicine, Fineberg told the graduates.
"No matter how molecularly dissected the diagnosis will be, no matter how much information you have about any one organ system that may be malfunctioning, you're always going to have to take a step back and keep in place, in mind, and in your heart the whole of the person before you," he said.
Fineberg outlined three distinctive styles of practice. He called them the authoritarian doctor who tells the patient what to do, the "post-modern information provider" who advises the patient on how to decide what to do, and the doctor as partner who works together with the patient to define the patient's needs and help the patient achieve his or her goals.
It's easy to become distracted or to lose perspective about what matters to the patient, Fineberg acknowledged, no matter how the graduates choose to practice medicine.
Fineberg subscribes to the partnership model, but he concedes that might not be the right approach for all patients or all circumstances. To make his point, he cited a posthumous article published in 1980 by the eminent gastroenterologist and New England Journal of Medicineeditor Franz Ingelfinger. Even Ingelfinger, who knew more than most about his esophageal cancer, just wanted his physician to tell him the right thing to do.
"If you put your patient first, you're going to discern, 'What does this patient need now from me?' " Fineberg told the graduates. "If you can achieve the wisdom to understand what this patient needs, you have truly put your patient first. You will have earned today's degree."
Before presenting diplomas, Jeffrey S. Flier, Dean of the Faculty of Medicine, Harvard University, told the graduates their careers will blossom during an era in medicine that is evolving quickly, making it both demanding and exhilarating.
"The face of health care has been rapidly transforming during your years here," Flier said. "The way you will practice medicine over the next 10 or 20 years promises to differ greatly from what you have experienced thus far at HMS."
He expressed confidence, however, that the graduates are well-equipped to meet the challenges ahead—known and unknown.
"You have labored long and displayed exceptional intellect and spirit," Flier said. "Embrace the privilege of entering the medical profession. You are surely equal to it."
—Elizabeth Cooney