HMAA Doximity App
The HMAA is now in your pocket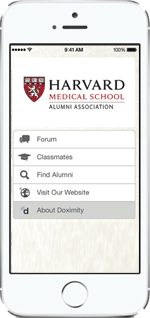 The Harvard Medical Alumni Association is proud to introduce a new mobile app, powered by Doximity, that helps you reconnect, stay in touch, and network with your classmates and the HMAA network. Download the app for free and tap into the enormous pool of medical knowledge and resources available to you as a HMS alumnus.
The HMAA app was built in partnership with Doximity, the physician's private network, giving HMAA members access to the suite of additional features offered on the Doximity network, which includes a central and searchable directory of all U.S. physicians, HIPAA-compliant text messaging, free faxing from mobile phones and the web, and back lines to hundreds of hospitals and facilities around the country.
Search "HMS Alumni" on the app store from your iPhone, iPod Touch, or iPad to download for free.
What Can the App Do For You?
Connect with members

Search HMS alumni by clinical interest, name, specialty, location/region
Alumni profiles highlight training, research and publications, clinical interests, contact info, and much more

Foster clinical and research collaboration
Engage in a private alumni-only forum

Discuss clinical research, issues in medicine, or alumni news
Interact with other alumni in real time

Stay informed of association updates and events

How to
Download
Visit the app store from your device and search "HMS Alumni"
Download the free app and get authenticated as a HMAA member via Doximity verification
What is Doximity?
Doximity is a private, professional network exclusively for medical professionals. This is an additional opportunity to network with physicians outside of the HMAA community.
Connect with over 707,000 U.S. physicians in 87 specialties
Find contact info and back lines for hospitals, labs, pharmacis, and facilities
Doximity is available on the web or as a free app for iPhone, iPod Touch, and iPad
For more information, please visit www.doximity.com.