Residential Fire Safety and Evacuation Planning
All rooms are equipped with smoke detectors and sprinklers. Any abuse of or tampering with sprinkler heads, fire alarms or the extinguisher system is strictly forbidden. PLEASE NOTE THE FOLLOWING STATUTE: Massachusetts General Laws, Chapter 269, Section 13: "False alarms of fire. Whoever, without reasonable cause, by outcry or the ringing of bells, or otherwise, makes or circulates or causes to be made or circulated a false alarm of fire shall be punished by a fine of not less than $100 nor more than $500, or by imprisonment in a jail or house of correction for not more than one year."
All extinguishers must remain on the walls in designated spaces.
RESIDENTS MUST COMPLETELY EVACUATE THE BUILDING ANYTIME THE FIRE ALARM SOUNDS. RESIDENTS SHALL BE REQUIRED TO INDEMNIFY THE UNIVERSITY FOR FINANCIAL PENALTIES IMPOSED AS A RESULT OF THEIR VIOLATIONS OF THIS REGULATION.
Corridor and stairwell fire doors, as well as all emergency exit doors, may not be blocked on either side by furniture or obstructions of any kind.
Fire escapes are intended only for use in a fire; any other uses are prohibited.
Hydraulic door closers in kitchens and student bedrooms may not be disconnected or removed by order of the Boston Fire Department.
Massachusetts State Building Code prohibits propping open smoke barrier doors unless they are self-closing or automatically triggered by smoke detection. The Vanderbilt Hall student kitchen doors do not have automatic smoke detection closers and may not be propped open at any time.
Residents should familiarize themselves with the emergency evacuation routes posted throughout the building.
Emergency Procedures
Fire safety and fire prevention is everyone's responsibility. Exercise common sense and observe the University's fire safety protocols to keep you and your fellow residents of Vanderbilt Hall safe.
If You Discover Smoke or a Fire--Remember R.A.C.E:
Relocate--if it is safe to do so, knock on your neighbor's doors to alert them. Be aware of persons who may need assistance.
Alarm--Pull the emergency alarm lever to sound the alarm. Move to a safe location. Alert others as you exit. Call the Harvard Police at 617-432-1212 and report the precise location of the fire. 
Confine--Close all doors to confine the fire as you exit if it is safe to do so. Do not try to extinguish the fire. Your safety is more important than property.
 Evacuate--Evacuate building. Proceed to the nearest stairway and exit the building immediately. Do not use elevators.
If the Fire Alarm Sounds While You Are in Your Room:
Feel the door:
If it is hot, do not open it. Stay in your room. Put a towel or blanket (preferably wet) under the door to keep the smoke out. If your telephone works, call the Harvard Police at 617-432-1212 to let them know where you are. Attract attention to yourself. Open the window, if possible, and hang a sheet or something bright out the window.
If the door is not hot, open it slowly as smoke and gases are deadly.

If smoke and heat have filled the hallway, close the door, stay in your room, and wait for help.
If you can safely leave your room, close the windows and the door.
Take your key and leave by the nearest clear exit stairway. Never use the elevator during an emergency evacuation as it may deliver you to the floor where the fire is located, fill with smoke and asphyxiate you, or stall in the event of a power failure.
FAILURE TO LEAVE THE BUILDING WHEN AN ALARM SOUNDS, UNLESS THERE ARE SAFETY REASONS FOR SUCH FAILURE, IS A PUNISHABLE OFFENSE.
If you encounter smoke on your way out, stay low and crawl if necessary. Breathable air is close to the floor. Cover your nose and mouth with a wet towel or handkerchief if possible.
Exit the building through the nearest exit. The building exit locations are: entry A, the archway gate on Longwood Avenue, the Deanery lobby at entry I, and the basement receiving door accessed by the entry F stairwell. Local living space exit locations are posted on the back of each bedroom door. There are also five clearly marked emergency exits located in the athletic facility. Assemble at the Designated Meeting Site, which is located in the New Research Building (NRB) plaza. Check in with your Safety Monitor so that you can be accounted for. Do not attempt to reenter the building until the Fire Department gives permission to do so.
Harvard University Police and Emergencies
The Harvard University police are available 24 hours a day and can be reached by calling 617-432-1212. The Police must be contacted for all emergencies involving life-threatening situations, bodily harm, crimes in progress, disturbances, unwanted guests, and suspicious persons.
Emergency Notification
If an emergency telephone call is received for you at the Business Office during office hours, every effort will be made to contact you immediately. Please notify the Business Office of any changes to your permanent home address and/or telephone number for emergency contact purposes.
Obscene or Harassing Telephone Calls
The placement of an obscene or harassing telephone call is a criminal offense, punishable to the full extent of the law in the courts. It is treated as a serious disciplinary issue within the University. Students should call Harvard University Police at 617-432-1212 immediately if they receive such a call.
Notices and E-mail Notifications
Building-related notices and announcements will be made by e-mail. Vanderbilt residents are expected to check their University e-mail accounts regularly for important Vanderbilt Hall-related announcements and notifications. Non-Medical and Dental students are required to provide the Vanderbilt Business Office with their e-mail addresses.
Drugs/Alcohol
State and federal law, as well as University policy, prohibit the unlawful possession, use, or distribution of illicit drugs and alcohol by students. Cities and towns in Massachusetts prohibit public consumption of alcohol and impose fines for violations. The Massachusetts Department of Conservation and Recreation also prohibits public consumption of alcohol in its parks. Harvard University is not, and cannot be considered, a sanctuary from the existing laws. Violations of laws relating to controlled substances or alcohol are prohibited on Harvard premises. Students may not unlawfully manufacture, distribute, dispense, possess, or use controlled substances on campus.
Poster and Sign Posting
Bulletin boards are provided throughout the building. DO NOT POST ON PAINTED SURFACES OR GLASS. Please check with the Business Office before hanging signs, posters, banners, or setting up displays or easels in the Vanderbilt lobby.
Furnishings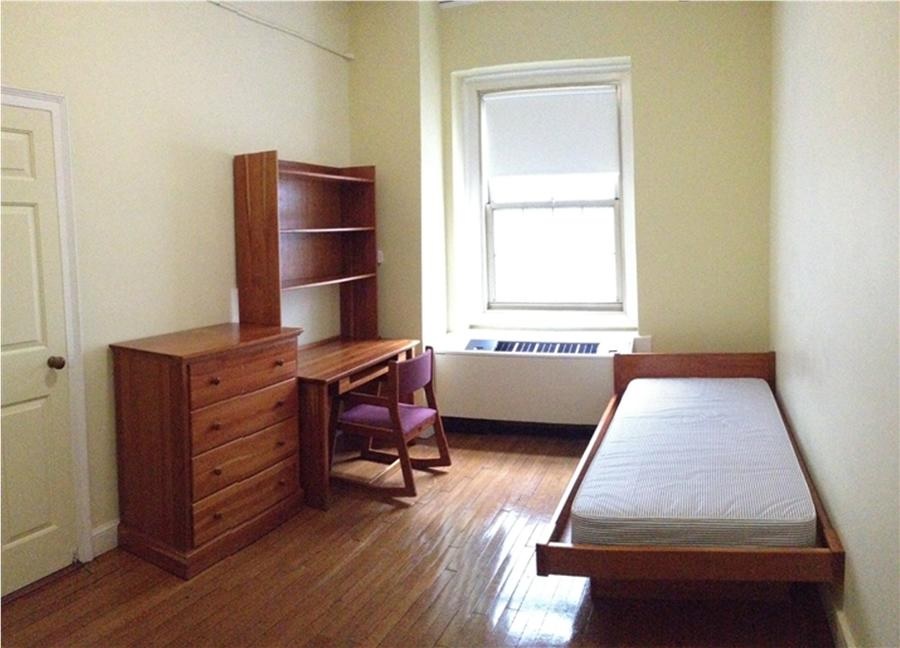 Each room is furnished by the University with one single bed (36" x 80"), one bureau, one desk, one bookcase, and one desk chair. The rooms do not contain a desk lamp or a mirror. Students are required to provide their own bed sheets, pillowcases, pillows, blankets, towels, and other personal toiletries. Residents must maintain their personal furnishings in a decent state of repair and remove them from the premises at the time of vacating. Any furnishings that might cause a fire hazard or injury to the cleaning staff must be removed upon request. Waterbeds are prohibited.
All furniture is to remain in specific areas of Vanderbilt Hall. Bedroom furniture may not be removed from its assigned bedroom or placed in the storage room. Vanderbilt Hall does not have adequate storage space for any item other than in the specific room to which it is assigned. University furnishings for common areas of the Residence Hall may not be moved or removed for a resident's personal use. The Business Office will remove such furnishings from a resident's room when found and will assess the resident the cost of removing the articles. All furniture inquiries should be directed to the Business Office at 617-432-1629.
Energy Conservation
All residents in Vanderbilt Hall are urged to be especially mindful of energy consumption, as energy costs are a significant portion of annual room fees. Windows should be closed during cold weather and lights turned off when a room is unoccupied. When a room is to be vacant for 24 hours or more, the thermostat should be set to low and the switch on the fan coil unit should be turned off or set to the low position. Bedrooms that are unusually hot or cold should be brought to the immediate attention of the Business Office at 617-432-1629 so that necessary repairs may be made.
Painting
Residents may NOT paint their own rooms.
Pets
Pets are not permitted in the Residence Hall.
Fireplaces
Fireplaces may not be used. All fireplaces in the building are inoperable and are covered over at the chimney.
Bicycles
Residents may only store bicycles in their rooms or in the bicycle storage cage located closest to Vanderbilt Hall (on the left as you enter the alley way between Vanderbilt Hall and the New Research Building).
Students may register for bicycle cage access at the HMS Commuter Services and Parking Office or online at https://hms.harvard.edu/departments/campus-planning-and-facilities/campus-services/parking-and-commuter-services/bicycling. The Commuter Services and Parking Office, located at 180 Longwood Avenue (B entrance), is open from 8:00 a.m. to 4:30 p.m., Monday through Friday. For information, call 617-432-1111 or e-mail parking@hms.harvard.edu. We encourage bicycle owners to always lock bicycles securely when leaving them unattended, even when using the bicycle cages.
All bicycles stored on campus must be registered with the Harvard University Police (free of charge) and have a Harvard University registration sticker attached to the bicycle. The sticker should be easily visible and placed on the top side of the main frame of the bicycle. Unregistered bicycles and bicycles that do not have a visible registration sticker will be removed. Students who have registered for bicycle cage access with the HMS Commuter Services and Parking Office will automatically have their bicycles registered with the Harvard University Police. Bicycles may not be chained to pipes, handrails, fencing, shrubbery, or trees. Bicycles may not be left in paths of emergency exits, corridors, outside entrances, or in any other common area. Any bicycles stored in prohibited locations will be removed and donated to charity. The University is not responsible for any or all loss or damage, including theft to bicycles.
Wiring and Appliances
Extension Cords
Electrical wiring must comply with the standards of the National Electrical Code, Underwriters Laboratories, and Massachusetts laws and regulations. Only standard extension cords meeting these requirements may be used in Residence Hall rooms.
Only three-wire extension cords may be used for three-prong wired appliances, and such appliances must only be plugged into the three-prong outlet located in each room.
Extension cords must be mechanically and electrically sound and cannot exceed 10 feet in length. Appliances with high amperage (e.g., refrigerators, hair dryers, irons) generate excessive heat which constitutes a safety hazard when connected to an extension cord; extension cords must not be used for such appliances.
Cords or wires of any type cannot be permanently fastened to any part of the Residence Hall building; run through partitions, doorways, or under rugs; or placed on the outside of the building.
Extension cords cannot be plugged into another extension cord, and extension cords and outlets cannot be overloaded. Only power strips with built-in 15 amp circuit breakers are permitted.
No spliced cords are permitted.
Each room can have a maximum of 12 amps plugged in at any time throughout the entire room—see below for typical amperage:
| | |
| --- | --- |
| Appliance | Approximate Amperage |
| Refrigerator (max. 4 cubic feet, no microwave) | 3.5 |
| Iron | 8 |
| Hair dryer (1,500 watts) | 13 |
| Hair dryer (400 watts) | 3.5 |
| Curling iron | 0.7 |
| TV | 1 |
| DVD | 0.2 |
| Computer | 2 |
| Printer | 2 |
| Phone charger | 0.1 |
| Desk lamp | 1 |
| Clock radio | 0.5 |
Appliances
Residents should not have any electrical device that exceeds 1,000 watts. Microwaves, microfridges (personal refrigerators with microwaves attached to them), toaster ovens, toasters, rice cookers, slow cookers, steamers,  and hot plates cannot be used in individual rooms. Minifridges (not microfridges), which are 4 cubic feet or smaller, are permitted in student bedrooms. Refrigerators may not be installed in closets or bathrooms or covered with blankets or tablecloths. There is a removal fee charged for refrigerators left in the Hall.
All electrical appliances used in the Residence Hall must comply with the standards of the National Electrical Code, Underwriters Laboratories, and Massachusetts laws and regulations. High-wattage appliances or excessive use of electrical devices may seriously overload the wiring, so residents must exercise caution when using items such as lamps, refrigerators, and hair dryers. Please note the following:
Halogen torchiere floor lamps are fire hazards and are not permitted.
Space heaters are prohibited. Inadequately heated bedrooms should be reported to the Business Office immediately or to Facilities after hours.
TV antennas and satellite dishes are not permitted.
Pressure cookers and deep fryers are strictly prohibited from being used anywhere on the premises.
Compliance and Inspections
The Business Office reserves the right to enter any room at any time for any reason and may request inspection by an authorized electrician of any electrical appliance brought to the Residence Hall. Should the authorized electrician declare the appliance unsafe for any reason, it must be removed immediately from the Residence Hall by the student. Should a prohibited appliance be discovered in a resident's room, it will be removed and held until the conclusion of the academic year, at which time the resident can retrieve the item.
Student-Owned Air Conditioners
The air-conditioning system at Vanderbilt Hall shares chilled water with the Harvard Longwood Campus. During periods of extreme heat and/or high humidity, the chilled water supply may be reduced in order to provide cooling to these essential laboratory research areas. Students may provide their own air conditioners only with the written recommendation of a physician and the approval of the Local Disabilities Coordinator. Installation of a student-owned air conditioner must be arranged through the Vanderbilt Business Office. There is a one-time $135 charge for the installation and removal of a resident's personal air conditioner. For safety reasons, all air conditioners must be installed by authorized maintenance personnel. Air conditioners may be installed any time after May 1. Residents are responsible for making arrangements for the removal of their air conditioners prior to vacating their rooms. Residents will be charged an additional fee for the removal of air conditioners that have not been removed from a vacated room.
Guests
A resident in Vanderbilt Hall may house one guest for a maximum of three days. Visitor Passes are available at the front security desk. The guest must present a valid government-issued photo ID to the security officer, and the hosting resident must sign the Visitor Pass in the presence of the security officer or Business Office staff.  The Visitor Pass must be carried at all times by the guest. Visitor Passes may be renewed at the discretion of the Business Office. No room keys will be issued to the guests. The hosting student is responsible for providing the guest access to the building and bedroom. Security will not unlock any bedroom doors for guests. The hosting resident is completely responsible for his or her guest's behavior. Guests are subject to all rules and regulations of the residence hall. Residents shall not abuse the guest policy, and a guest request may be denied at the sole discretion of the Business Office.
Keys
Only residents who have signed a Room License Contract will be issued a key and given access to their room. If a resident wishes to permit access to their bedroom to another individual, written permission is required. There is a $50 charge for any replacement key issued and for the failure to return the key upon vacating the room.
Entry and Fire Inspection
The University reserves the right to enter a resident's room at any time to inspect the premises, to confirm adherence to the terms and conditions of the Room License Contract, and to perform repairs and maintenance (including pest control), or to make any improvement deemed appropriate by the university or required by law. The University may require a resident to remove any material which the University determines is unsanitary, flammable, combustible, creates a fire hazard, or which, in case of fire, might obstruct fire doors or other hall exits. The cost of removing such material will be borne by the resident.
Prohibited or Restricted Articles
The University gives residents as much freedom in the Residence Hall as possible, but for the sake of safety or common interest, the following items must be prohibited:
Firearms, ammunition, or air rifles;
Vehicles (including bicycles.) in entryways or corridors;
Flammable liquids;
Radioactive materials;
Halogen torchiere floor lamps (see Wiring and Appliances section);
Space heaters;
Pets;
The use of candles and other sources of open flame;
Cooking in student bedrooms; including the use of following: electric kettles, electric percolators, electric frying pans, hot plates, toaster ovens, microwave ovens, and all other electric cooking equipment; and
 Fireplace usage (fireplace chimneys are blocked and inoperable).
Security
All residents must abide by procedures set forth for the safety and security of inhabitants, property, and the physical plant.
Room keys are issued by the Business Office at the security desk. Residents are responsible for returning keys to security at the time of vacating. Only one key will be issued per bedroom. Keys may not be duplicated. Residents must notify the Business Office immediately upon loss of a room key. There is a $50 charge for a replacement key.
All residents and their guests must enter and leave the building through the Avenue Louis Pasteur entrance. Access and egress are not permitted through the receiving door, the deanery patio, or the archway gate on Longwood Avenue except in the case of an emergency.
Residents must tap the card reader with their Harvard Student ID card to gain access to the building. Non-resident Harvard students using the Athletic Facility must have their ID card swiped through card reader at the security desk so that Athletic Facility usage statistics may be compiled. Visiting students will be issued a temporary ID card to enter the building. Temporary ID cards are not transferable and must be returned to security upon checkout.
Guests of Vanderbilt residents must have a valid Visitor Pass. These are issued at the security desk and may be used for a maximum of three days at security.
Residents found guilty of participating in illegal entry by visitors may have their room licenses terminated. Unauthorized visitors may be charged with trespassing.
For the protection of residents, their belongings, and University property, entry doors to the living space must be locked at all times.
Whenever a bedroom is left unoccupied, the door must be locked.
Residents should report suspicious activity to the Harvard University Police at 617-432-1212.
Smoking Policy
Vanderbilt Hall is 100% smoke-free and tobacco-free facility. Smoking (including e-cigarettes and vaporizers) is not permitted anywhere on the premises, including the interior courtyard area and the Deanery patio.
Grilling Policy
Wood and charcoal grilling is not permitted. Propane grills are permitted for use by caterers only, and a copy of the caterer's insurance policy is required. The caterer must also have a fire extinguisher on site. Contact Environmental Health and Safety with any questions or assistance regarding grilling on campus (617-432-1720).
Non-Resident Medical and Dental Student Access
Non-resident Harvard Medical and Dental students are always welcome in the common areas of Vanderbilt Hall. Non-resident Harvard Medical and Dental students must have their Harvard Student I.D. card swiped at security to gain access to common areas. If a non-resident Medical or Dental student visits as a guest of a Vanderbilt resident, it is the responsibility of the hosting student to provide the non-resident student access to the living space and to complete a visitor pass at the security desk.
Non-resident students may host guests in the Athletic Facility. To do so, they must purchase Crimson Cash on their Student ID card in advance (see Athletic Facility section in the Guide to Life at Vanderbilt Hall).
Non-resident Medical and Dental students may also check out keys at the security desk to use the pianos and the various student activity rooms but may not sign in guests to enter the building (except the Athletic Facility) without written permission from the Business Office.
Additional Building Policy Guidelines
Rollerblading is not permitted in any common areas of the building or grounds.
Animals, except for service animals, are not permitted on the premises.
Every resident is responsible for the maintenance of good order and reasonable quiet in his or her room. Residents shall at all times show proper regard for others. Radios, televisions, stereos, musical instruments, and other audio equipment shall be adjusted so as not to disturb the community. The interval between 11:00 p.m. and 7:00 a.m. is designated as quiet time, when students should take extra care to keep noise levels low. This includes sliding chairs or furniture across the floor. When a room is to be vacant for 24 hours or more, alarm clocks and clock radios must be turned off.
Placing items outside on bedroom window ledges or hanging banners or objects from balconies or windows is not permitted.
No chemicals, solvents, grease, fuel, paint, or toxic or hazardous substances may be disposed of in the sink, toilet, or shower drains. Residents must contact the Business Office for assistance with proper disposal of such items.
Residents are not permitted on the roof, balconies, or fire escapes, except in the case of an emergency.
Failure to comply with the Terms and Conditions of Occupancy may affect the student's status at the University
All rules and regulations set forth in the Vanderbilt Hall Guide to Life, the Harvard Medical School Student Handbook, and other established rules and regulations of Harvard Medical School and Harvard University are hereby incorporated into the Room License Contract, and the resident agrees to be bound by and to comply with said regulations, rules, and conditions.
THESE TERMS AND CONDITIONS OF OCCUPANCY MAY BE MODIFIED AT ANY TIME BY THE UNIVERSITY AT ITS DISCRETION. ALL RESIDENTS WILL BE NOTIFIED IMMEDIATELY UPON SUCH MODIFICATION