Student Affairs in Vanderbilt Hall
The Resident Counselor for Student Affairs lives in Vanderbilt Hall and is available by appointment. She is also available in cases of emergency and to discuss urgent problems and personal issues. In addition to counseling and advising, the Resident Counselor is responsible for overseeing student life and activities in Vanderbilt Hall. The Resident Counselor supports the personal and professional development of students living in the Residence Hall. Under certain circumstances, the Resident Counselor may also assist students not living in Vanderbilt Hall.
The Resident Counselor for Student Affairs oversees the Resident Advising Program and is responsible for the training and supervision of the Resident Advisors (RAs). Through a planned series of events, the Resident Counselor offers programs and support to develop the interpersonal skills of the Resident Advisors and to address the needs and interests of the Vanderbilt community. Serving as an RA is considered a practicum in leadership, problem-solving, community building, and human relationships. The Resident Advising Program is designed to benefit both the residents of Vanderbilt Hall and the RAs throughout and beyond their school experience in the Harvard Longwood Medical Area.
The Resident Advising Program (consisting of two Head RAs and 23 RAs) was established to promote community as well as to support the welfare of individual residents. As a team, the RAs and the Resident Counselor provide opportunities for the Vanderbilt Hall community to come together throughout the year. The RAs are also available in the living areas for peer counseling and advising. Each resident is assigned to a kitchen. The kitchen assignments are provided upon check-in. The RAs' contact information, including names and room numbers, is posted in each kitchen. All residents are encouraged to introduce themselves to their RA(s) and to consider any RA to be a resource. If you need assistance when your RA is not available, please see another RA or contact the Resident Counselor at 617-432-1980. Each RA can help any resident of Vanderbilt Hall. RAs are selected each spring, usually before Spring Break.
Function Rooms in Vanderbilt Hall
There are a variety of function rooms located throughout the building that are available for student use. The procedures for reserving the various function rooms are listed below. When the function rooms are not reserved, they are available as student lounges and study areas, unless otherwise stated. For large parties, special events, or if liquor is being served, it may be necessary to secure a police detail and a special entertainment license from the City of Boston. In some cases, purchasing special liability insurance will be required. For special event information, permit requirements, or police details, please call 617-432-2020. After they are used, the function rooms must be left clean and with all furnishings back in place. Any problems with equipment, condition, or reservations should be reported to the Business Office.
Joseph B. Martin Lounge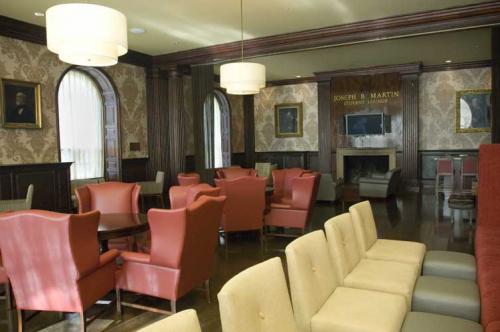 In the spring of 2005, students petitioned the Harvard Medical School administration requesting a student lounge that would give MD and PhD students a place to mix, mingle, and share ideas with other students and postdocs. On June 6, 2006, the renovated Best Common Room of Vanderbilt Hall was officially commemorated and renamed the Joseph B. Martin Student Lounge in honor of the dean whose efforts helped to create the repurposed lounge.
The rich architectural character of the original space was retained while a series of different-sized meeting spaces were created. There is a cozy fireside location, a bar, and window seating that takes advantage of the deep window openings along Longwood Ave. Further renovations were completed in 2015 when the oak floor was replaced the walls were refinished in Venetian plaster, and new furniture was installed. The Joseph B. Martin Student Lounge is available 24 hours a day to all Harvard Longwood students and postdoctoral fellows. It is equipped with a large flat-screen TV with DIRECTV, audio equipment, and comfortable seating. Only quiet activity is permitted in the lounge from 11:00 p.m. to 7:00 a.m., Sunday through Thursday; the sound system and the TV may be used during this time, but only at a low volume appropriate for individual use. As a special exception, on Friday and Saturday nights only, any scheduled gatherings involving loud music or noise must conclude by 1:00 a.m.
The space can accommodate receptions, meetings and parties, and there is a baby grand Steinway piano, donated by the Aesculapian Club, available for practice by students. Reservation information may be found on the Vanderbilt Hall website at http://hms.harvard.edu/departments/vanderbilt-hall/function-room-reservations.
The Deanery Lounge and Patio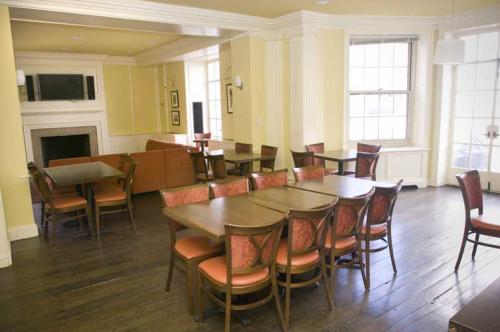 Through the efforts of the HMS/HSDM Student Council, and a generous contribution from the Aesculapian Club, the Deanery (located at entry I) was completely renovated and modernized in 2006. There is a large screen TV with DIRECTV and surround sound. Numerous tables and comfortable chairs provide a relaxed alternative to dormitory rooms. There is also a small kitchen, and adjacent to the Deanery is a large patio.
The space serves as a lounge for student groups to gather for meetings, small potluck dinners, and luncheons. It also serves as a popular spot for impromptu gatherings and post-exam celebrations. Reservation information may be found on the Vanderbilt Hall website at http://hms.harvard.edu/departments/vanderbilt-hall/function-room-reservations.
The Library
The Library is available to students for relaxing and holding study groups when it is not scheduled for meetings. It is located off the front lobby, across from the Business Office. The Library may be reserved through Room Scheduling at 617-432-2020 or e-mail room_scheduling@hms.harvard.edu.
The Perry Culver Lounge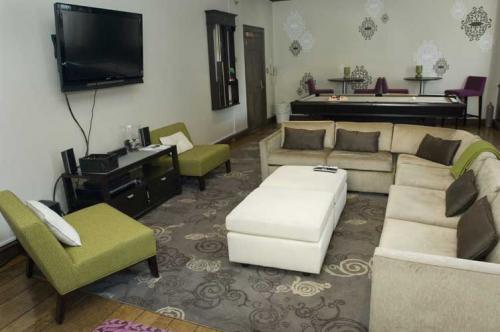 The Culver Lounge is located on the second floor of the Deanery at entry I in room 273. It has a large screen TV with DIRECTV and a pool table. Comfortable seating provides a relaxed atmosphere for group gatherings. There is a sign-up sheet  located near the front entrance of the lounge for students to reserve the room. Because the Culver Lounge is located within the living space, close attention to quiet hours (11:00 p.m. to 7:00 a.m.) is expected.
Room 166
Room 166 is located at Entry I near the Deanery Lounge. It is used for student study.
Multifaith Prayer Room
The Multifaith Prayer Room is located in the basement at entry A. It is open to all students and is used for prayer and meditation, as well as religious, spiritual, and philosophical studies and activities. Access to the Multifaith Prayer Room may be arranged through the Vanderbilt Business Office at 617-432-1629.
Other Student Lounges and TV Room
There are student lounges on several floors directly across from the main elevator. These are open and available for quiet study 24 hours a day. Room 402 has DIRECTV satellite TV service and is available as an alternate TV room to the Culver Lounge, the Deanery, and the Joseph B. Martin Lounge.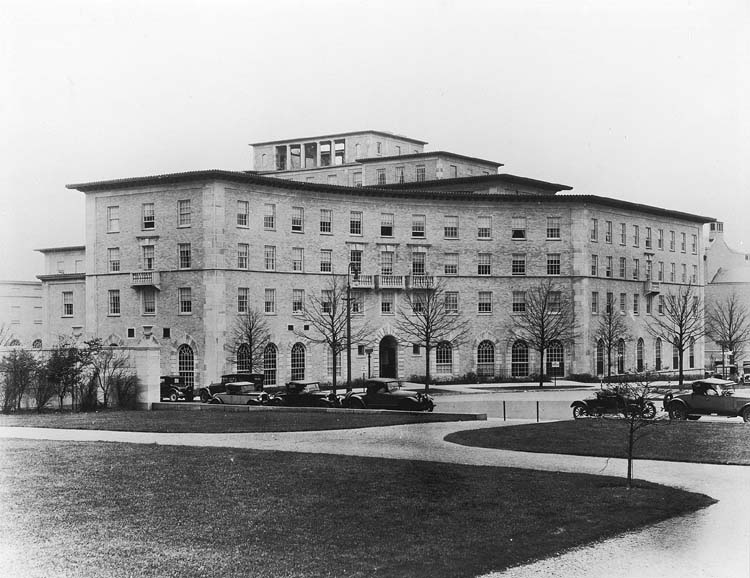 Vanderbilt Hall circa 1930