Research Resources
Research Resources
HMS Core Facilities
Core scientific facilities support innovative research at Harvard by providing highly specialized services, equipment and staff that would otherwise be too expensive for a single laboratory or department to provide.
See a list of all HMS Core Facilities HERE.
 
Bioinformatics Support at HMS
The Harvard Chan Bioinformatics Core
In an effort to provide bioinformatics analysis services and training to the HMS Community, the HMS Tools and Technology Program has provided additional support and resources to the HSPH Bioinformatics Core (HBC). HBC provides expertise in areas such as array analysis, next-gen sequencing (NGS) and functional analysis. Their NGS support includes epigenetics, transcriptomics and re-sequencing studies. HBC works together with research computing groups on all aspects of data management. Visit the Core's website.
HMS Research Computing
Research computing staff help researchers get access to software and hardware resources and provide advice on how to use those resources. Ask us big or small, beginner or expert questions. Research computing consultants with a life science background can talk with you about your project, help you decide an effective strategy for the computational part of your research, and acting as liaisons to other parts of IT to access the necessary resources. If we can't help with a particular problem, we'll try to find somebody who can. Visit their website for a complete list of services.
 
Harvard Catalyst Core Facilities Database
Harvard Catalyst has created this searchable database of core facilities at HMS and its affiliated institutions. The cores are indexed by institution and by service category; the catalog is also searchable by keyword. The database will grow as more cores are established and additional services are identified.
Click HERE to search the database.
 
eagle-i
To expand your search beyond Harvard core facilities, access the eagle-i resource discovery platform directly. Launched in 2010, this open-source application allows researchers to search for the resources they need within the Harvard community and throughout a network of universities across the U.S. Resources include core facilities, instruments, organisms, antibodies, cell lines, plasmids, biospecimens, algorithms, and human studies.
Click HERE to access the database.
 
Faculty & Staff
Spotlight
---
Jennifer Smith, PhD, Assistant Director, ICCB-Longwood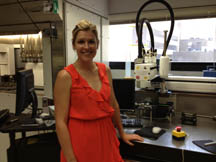 I joined ICCB-Longwood in 2011 after completing a post-doctoral fellowship here at Harvard Medical School.  Throughout my educational training, I utilized viruses to better understand basic principles in molecular and cellular biology.  Now I have the opportunity to share my screening experiences and continue to learn with investigators that use ICCB-L to perform small molecule and RNAi screens. When not at ICCB-L, I can be found enjoying the outdoors here in New England.