In today's current healthcare environment, change is constant.
Providers are trying to deliver high value care with good quality outcomes, as well as care that's safe and free from medical errors.
When you add on to this new technology that's being introduced to the way we deliver healthcare on an almost weekly basis, it is very difficult to then curb costs, become efficient and provide the care that we all strive to provide.
To this end Harvard Medical School's program, Safety, Quality, Informatics and Leadership (SQIL) aims to provide you with the tools you need to become a global leader in healthcare delivery.
SQIL LEEP
Longgang Education Enrichment Program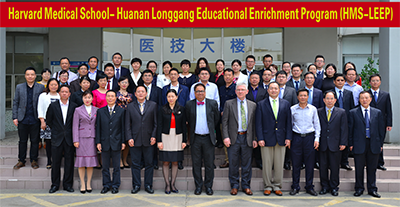 The Longgang district of Shenzhen, China is actively supporting training programs for members of its medical and healthcare community.  The Harvard Medical School – Longgang Education Enrichment Program (LEEP) provides professional development opportunities in healthcare leadership, clinical and chronic disease research.  Longgang is currently supporting participants for the Safety, Quality, Informatics and Leadership Program.
What is SQIL?
SQIL is a one-year certificate program consisting of three in-person, 3-day workshops, live interactive webinars, pre-recorded lectures and peer collaboration. This program will give participants direct access to the world's leading authorities in safety, quality, medical informatics and health leadership.
Program Objectives:
The SQIL curriculum will enable students to: 
Understand the scientific underpinnings of safety, quality, and clinical informatics
Develop leadership skills, focused on effecting change
Address quality and safety issues in a clinical context using a case based approach
Organize, write and, potentially, implement a proposal for a safety/quality/informatics project relevant to their clinical setting
Why should you enroll in SQIL?
First, we have an amazing cadre of world class faculty, these faculty are chief quality and safety officers at some of Harvard Medical School's leading academic institutions. Read more.
The next key element to this course is your access to students who are truly from around the globe who are all working and grappling with the same health care challenges we all face.
Lastly, and probably most importantly this course offers you a way to gain a practical toolkit that you can use in your day to day work. We give you skill such as how to be a leader both in middle management as well as the top of your organization. Read more.
Who should apply?
SQIL is designed for people who work in leadership roles in clinical quality and patient safety. Medical doctors, nurses, administrative leaders, policy makers, researchers and industry professionals are encouraged to apply. For more information about whether the SQIL program is the right fit for you, visit our Admissions page.