Request a Transcript
Requests for transcripts must be made in writing with original signature and should be submitted Registrar's Office. Generally, please allow 2-5 working days for processing your request. Processing time may vary depending on the time of year and volume of requests, so it is advisable to send in your request 1 -2 weeks in advance of your deadline.
Transcript Types:
Official:  Mailed directly to third party. Sealed and signed by the Registrar. Official transcripts may be issued directly to the student when issued in a signed and sealed envelope to be transmitted unopened directly to a third party.
Unofficial:  Student copy for personal use. Does not carry Registrar's signature and is stamped "unofficial."
Requesting a Transcript:
There is no fee for a transcript
If you are in a joint degree program, you must separately request a transcript from degree programs not at Harvard Medical School
Complete all necessary information on the Transcript Request Form with your signature and mail it or fax it to the  to the Registrar's Office. Registrar's Office fax number is: (617) 432-0275.
Our
Mission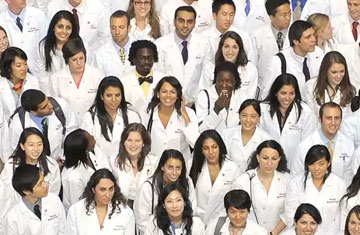 To create and nurture a diverse community of the best people committed to leadership in alleviating human suffering caused by disease.