7.20 Digital Millennium Copyright Act: Annual Notice to Students, Harvard University, Office of the University CIO
7.20 Digital Millennium Copyright Act: Annual Notice to Students, Harvard University, Office of the University CIO
Harvard's network infrastructure is a vital University asset. It enables the academic and research activities of the various Schools and faculties; fosters informed communication with colleagues on campus and around the world; transfers medical images that assist in patient diagnosis; provides remote building monitoring; facilitates the day to day business of education at Harvard; and supports our residential community's personal networking interests. Access to the Harvard network is provided to faculty, staff, and students primarily to support these and other University mission-related endeavors. As a vital and costly shared resource, the optimization and management of the network is important to us all.
An equally vital University interest is Harvard's compliance with copyright and information security laws. The University prohibits the use of the Harvard network for illegal activities. Examples of relevant policies include the Harvard Personnel Manual - "University Policies" and FAS Computer Rules and Responsibilities.
Federal law prohibits the reproduction, distribution, public display or public performance of copyrighted materials over the Internet without permission of the copyright holder, except in accordance with fair use or other specifically applicable statutory exceptions. Harvard may terminate the network access of users who are found to have repeatedly infringed the copyrights of others. In addition, unauthorized distribution of copyrighted material, including unauthorized peer-to-peer file sharing, may subject you to civil and criminal liabilities. Harvard complies fully with the federal Digital Millennium Copyright Act of 1998 ("DMCA") and has in place the mandated process for receiving and tracking alleged incidents of copyright infringement.
Harvard network users should be aware of recent changes in the pre-subpoena notification approach employed by the Recording Industry Association of America (RIAA). These changes include notices requesting the preservation of records in advance of a subpoena, and notices providing an option for users to settle in advance of potential lawsuits. University policy remains unchanged. We will continue to comply with the Digital Millennium Copyright Act and federal law pertaining to DMCA subpoenas, and will continue to update the community of significant changes to process or law.
The University is committed to maintaining the integrity and availability of the Harvard network for vital educational and research purposes for which it was designed. We recommend that you become familiar with the laws pertaining to the use of digital material and to comply with federal law and University policy regarding use of copyrighted materials. More information may be found at http://www.dmca.harvard.edu/copyright_policy.php and http://www.dmca.harvard.edu/faqs.php.
Our
Mission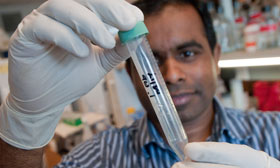 To create and nurture a diverse community
of the best people committed to leadership in alleviating human suffering caused by disease