5.01 MD-PhD Program
5.01 MD-PhD Program
Overview
The mission of the Harvard/MIT MD-PhD Program is to train the next generation of physician-scientist leaders, with representation across the diversity of clinical disciplines and research areas, spanning basic. translational, bioengineering and social sciences. The MD-PhD Program integrates training in both medicine and research for students who intend to pursue careers as physician-scientists.
The MD-PhD Program has established a thriving academic and social environment to support the personal and professional development of each student. Based on the core philosophy that MD-PhD students should be educated as physician-scientists from matriculation to graduation, the program integrates training in scientific methods and research into the medical school curriculum. By combining either the HST or New Pathway MD program (Sections 1.01, 1.02, 1.03, 1.04) with a graduate program of interest, students design their own courses of study. MD-PhD advisors supervise choices, in consultation with graduate program advisors.
The MD-PhD Program is supported in part by the National Institutes of Health (NIH) through its Medical Scientist Training Program (MSTP). The MSTP grant, along with other sources, provides scholarship support, at least in part, for many of the students who are pursuing combined MD-PhD degrees.
Affiliate Program
Students who enter HMS as MD students and decide after admission to pursue both the MD and a PhD degree are eligible to apply for affiliate status in the MD-PhD Program. The application for affiliate status is available on eCommons via the MD-PhD Program. Students are encouraged to apply in their first year of medical school, or as soon as they have decided to pursue this course of study. Admission to the affiliate program is on a rolling basis. Students with affiliate status are invited to participate in all MD-PhD activities.
Maintenance of affiliate status is dependent on achieving relevant benchmarks, such as completion of laboratory rotations or mentored research; application and acceptance to a graduate program; and satisfactory completion of medical and graduate school requirements.
Students who have affiliate status are not funded by the MD-PhD Program prior to starting graduate school but are eligible to apply for second cycle funding for their remaining medical school years in the winter before they return to medical school. There is no guarantee of funding, but the program makes every effort to provide full or partial support to qualified applicants during their M3 and M4 years. Cycle II applicants who are eligible for NIH F30/F31 fellowships are required to submit such grant applications in order to be considered for cycle II funding. The fellowship proposal is usually submitted in the first or second year of graduate school.
MD-PhD Curriculum Overview
The educational curriculum of MD-PhD students usually follows a "2-4-2" model. Training begins in the summer before the first year of medical school with a course called "Molecular Biology of Human Disease," designed to introduce MD-PhD students to current disease-oriented research problems in the biomedical sciences, and to develop their critical thinking skills. During the first two MD years, students may elect to meet some of the classroom requirements for the PhD within the constraints of the preclerkship curriculum. At the end of the second year of medical school, MD-PhD students are offered a spring and/or summer clinical rotation before beginning graduate school. Students then enter the graduate phase of their training by first completing their PhD coursework and then pursuing dissertation research. After defending their thesis dissertations, students enter the third year of the MD program, which includes the Principal Clinical Experience (PCE) during M3;core subinternships and clinical elective rotations follow during M4. The return to M3 clinical experiences represents a potentially challenging transition point, and the MD-PhD Program offers a Longitudinal Course in Clinical Medicine as a special elective to ease this transition from bench to bedside. This course is strongly encouraged for all returning MD-PhD students and is a requirement for students who have been away from medical school for 5 years or longer.
The MD-PhD program also offers many enrichment and social activities, such as community gatherings, annual retreats, informal dinners with faculty, a peer-to-peer Big Sib program, MD-PhD Grand Rounds, and a clinical problem solving and 'Meet the Investigator" seminar series. Students pursuing social science research are fully integrated into the Harvard/MIT MD-PhD program and, due to their unique research travel experiences, are also offered the opportunity to apply for summer scholarship awards. In total, these programmatic activities both build cohesion and community among all program students and faculty, and foster peer-to-peer and faculty mentoring relationships dedicated to the MD-PhD cohort of Harvard medical students.
Please note that to be granted the MD degree MD-PhD Students must complete all course and examination requirements in the New Pathway Program or London HST Program (See Section 1.03, Course and Examination Requirements for the MD degree). The MD curriculum does not permit MD-PhD students to waive any courses required for the MD degree.
Summer Zero
Molecular Biology of Human Disease - ME728
This course brings together entering MD-PhD students as a unit in July and August and introduces them to the concept that they are physician-scientists who consider both basic, clinical, and societal aspects of the problems they encounter. Affiliate students are approved for course participation based on availability of slots.
Basic science lab rotation or mentored social science research
Provisional affiliation with graduate program
Year I
Preclerkship Curriculum Course Requirements: New Pathway Program or London HST Program (See Section 1)
MD-PhD students are encouraged to enroll in graduate courses that will help fulfill their course requirements for the PhD, if feasible. The graduate program head, or his/her designate, assists students in the selection of appropriate graduate courses, while the MD-PhD advisor acts as a facilitator to resolve any scheduling conflicts. MD-PhD students are invited to participate in graduate program activities for incoming graduate students (poster sessions, journal clubs, etc.). Lab rotations are also encouraged.
Summer 1
Lab rotation or mentored research-
MD-PhD students pursuing social science research are strongly encouraged to spend this time working with advisors to seek mentored research experience that will develop research skills and identify research mentors. Additionally, throughout their training experience, MD-PhD students specializing in the social sciences may apply for funding to support summer research projects. Requests for proposals are sent out each spring.
Year II
Preclerkship Curriculum Course Requirements: New Pathway Program or London HST Program (See Section 1.03)
Formal application to graduate program (cycle I students pursuing social science research have completed this at the time of admission)
Step 1 USMLE
Students in both programs are required to pass USMLE Step 1 prior to starting their PhD program.
Summer 2
Clinical Rotation
New Pathway and HST students may complete a clinical clerkship following the end of their Year II preclerkship curriculum. A clinicalclerkship allows students to consolidate preclerkship course work with hands-on patient care experience. This clinical exposure can impact the direction of students' research and dual degree careers, while also setting the foundation for a smooth transition from thesis research back to the wards. All MD-PhD students are encouraged to select a clinical clerkship of interest and also plan to take the Longitudinal Course in Clinical Medicine (see below) in anticipation of reentry to the PCE following completion of the PhD.
Lab rotation or mentored research
Year III
Graduate course(s)
Final laboratory rotation (fall) if thesis lab is not yet chosen or mentored research
Preliminary Qualifying Exam (PQE), spring
Dissertation research begins
The central portion of the MD-PhD program focuses on full-time dissertation research. Importantly, there are a number of opportunities for students to maintain exposure to clinical medicine during this period. Please refer to our website for the full list of current clinical offerings: http://www.hms.harvard.edu/md_phd/events/clinical_offerings.html.
Students should have core preparation in subjects relevant to their graduate department but does not need to have fulfilled their entire graduate course requirements by the time of graduate program entry. Some programs (e.g., Biological and Biomedical Sciences [BBS], Neuroscience and MIT Biology) base their PQE exams on the dissertation research; students in these programs will generally take the exam within six months of joining a thesis lab. Students are encouraged to complete the PQE by the end of MD-PhD program year III.
Responsible Conduct in Research:
MD-PhD students, irrespective of funding support, are required to receive instruction in general areas of medical ethics and the responsible conduct and publication of scientific research. Courses such as the one offered by the Division of Medical Sciences (DMS), Medical Sciences 300: Conduct of Science, or by the Harvard School of Public Health (HSPH), HPM548, meet this requirement. Most graduate programs also require such a course. The MD-PhD Program office annually completes a thorough review of MD-PhD students and reaches out, as needed, to ensure compliance. Students in graduate programs that do not have this requirement will be enrolled in the DMS course or its equivalent.
Year IV
Dissertation research and/or coursework
Years V – VI*
Dissertation research, writing and defense
Longitudinal Course in Clinical Medicine - ME725M.J
MD-PhD students take this course to refresh their clinical skills prior to returning to clinical clerkships. Students who have been away from the MD program for 5 years or longer are required to take this course. This 8-week course runs from the third week in February to the third week in April. For more information, please refer to the MD-PhD Program website: http://www.hms.harvard.edu/md_phd/summer/lccm.html.
*Students are encouraged to plan for their return to medical school one year in advance. In addition to planning to take the LCCM, students should be aware of the following considerations:
Cycle II funding applications are due in January for the following academic year.
Students are expected to present their research at the fall retreat before graduating from the MD-PhD Program. In most circumstances, this is done during the third or fourth years of graduate school.
HMS re-entry occurs at the beginning of each month between May 1 and September 1(see the Academic Calendar for the year of re-entry on the Registrar's website http://hms.harvard.edu/departments/office-registrar). Reentry should be as close to the May 1st start as possible in order to synchronize longitudinal aspects of the PCE that begin on May 1 for all 3rd year medical students, regardless of clerkship start date. All returning MD-PhD students must enroll in the longitudinal PCE curriculum at their PCE site at the beginning of May and attend the PCE orientation the week prior to the beginning of the PCE regardless of the start date of their first core clerkship.
Students are required to successfully defend their thesis in advance of returning to medical school.
Year VI, VII or VIII
Principal Clinical Experience and Advanced Experiences in Clinical Medicine and Basic Science  - Course Requirements (See Section 1.03)
The route of reentry into the core clinical curriculum is through the Principal Clinical Experience (PCE), which is designed to provide a longitudinal experience while fulfilling core clinical clerkship requirements over 12 consecutive months. All MD students fulfill the core clerkship requirements through this route and are required to participate in weekly longitudinal, multidisciplinary curriculum sessions (including Patient-Doctor III) beginning in May and the longitudinal Primary Care Clerkship (PCC).
Students who are not able to complete their PhD work in time to enter the PCE in May may begin core clerkships as late as August in a three-month clerkship or as late as September in a one-month clerkship, in consultation with the Society Master and the HMS Registrar; such students must participate in the weekly longitudinal multidisciplinary curriculum sessions beginning in May and in the Primary Care Clerkship, which begins as early as May at some sites.
Once clerkships are resumed, continuity in scientific exposure is maintained through special programs designed to bring MD-PhD students together with MD-PhD residents, fellows, and faculty in Harvard teaching hospitals.
Apply to residency programs in fall
Step 2 USMLE (CK and CS)
Graduation
Requirements for both the MD and PhD degrees should be completed in an average of seven to eight years. Any student who wishes to extend their training beyond a total of nine years for both degrees will need to petition the MD-PhD Program for approval, providing appropriate justification for the extension of time needed to complete both degrees and a plan and timeline for completing them. Ordinarily a student in the MD-PhD Program will not be permitted to remain at HMS beyond 10 years (See Section 2.08, Policy on Length of Time to Complete the MD Degree). A student who has a compelling case for extending the MD-PhD beyond ten years must petition the HMS Promotion and Review Board to approve an extension and must submit at that time a detailed plan and timeline for completing the requirements of both degrees.
Other issues to consider while planning your schedule:
The minimum clinical-month requirement for licensing in the state of Massachusetts is 14 clinical months. The state of California requires 18 clinical months for licensure. In addition to the clinical courses taken, Patient-Doctor II or Introduction to Clinical Medicine count for 2 clinical months in California. Lastly and very importantly, California has a Family Practice requirement. The Primary Care Clerkship meets the Family Practice requirement. For MD licensure purposes, HMS students must be able to document four years of full-time residence in medical school. Consult with the HMS Registrar if you have concerns about meeting medical school enrollment requirements.
Early Match programs include Ophthalmology, Urology and some plastic surgery programs. For more detailed information, please refer to the HMS website Career Advising: Roadmap to Residency: http://hms.harvard.edu/departments/medical-education/student-services/career-advising-roadmap-residency.
All MD students are required to pass USMLE Step 1 and both parts of USMLE Step 2 (Clinical Knowledge [CK] and Clinical Skills [CS]) in order to graduate. Because of limitations in the availability of test slots and the extended reporting timeline for Step 2 test results, students are required to complete Step 2 Clinical Skills by November 1 and Step 2 Clinical Knowledge by December 31 of their final year. To receive an MD degree, test scores must be reported to the HMS Registrar. If a student's passing scores are not reported to the HMS Registrar before graduation, that student will not receive an MD degree at graduation. Because failure to receive an MD degree will have an impact on a student's ability to start postgraduate training, the Academic Societies require students to confirm their test schedules as they prepare the Dean's Letter; failure to schedule the test before the HMS deadline will be noted in the Dean's Letter. To learn more about resources available to help with study strategies, exam taking, etc., see Section 3.03, Office of Advising Resources.
The MSPE (Medical Student Performance Evaluation or "Dean's Letter") is now sent out on October 1.
Students should be aware that some residency programs may require that students have passing scores available for all parts of USMLE, including Step 2CS, by the rank order deadline for the residency match (late February) in order to be considered for ranking by the program. Therefore, HMS now requires students to take CS by early November to ensure the results will be posted prior to rank. Students should check directly with the residency programs for specific requirements. For the USMLE CS Reporting Schedule, please refer to www.usmle.org/Examinations.
Application Process for Funding
The MD-PhD Program welcomes applications from all qualified students, including students who are underrepresented in medicine, students with disabilities, and students from socio-economically disadvantaged backgrounds. The program is committed to enrolling a diverse body of talented students.
Two application cycles are available during the academic year..
The first cycle is for applicants applying for simultaneous admission to the MD-PhD Program and to Harvard Medical School through either the HMS New Pathway program or the HST program. First cycle students who will pursue social science research apply to their graduate school of interest at this time as well.
The second cycle is for unfunded MD-PhD affiliate students currently enrolled in the New Pathway or HST program. Second cycle application forms are available on eCommons via the MD-PhD Program. Affiliate medical students are not eligible to apply for second cycle funding until the final year of the PhD. If awarded, full or partial funding of tuition/fees and stipend is provided for the last two years of medical school only.
Important note: All students must complete and defend their PhD thesis in order to receive funding for the remaining years of the MD program at HMS.
Deadlines for Second Cycle for enrolled MD students:
December 2, 2014 – Letter of Intent due
January 13, 2015 – Application deadline
Evaluation of applicants for admission to the MD-PhD Program is based on a rigorous review of all materials submitted as part of the MD-PhD Program application. The admissions committee seeks applicants with outstanding academic ability and  demonstrated commitment to pursue careers in academic medicine and research. The most competitive applicants typically have a combination of substantial research experience, evidence of clinical commitment, special talents and accomplishments, and leadership potential. Applicants selected for interviews will meet with MD-PhD program faculty dedicated to the admissions process. Final decisions are made in March.
Advice on Graduate Programs
The MD-PhD Program application does not replace the formal application required for graduate school. For all MD-PhD students pursuing basic research or affiliate students pursuing a social science degree, formal application to the graduate program(s) of interest is usually made during the second year of the MD-PhD Program.
Requirements for admission and specific application procedures vary according to the individual graduate programs. Students are strongly advised to contact representatives of the graduate programs to consult about selection and specific requirements. Some graduate programs may require the Graduate Record Examination (GRE). In addition, some PhD student fellowships may require the GRE.
Completing as many graduate program requirements as possible is advantageous prior to officially entering a graduate program in the third academic year. The best first step is to make a tentative choice of a graduate program. Next, contact the graduate program and obtain detailed information about their requirements for MD-PhD students. Websites are also useful sources, but keep in mind that requirements for MD-PhD students often differ from requirements for other graduate students. The MD-PhD program also organizes informational sessions with graduate program heads to facilitate this information exchange.
Course requirements vary among programs. Completing one or more graduate courses during the first two years at HMS is helpful. Courses should be chosen in consultation with faculty from the graduate program. Depending on the program, medical school courses may fulfill certain graduate course requirements.
During the graduate years, MD-PhD students are supported by funds available from the individual graduate programs, special fellowships, and research assistantships. Students who do not receive MSTP support prior to beginning a graduate program are required to apply for individual fellowships offered by the NIH and other funding agencies, if eligible, in order to be considered for cycle II funding. Administrators in the graduate program and the MD-PhD Program office are available to advise students about funding opportunities.
Most biomedical graduate programs require at least two laboratory rotations, usually with faculty members associated with their program (i.e., rotations with other faculty may not "count" toward the program rotation requirement). These may be completed prior to enrollment in the graduate program, if feasible. One rotation will be in the lab that the student ultimately chooses for thesis work. Lab rotations, which may be conducted at any time during the year, typically involve at least a 25% time commitment to a lab for a period of 6–14 weeks. To obtain credit for a rotation in DMS, a student must complete a rotation form, which must also be signed by the rotation advisor. The form can be found on the MD-PhD eCommons page or requested from the MD-PhD Program office.
Leaves of Absence: Policies regarding leaves of absence (LOA) vary depending on the student's stage in training. In addition to the respective program's approval (e.g., MD, PhD [GSAS, MIT]), approval for an LOA from the Director of the MD-PhD Program is also required. Students in the graduate school phase of training should also notify their medical school society master about any extended time away from the PhD program.. The society master will advise the student on the implications to his/her medical training and what, if any, further review or approval is needed by the Program in Medical Education.
Related websites:
HMS:  Student Handbook (http://hms.harvard.edu/departments/office-registrar/student-handbook): Sections 2.09: Leaves of Absences; 2.07: Full or Part Time Status Requirements; 2.08: Policy on Length of Time to Complete the MD Degree; 2.19 Satisfactory Academic Progress
GSAS: http://www.gsas.harvard.edu/handbook/degree_requirements.php
MIT:   http://odge.mit.edu/gpp/registration/changes/
For further information, please contact:
MD-PhD Program
Harvard Medical School
260 Longwood Avenue, TMEC, Room 168
Boston, MA 02115
Telephone:    617-432-0991
Fax :               617-432-2791
E-mail:           mdphd@hms.harvard.edu
Website:        http://www.hms.harvard.edu/md_phd/
Our
Mission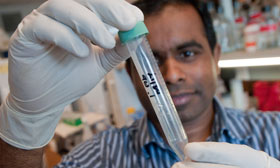 To create and nurture a diverse community of the best people committed to leadership in alleviating human suffering caused by disease