Away Rotations
Away Elective Information
How to request an 'away' elective?
What do you need to do to get credit at Harvard?
Many HMS students choose to do advanced elective clerkships at other medical schools during their final year. However, all Core Clerkships must be done at HMS.
You will not be approved to do an away elective or any enrichment activity if you have any unresolved unsatisfactory grades or other academic issues at HMS.
You may do up to 6 months of electives at any United States LCME accredited school. However, if you plan to do more than 3 months of away electives in a row, you must have your Society's approval.
To do a rotation at a non-LCME accredited institution (i.e. a foreign medical school) contact the International Programs Fellow in your Society for more information. You must register for SOC900.41. All international experiences must also be approved by the Office of Enrichment Programs.
Here is some information to help guide you:
Generally, information regarding away rotations is best found on the away school's website. NOTE: AAMC has developed a pilot program for Visiting Student Applications (VSAS). Please refer to item #11 below for additional information.
Contact the other medical school for their visiting student application information/
Fill out the application and obtain any necessary supporting documents (i.e. transcript, certification of student status letter, processing fees, etc.).
Bring the completed application to HMS Registrar for certification of good student standing.
Upon notification of being scheduled by the school to which you have applied, you must notify the HMS Registrar when and where you will be going and what clerkship you will be taking. You can provide this information via an Add/Drop Form. The HMS Registrar's Office tracks your registration on a month-to-month basis in your third and fourth years.
A one-month (4 weeks) away elective is equal to four clinical elective units.
You will be expected to abide by all the rules and policies of the host institution.
Many schools have rotation dates that do not match the HMS calendar. Please take this into consideration when planning your schedule.
When you have finished the clerkship, it will be your responsibility to ensure that an evaluation is sent to the HMS Registrar. You will not get credit for the course until and unless we receive this verification.
Once the evaluation is received the away elective school name, course title, and a "Cr" grade designation (Cr = credit for course) will appear on your HMS transcript. We do not list the other school's grade.
The evaluation submitted by the other school will be available for you to review.
Here is the url for the AAMC Visiting Student website http://www.aamc.org/vsas.
Housing Tip: visit the website RotatingRoom.com (developed by HMS student) for information about finding a room select cities for away rotations as well as subletting your room if you wish.
Our
Mission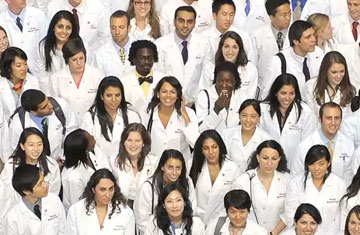 To create and nurture a diverse community of the best people committed to leadership in alleviating human suffering caused by disease.