Alumni Services
Dean's Letter
MD Verification Letter
State Licensure Verification
Diploma Translations
All above requests must be made in writing to the Registrar's Office at: Harvard Medical School, Office of the Registrar, 25 Shattuck Street, Gordon Hall, Room 213, Boston, MA 02115-6092 or faxed to (617) 432-0275. Please include the following information:
Name
Year of graduation
Return address
Phone number
Any third party address(es) who should receive the requested documents
You may use the Request form on the web to complete your request for Transcripts, Copy of Dean's Letter and MD Verification Letter. Complete the form on-line,  mail or fax form to the Registrar's Office at the above address.
There is no fee for any of these services.
Certification of Copy of Diploma
You must send us a copy of your original diploma. The Registrar's Office will verify that it is a true copy of the original and will affix the Harvard Medical School's seal on the copy.
A replacement diploma can only be issued if the original diploma has been irretrievably lost or destroyed. If you are in need of a replacement diploma, please contact the Registrar's Office at (617) 432-1515, Monday – Friday, 9am to 5pm. The fee is $125.00.
Our
Mission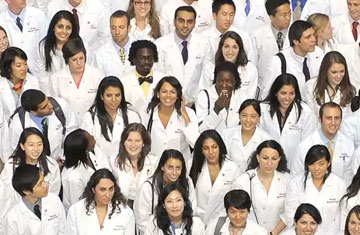 To create and nurture a diverse community of the best people committed to leadership in alleviating human suffering caused by disease.