Pathway to Stop Diabetes: Diabetes Research Accelerator Award
Pathway to Stop Diabetes: Diabetes Research Accelerator Award
HMS Deadline: April 5, 2016
Foundation Deadline: July 1, 2016
Number of HMS nominations: 1
Description:
The Pathway to Diabetes Research Accelerator Awards are designed to support investigators with established records of independent productivity in research. For the purpose of this award, demonstration of independent productivity should include that the candidate is currently in an independent faculty position and can perform a particular set of experiments at a high-quality level, including senior author publications (independent of training mentors) and/or demonstrated ability to obtain independent funding/support for their work.
The award is intended for both early career researchers who have distinguished themselves as exceptionally talented and promising research investigators and are in the early stages of establishing successful, independent diabetes research programs and to established investigators in fields other than diabetes research who are interested in applying their skills and expertise to diabetes research.
Amount of support: $1,625,000 over 5 years
Eligibility Requirements:
Applicants must:
indicate the type of award for which you are applying:
Early Investigator: Early career diabetes investigators proposing innovative and ambitious diabetes related research programs. Applicants must hold faculty positions and have demonstrated independent productivity in diabetes research. Applicants may currently hold independent NIH funding (K, U or R awards, including an initial R01/U01) but must not have applied for, or received, an R01/U01 renewal or a second R01/U01 award

Established Investigator New to Diabetes Research:

Established investigators with exceptional productivity in fields other than diabetes research who would like to apply their expertise to innovative diabetes-related research topics. Applicants must hold faculty positions and have demonstrated independent productivity. Applicants cannot have previously received national grant support in diabetes research.
hold a MD, PhD, DMD, DO, PharmD, or DVM

have permission to work in the US, either as a citizen, permanent resident, or with appropriate work visas/permits.

agree to devote at least 75% of total time and effort towards research during the period of Association funding. In other words, 75% of the PI's time overall must be dedicated to research. This percentage includes time dedicated to the Association in addition to grants supported by other funding agencies.
Application Instructions: See standard HMS Foundation Funds application form and instructions.
URL:  http://professional.diabetes.org/Congress_Display.aspx?SID=695&CID=91814#ACC_Award
Additional notes: All HMS affiliated hospitals are invited to submit separate nominations for this award. Faculty at the hospitals should NOT apply for the HMS nomination for this award but should seek the nomination from their hospital. Please contact your research administration representative for details.
Our
Mission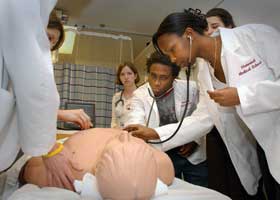 To create and nurture a diverse community of the best people committed to leadership in alleviating human suffering caused by disease