Greenwall Faculty Scholars Program in Bioethics
Greenwall Faculty Scholars Program in Bioethics
HMS Deadline: April 10, 2017
Foundation Deadline: November 1, 2017 (Anticipated deadline)
Number of Harvard nominations: 2
Description: The Greenwall Faculty Scholars Program in Bioethics is a career development award to enable outstanding junior faculty members to carry out original research that will help resolve important policy and clinical dilemmas at the intersection of ethics and the life sciences. This research will also put Faculty Scholars in a position to help set public policy and standards of clinical practice.
Amount of support: $89,850 per year for three years plus 10% institutional costs for salary
Eligibility Requirements:
Applicants must be junior faculty members holding at least a 60% appointment.

A 50% time commitment to the funded project is required.

Priority will be given to applicants who have not yet been considered for tenure, who have not received a comparable career development award and whose work will have an impact on public policy or clinical practice. Within this group, priority will be given to applicants whose research addresses innovative and emerging topics. Lower priority will be given to applicants who are working on institutional change, educational reform, or primarily theoretical research.
Application Instructions: See standard HMS Foundation Funds application form and instructions.
URL: www.greenwallfsp.org
Additional notes: Harvard University is the nominating institution for these awards. Therefore, the HMS Foundation Funds Committee will select HMS' nominees and forward their applications to the Provost's Office. Likewise, applications from all other Harvard schools will be submitted. A Committee appointed by the Provost's Office will review all applications and select the University's nominees.
Our
Mission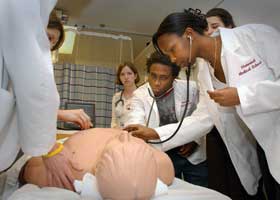 To create and nurture a diverse community of the best people committed to leadership in alleviating human suffering caused by disease