2013 Teaching Awards
2013 Daniel D. Federman Teaching Awards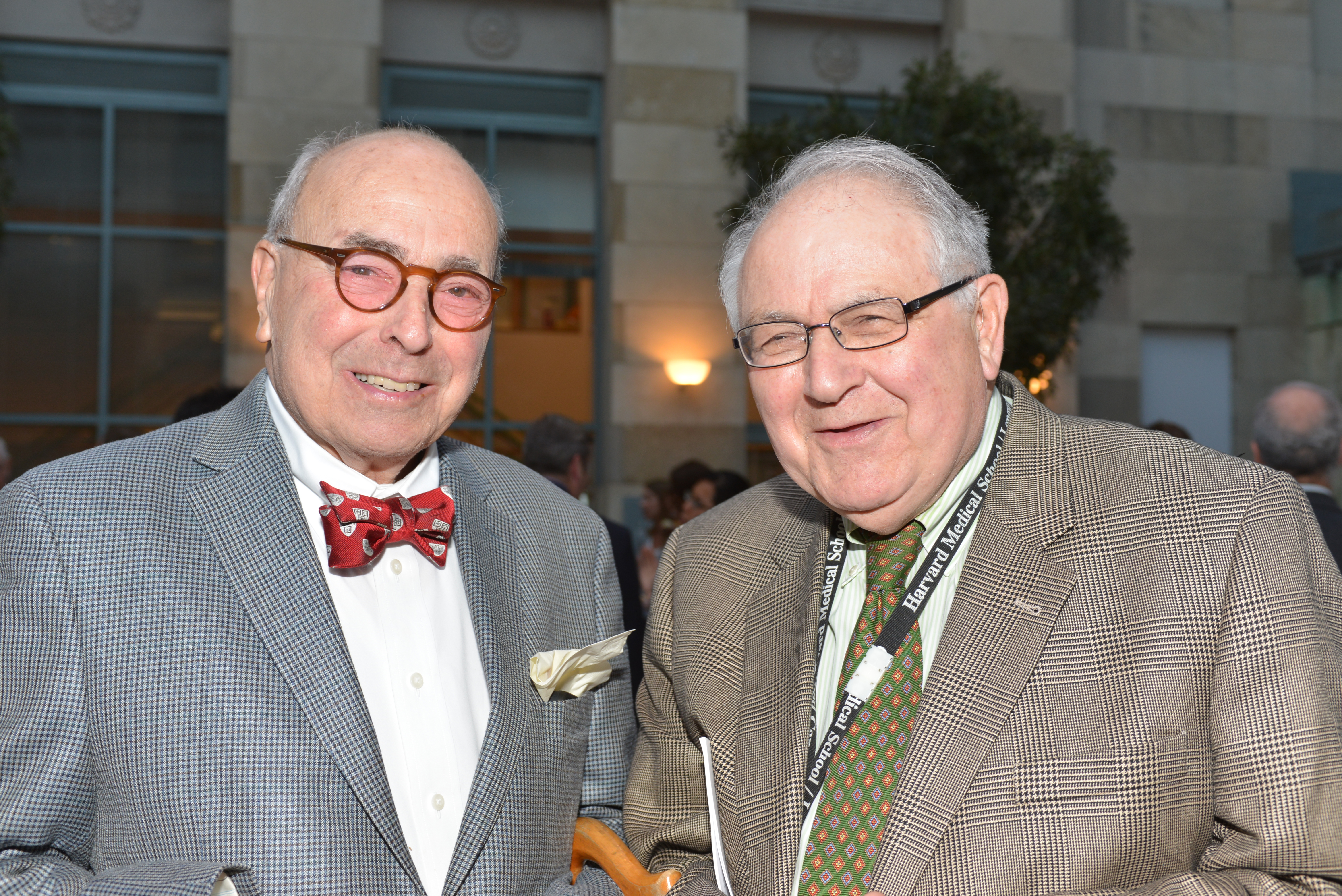 2013 Daniel D. Federman, M.D. Teaching Awards
Excellence in Tutoring Award Recipients
---
S. Robert Stone Award (Beth Israel Deaconess Medical Center)
Leo A. Blacklow Award (Mount Auburn Hospital)
The Bernard Lown Award (Brigham and Women's Hospital)
The Robert P. Masland Award (Children's Hospital Boston)
Bulfinch Medical Student Teaching Award (Massachusetts General Hospital)
Cynthia N. Kettyle Teaching Award
The Charles J. Hatem Award for Faculty Developement
AAMC Humanism in Medicine HMS Nominee
---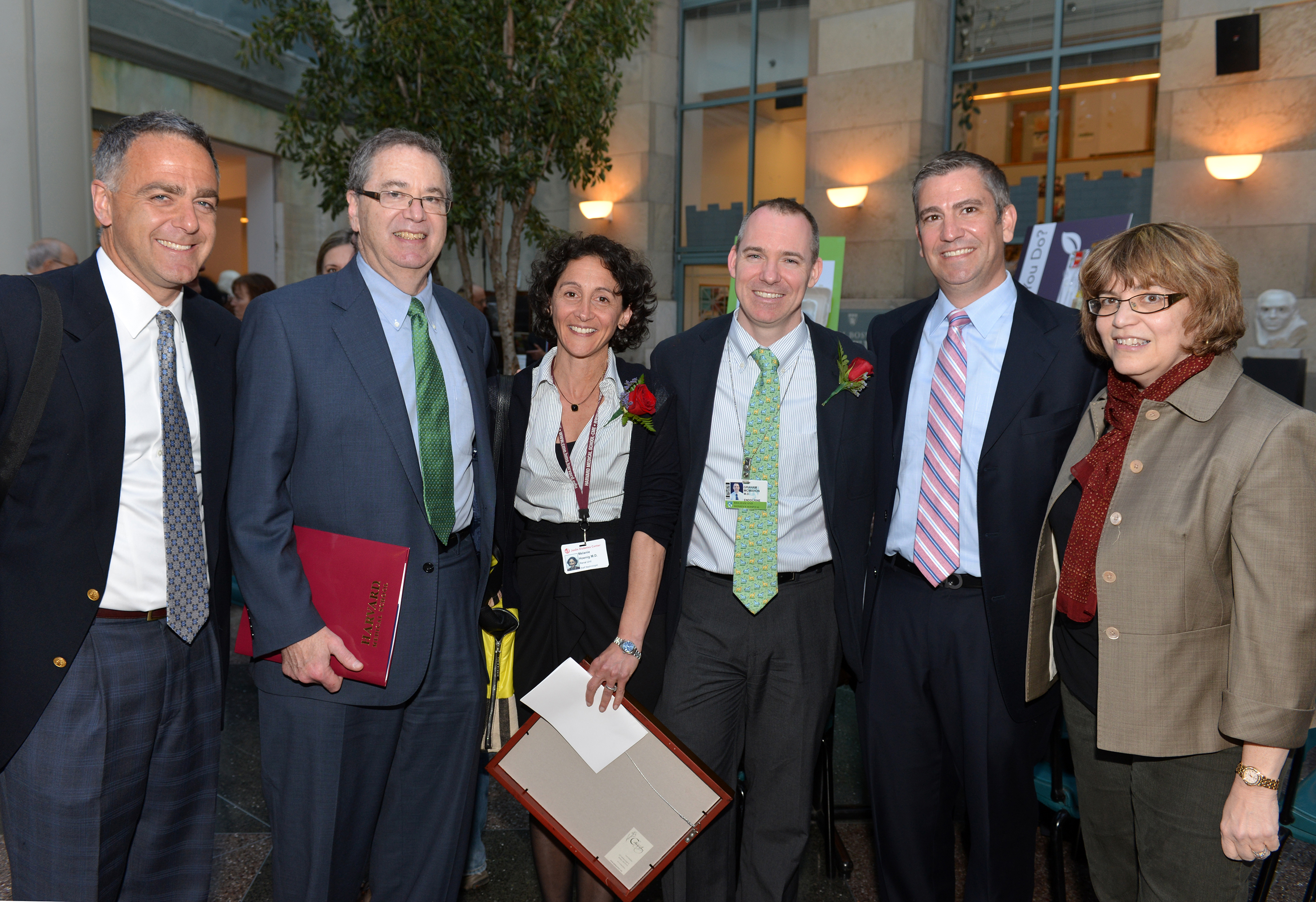 Faculty Prizes for Excellence in Teaching
The Faculty Prizes for Excellence in Teaching were established in 1982 by
the HMS Faculty Council to be "conferred annually to faculty who,
through their excellence in teaching, would impact and influence
 the professional lives of students long after graduation."
Donald O'Hara, Ph.D. Faculty Prizes for Excellence in Teaching
The Faculty Prizes for Excellence in Teaching in Years I and II are named in memory of Donald O'Hara, Ph.D., who was a beloved teacher of Harvard medical students. Dr. O'Hara also served as one of the leaders of the New Pathway Chemistry and Biology of the Cell course and as co-director of the HST course, Human Biochemistry and Metabolic Diseases. Dr. O'Hara was also a recipient of the Faculty Prize for Excellence in Teaching for his teaching of first-year medical students.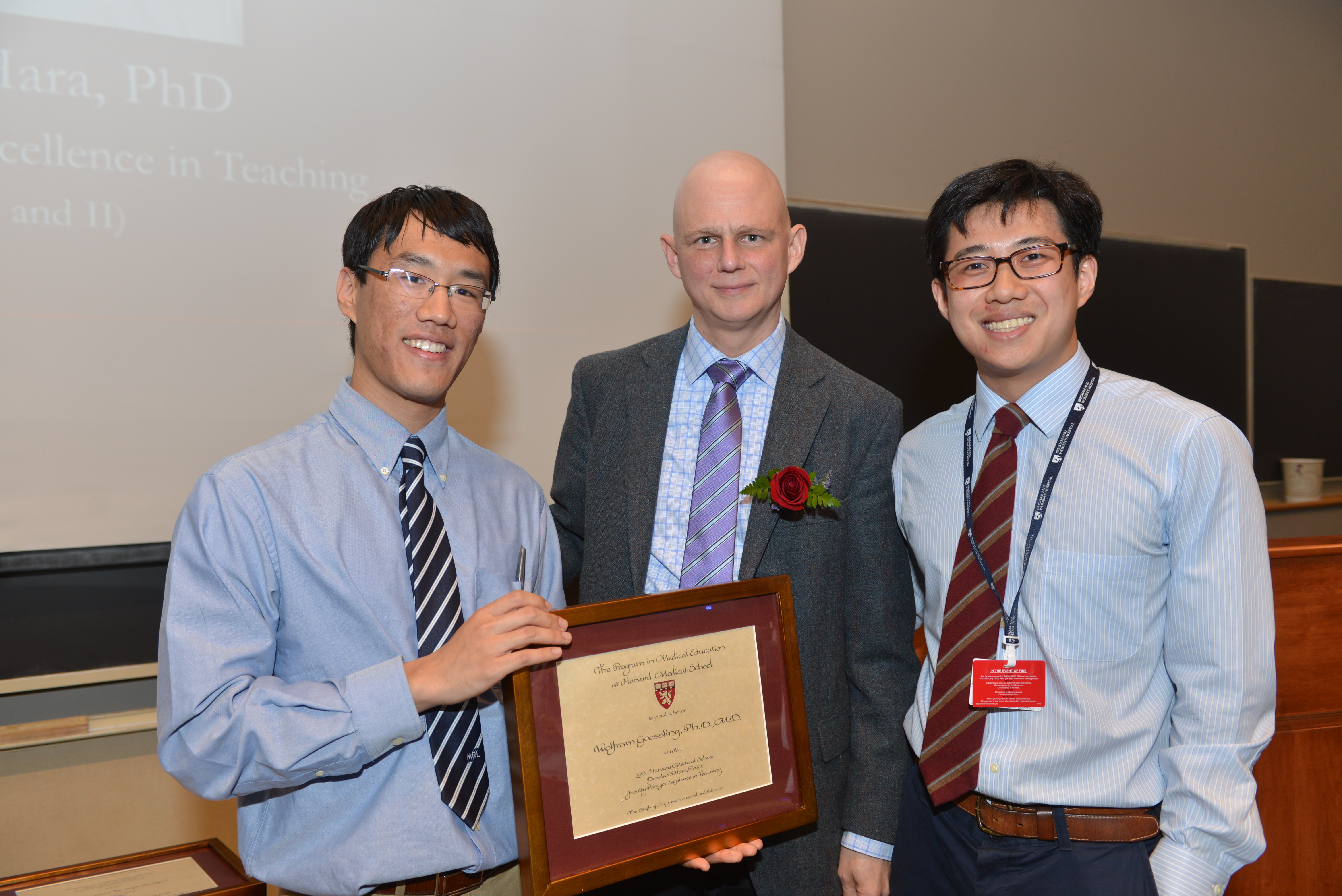 Wolfram Goessling, Ph.D., M.D.       
Assistant Professor of Medicine
Brigham and Women's Hospital
Dr. Wolfram Goessling is a graduate of the University of Witten/Herdecke in Germany (M.D. and Ph.D.) and trained in medicine at Brigham and Women's Hospital. He was nominated for his excellent teaching in the HST second-year Intro to Clinical Medicine course.  Students noted that his "teaching inspires me to be a better clinician every day," that he took his own experiences "…and turned these experiences into poignant learning opportunities. He listened to our feedback and actively improved the course."   As one student noted, "I don't think it is an exaggeration to say that the entire generation of HST-trained physicians and scientists will be indelibly versed in ethics, compassion, and humanism thanks to Dr. Goessling's generosity."  
Melanie Hoenig, M.D.
Assistant Professor of Medicine
Beth Israel Deaconess Medical Center (Joslin Diabetes Center)
Dr. Melanie Hoenig is a graduate of Albert Einstein College of Medicine and completed a residency  in internal medicine and a fellowship in nephrology at Beth Israel Hospital. Dr. Hoenig is recognized with an O'Hara Prize for her leadership of and teaching in the second-year course, Human Systems: Renal. As one student wrote, "Dr. Hoenig is exceptionally brilliant at communicating some of the most difficult content in the preclinical curriculum but also fiercely devoted to the education of her students." Her "expectations of our intellectual development were above and beyond, especially with the course final. I found that the message she sent with such an exam was incredibly useful. That exam also taught us that the tools we have already accrued can take us quite far." "Dr. Hoenig is a true asset to the faculty at HMS!"
Charles McCabe, M.D. Faculty Prizes for Excellence in Teaching
The Faculty Prizes for Excellence in Teaching in Years III and IV are named in memory of Charles McCabe, M.D., who was a beloved teacher of Harvard medical students and who also served as the director of the Core Clerkship in Surgery at Massachusetts General Hospital for more than two decades. Dr. McCabe was also a recipient of the Faculty Prize for Excellence in Teaching on multiple occasions for his teaching of third-year medical students.
Alexander Carbo, M.D.
Assistant Professor of Medicine
Beth Israel Deaconess Medical Center
Dr. Carbo, a hospitalist at BIDMC, graduated from Johns Hopkins Medical School and trained in internal medicine at Beth Israel Deaconess Medical Center. He is co-director of the Core Subinternship in Medicine and teaches in Core Medicine I at BIDMC. Students praised him for his role in the Medicine Clerkship, in which he was a true mentor. One student wrote that "from day 1, he set the teaching objectives and asked me what I wanted to learn, he was thoughtful in making sure I was included in all conversation and met with me several times 1 on 1 to make sure I was happy with the progress of the rotation." With his patients, he was a super star, said one student. "He pushed me to be more like an intern and gave me the confidence to do it. A medical error made by me, instead of yelling and complaining, he sat with us and together, we broke down the problem into its parts and analyzed what we could do to prevent it in the future. Not only was I relieved, but I was amazed at how much more useful this was to help avoid this situation in the future." "Dr. Carbo is a great physician and a truly devoted teacher!"
Marie-Louise Jean-Baptiste, M.D.
Assistant Professor of Medicine
Cambridge Health Alliance
Dr. Jean-Baptiste is a graduate of State University of Haiti Medical School and trained in internal medicine at Cambridge hospital, where she now serves as a primary care physician with specialties in ID and HIV care. She teaches third-year Harvard medical students in both the Cambridge Integrated Clerkship and the Primary Care Clerkship and also teaches in the Patient-Doctor courses. One student who was her preceptee in the Primary Care Clerkship reflected, "My primary care clerkship has been the best part of my third year experience and having the privilege of working with Dr. Jean-Baptiste has been one of the main reasons that it has been a memorable and meaningful experience." She is recognized with a McCabe Prize for her commitment to being both a "dedicated teacher and devoted clinician" and for being "outstanding with patients, going the extra mile to make sure that they are getting good care." She is an excellent role model for aspiring physicians.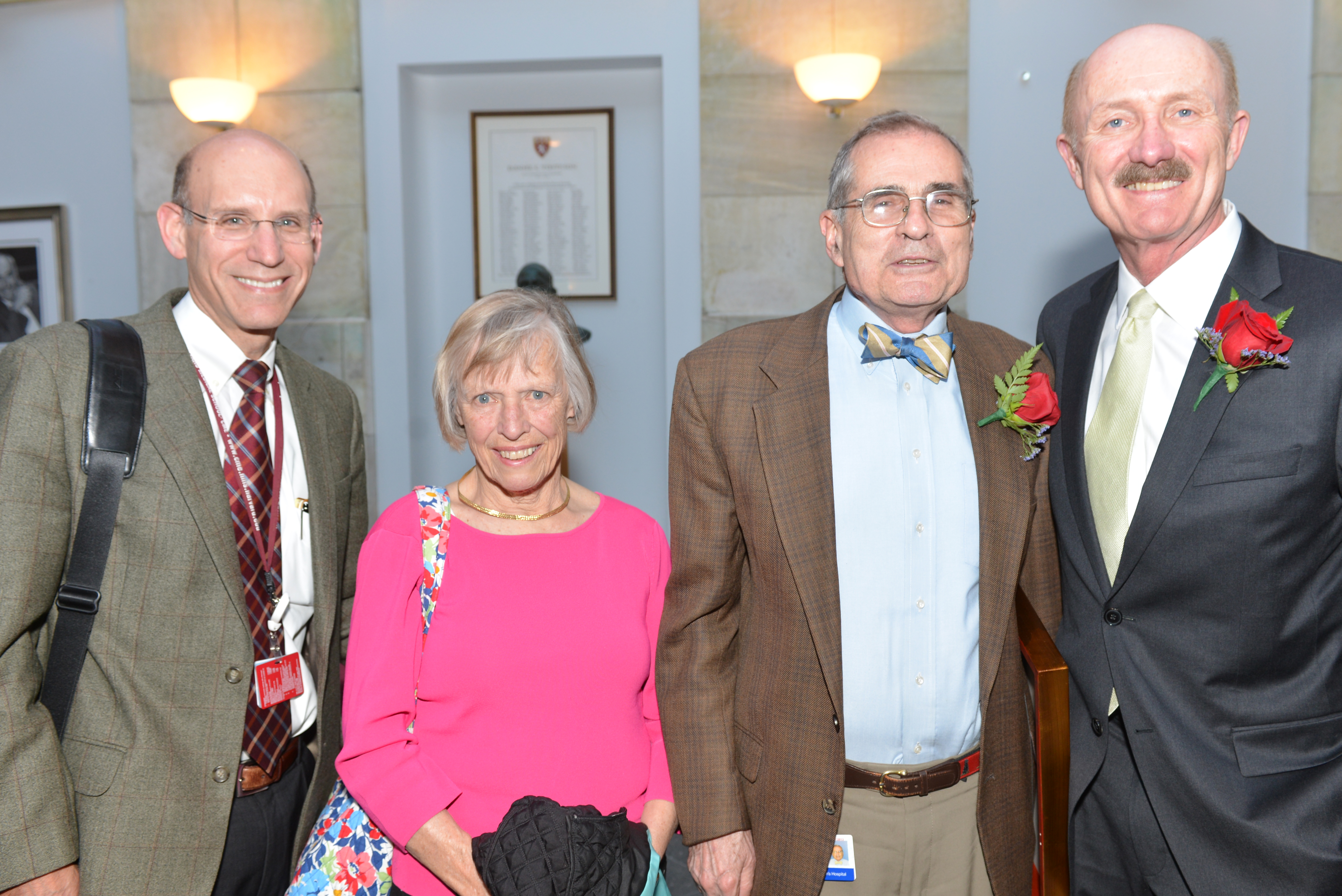 Special Faculty Prize for Sustained Excellence in Teaching
The Special Faculty Prize for Sustained Excellence in Teaching was established in 2006 by the HMS Teaching Awards Selection Committee to be conferred upon a member of the HMS faculty who, through a lifetime of excellence in teaching, has impacted and influenced the professional lives of students long after graduation.
H. Franklin Bunn, M.D.
Distinguished Scholar
Professor of Medicine
Brigham & Women's Hospital
Dr. Bunn, a hematologist, graduated from Harvard College and the University of Pennsylvania School of Medicine, trained in internal medicine at New York Hospital (Cornell), and completed a fellowship on the Second and Fourth Harvard Medical Services at Boston City Hospital. He has been teaching in the Pathophysiology/Human Systems courses at HMS for nearly 40 years and served as director of the hematology block for many of those years. He developed and directed the Harvard-Markey Biomedical Scientist Program, which gave PhD students a 15-month curriculum of in-depth study of human biology and pathophysiology of disease. He also teaches in the HST pathophysiology course and the hematology elective at BWH. Teaching has always been a passion for Dr. Bunn, and he is a beloved teacher. He teaches in many courses at Harvard, and he routinely receives superb evaluations from his students. In addition to his long-standing leadership role in the second-year hematology course, he also lectures, teaches tutorials, and leads minicases. Dr. Bunn also lectures in the HST Hematology Course and teaches in the HMS biochemistry course, in the Biochemistry Seminar: "Molecular Basis of Some Clinical Disorders," and in Biochemistry and Physiology Courses for the Master in Biomedical Sciences Program. At BWH, he has served for many years as an attending physician, as preceptor for the hematology elective, and as a lecturer in the Intensive Review of Internal Medicine. In working closely with him, it is always noted how he puts the students first. He is skeptical but open to new ideas and teaching styles, but always comes back to asking the question, "What will help our students learn?"
Robert Novelline, M.D.
Scholar
Professor of Radiology
Massachusetts General Hospital
Dr. Novelline graduated from McGill University and BU Medical School and trained in medicine/surgery at St. Vincent's Hospital and in diagnostic and vascular radiology at MGH. Dr. Novelline also completed a Radiology Education Fellowship with Dr. Lucy Squire at MGH. He has been Director of Undergraduate Radiology Education since 1975 and has also directed the Core and Advanced Radiology Clerkships during that time. Dr. Novelline is the author of Squire's Fundamentals of Radiology, the premier textbook used by medical schools throughout North America and abroad, which received the Amazon.com Award: World's Bestselling Radiology Book and is now in its 6th edition. As founder of the Alliance for Medical Student Educators in Radiology (AMSER), Dr. Novelline put medical student education in radiology on the map. His medical student curricula have been adopted at many other schools, and he has often hosted and advised other clerkship directors and educators. Not only has he been directly involved in medical student education, serving as mentor for countless medical students, but he has also been a leader in the mentorship of radiology educators. He has been nominated numerous times for the HMS Faculty Prize for Excellence in Teaching, and he has received the Valentina Donahue-Turner Teaching Award at HMS and the Medical Student Teaching Award in Radiology at MGH.
Jeremy Schmahmann, M.B.CH.B.
Scholar
Associate Professor of Neurology
Massachusetts General Hospital
Dr. Schmahmann graduated from the University of Cape Town Medical School in South Africa and trained at Groote Schuur Hospital in Cape Town and Brockton-W. Roxbury VA Hospital (Medicine), and at Boston City Hospital (Neurology). He was a Research Associate in Anatomy at BU, where he taught neuroanatomy to second-year medical students. Dr. Schmahmann has been teaching Harvard medical students since he joined the HMS faculty in the Department of Neurology at MGH in 1989. Since 1989, he has been teaching second-year students how to perform the neurological exam in Patient-Doctor II. In 1991, he was appointed Director of the Core Clerkship in Neurology at Mass General Hospital. As neurology clerkship director at MGH, he emphasized hypothesis-driven inquiry in clinical neurology, focusing on teaching at the bedside. He introduced the formal observed clinical encounter (the Bedside Examination Exercise) to the clerkship as a teaching and evaluation instrument and developed more objective assessment and grading criteria. He initiated and chaired the MGH neurology education committee, which is devoted to medical student and resident education, and to faculty development in medical education. He has been nominated on multiple occasions for the HMS Faculty Prize for Excellence in Teaching, and, in 2008, he was the recipient of the Distinguished Neurology Teacher Award from the American Neurological Association.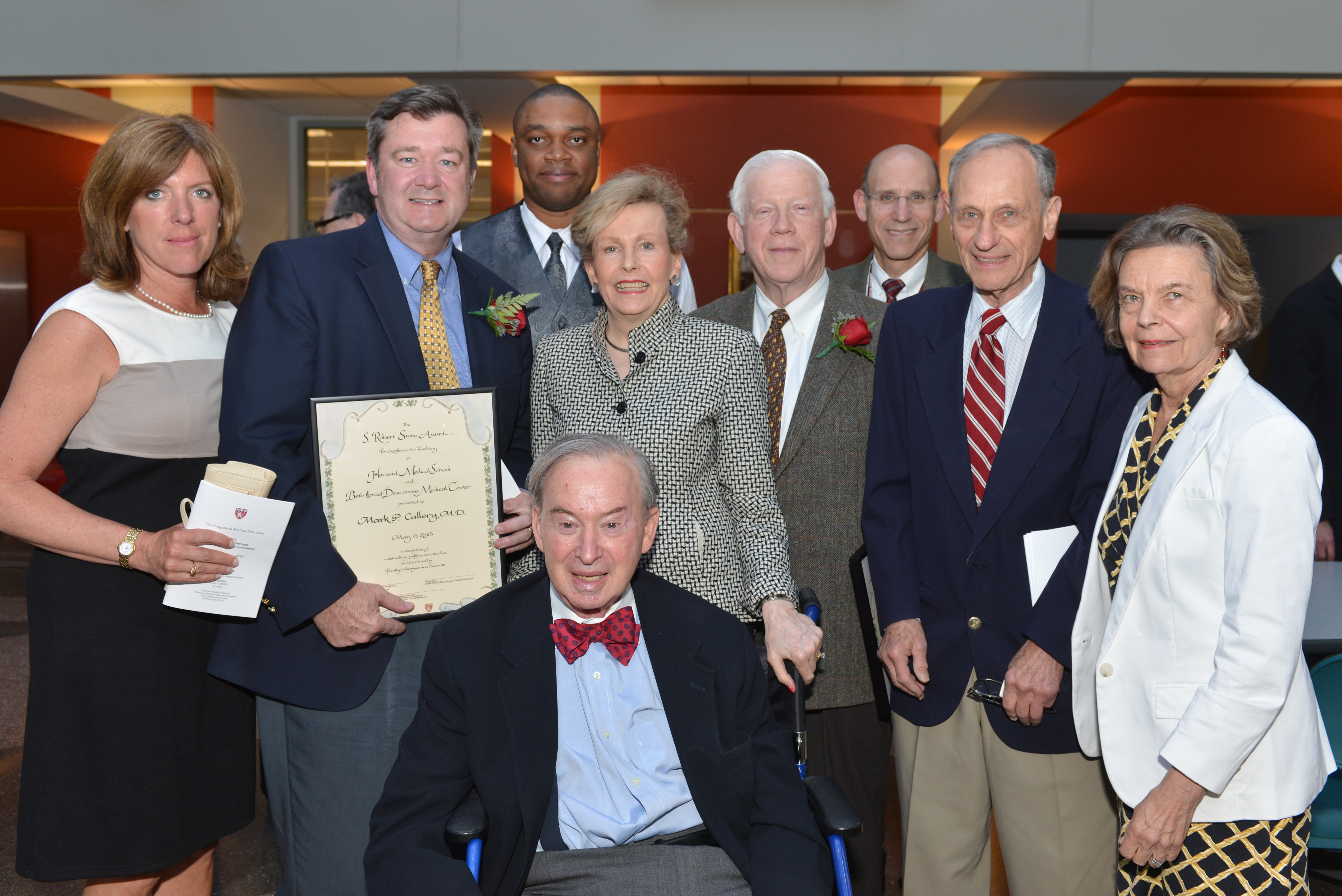 S. Robert Stone Award for Excellence in Teaching
Beth Israel Deaconess Medical Center
The S. Robert Stone Award for Excellence in Teaching has been awarded annually since 1981 to a member of the Harvard Medical School Faculty at Beth Israel Deaconess Medical Center for outstanding achievement in the teaching of medical students and house staff.  The award is given in honor of the late Honorary Trustee and past Board Chairman of the former Beth Israel Hospital by his children.
Mark Callery, M.D.
Associate Professor of Surgery
Dr. Callery, a graduate of Tufts University and the Albany Medical College, completed training in general surgery and immunology at Albany Medical Center and at Barnes Hospital, Washington University, prior to a fellowship in hepatobiliary/pancreatic surgery at the Royal Infirmary, University of Edinburgh. He is currently chief of the Division of General Surgery at Beth Israel Deaconess Medical Center (BIDMC).  A nationally recognized leader in hepatobiliary surgery, he dedicates most of his time to high-acuity clinical care that supports continuous medical student and trainee education, while maintaining research activities and administrative responsibilities. He has taught medical students, residents, and fellow physicians in virtually every setting for over 20 years. He was a founding faculty advisory for Harvard Medical School's John Warren Surgical Society for students interested in surgical careers, and his efforts have been recognized by residents with the 2005 George W. Starkey Award for Excellence in Teaching. Students nominating him for the S. Robert Stone Award wrote:  "Dr. Callery's technical ability in the OR is unparalleled and the beautiful way in which he conducts his surgeries is admirable and fascinating to watch."  "He is a welcoming and incredible educator for medical students – not only his assigned students, but anyone who joins him in the operating room. He is patient, taking extra time to answer any question, while also very skilled, imparting knowledge of basic skills and advanced surgical maneuvers to his team. Most of all, he has an incredible demeanor with patients, always curious about their lives, not only their surgical diagnoses."  "During a day when we were walking to see a patient, Dr. Callery continued to teach me when he could have spent his time checking his phone or talking with someone else…He even took the time to teach when we had an elevator ride with someone who seemed upset." "While Dr. Callery's accomplishments and achievements are too long to list, the subtle things I have learned from him have impressed and influenced me the most." 
Adolf W. Karchmer, M.D.
Professor of Medicine
Dr. Karchmer, Infectious Disease (ID) physician at the BIDMC, was founding Chief of the Division of ID at New England Deaconess Hospital (NEDH) and subsequently Chief of ID at the BIDMC, 1996-2008. A graduate of HMS, he completed a residency in Internal Medicine and an ID fellowship at Massachusetts General Hospital. His major research efforts have focused on infections of the cardiovascular system. Dr. Karchmer's contributions to medical education began in 1970 as a Laboratory Instructor in HMS's Pathophysiology course. For 43 years, he has unstintingly shared his time and expertise with generations of students, residents, fellows, and physicians. He has taught students in core and elective courses in infectious disease and residents and faculty in countless lectures and CME courses. He directed the ID Fellowship program at NEDH (1982-1986) and then at BIDMC (1996-2001). He continues to serve as an attending physician and consultant. In nominating Dr. Karchmer for a teaching award, a house officer wrote: "He makes being available for teaching a huge priority. He is willing to rearrange his clinic/consult schedule to be present at resident reports, journal clubs, M&Ms, and medical student teaching sessions. He is always interested in being present as a consultant, shows up early, and is always engaging. He focuses on pathophysiology in a way to help make sense of what is happening and aid in remembering the 'why' of what he is teaching…I make a special point to come to conferences he'll be at, because I know it will always be an enlightening experience."
Leo A. Blacklow Teaching Award
Mount Auburn Hospital
The Leo A. Blacklow Award was established in 1990 and is presented annually to an outstanding teacher who holds joint appointments at Harvard Medical School and Mount Auburn Hospital. 
Malcolm (Kip) Mackenzie, M.D.
Instructor in Obstetrics, Gynecology and Reproductive Biology
Dr. Mackenzie is a rare individual with a track record of excellence in teaching and education that spans his career. His interest in scholarship began well before his medical career. As a wrestling coach in college, elementary and high school teacher and dorm master, a foundation for education was always part of his core values. Dr. Mackenzie received his medical degree from Dartmouth Medical School and completed his Obstetrics and Gynecology residency at Maine Medical Center.
In 2009, Mount Auburn Hospital was lucky to be able to recruit Kip to our Harvard community. Remarkably, in four short years he has revolutionized our teaching culture. He has revitalized our departmental clinical education core group and established a rigorous and consistent teaching curriculum for our 3rd and 4th year medical students and physician assistant students. Each work day begins at 7:00 a.m. with an hour didactic with the students followed by office, surgical or L&D precepting. Among the many comments received for his nomination, the following stands out: "In one sitting, Dr. Mackenzie has managed to show me what I knew, what I needed to know, and what we are still searching for. In this moment, I wished every teacher was so invested, and so innovative in sharing his or her knowledge." For his efforts, Kip has been named Assistant Clerkship Director at Beth Israel Deaconess Medical Center and has been nominated several times for the Charles McCabe Faculty Prize for Excellence in Teaching at Harvard Medical School.
Bernard Lown Award for Excellence in Teaching
Brigham and Women's Hospital
The Bernard Lown Award for Excellence in Teaching at Brigham and Women's Hospital was established in 2010 to celebrate physicians who are outstanding clinical teachers. The award honors Dr. Bernard Lown, senior physician at Brigham and Women's Hospital, Professor of Cardiology Emeritus at the Harvard School of Public Health, and the founder of the Lown Cardiovascular Center and Lown Cardiovascular Research Foundation. Dr. Lown is a gifted clinician, a renowned bedside teacher and a research pioneer who has been five times named Master Teacher of the American College of Cardiology. He cofounded with Dr. Evgeni Chazov, of the former Soviet Union, International Physicians for the Prevention of Nuclear War (IPPNW), and in 1985, they were co-recipients of the Nobel Peace Prize on behalf of IPPNW. Dr. Lown has been five times named Master Teacher of the American College of Cardiology and has been selected honorary member of a number of medical and cardiac societies around the world.
The Lown Teaching Award recognizes the very significant role that education plays in carrying out the BWH mission and the Institution's deep commitment to the next generation of clinicians. The awardees are selected based on nominations from their HMS students and colleagues, in celebration of teaching excellence, innovation, patient-centered teaching and their ability to inspire.
James Kirshenbaum, M.D.
Associate Professor of Medicine
Dr. Kirshenbaum is Co-Director of Clinical Cardiology services and Director of Acute Interventional Cardiology at Brigham and Women's Hospital. Dr. Kirshenbaum's principal research interests include the pathophysiology and management of acute coronary syndromes. He is involved in numerous clinical trials exploring novel antithrombotic agents in the management of unstable angina as well as new devices or techniques employed in the cardiac catheterization laboratory to optimize the safety and success of percutaneous coronary interventions.
Dr. Kirshenbaum is a fellow of the American College of Cardiology, a member of the Clinical Cardiology Council, American Heart Association, and a counselor in the Massachusetts chapter of the American College of Cardiology. A graduate of Harvard College, Dr. Kirshenbaum received his M.D. from Harvard Medical School and completed his internship, residency, and clinical fellowship at the Brigham and Women's Hospital in Boston.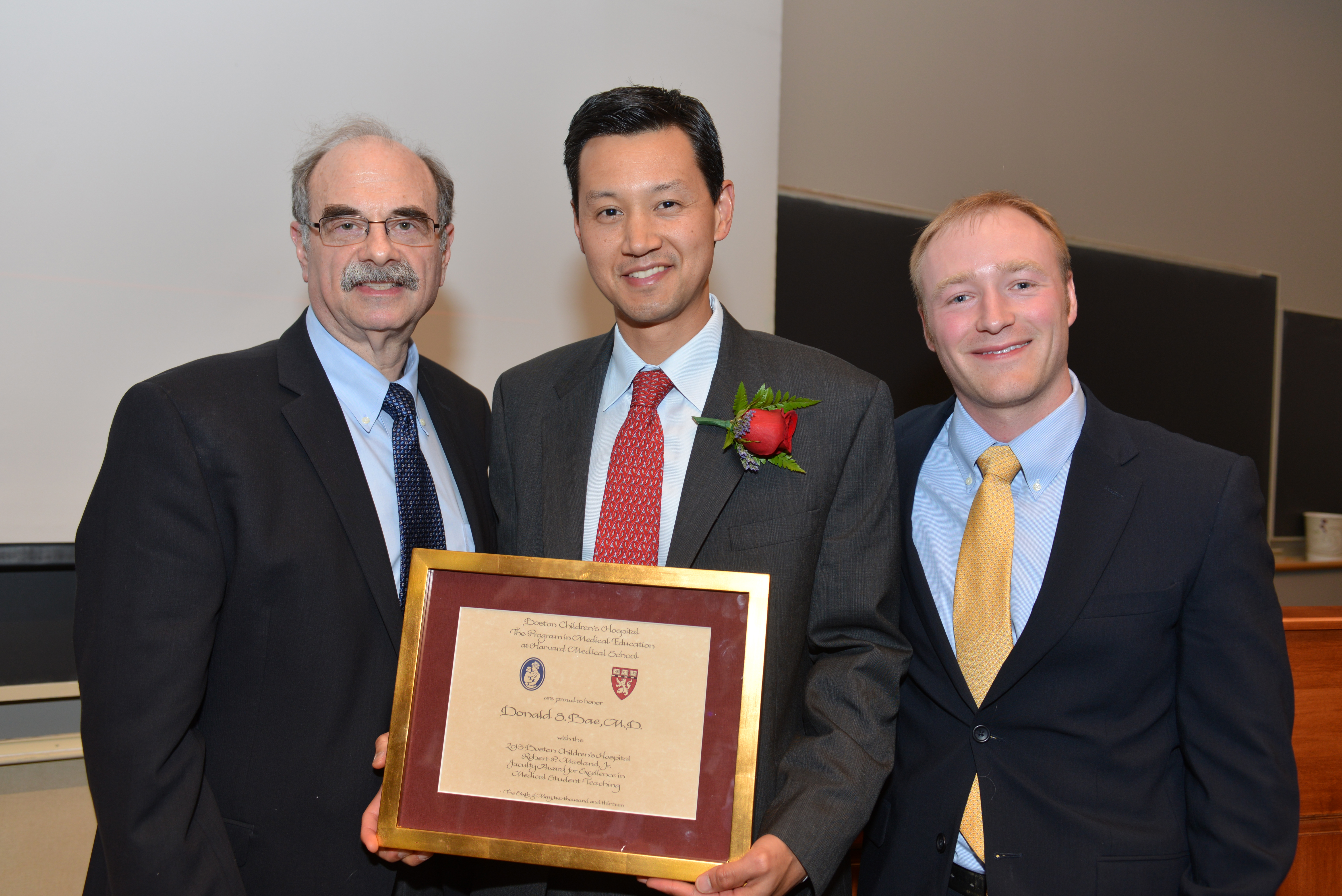 Robert P. Masland, Jr. Teaching Award
Children's Hospital Boston
Dr. Robert P. Masland, Jr. was Chief of Adolescent/Adult Medicine at Children's Hospital from 1967-1993. He was a leader in establishing the field of Adolescent Medicine and in teaching communication and professionalism. He trained generations of medical students, residents, and faculty members at Children's Hospital Boston. He was a supporter of flexible careers and work-life balance long before these issues were openly discussed. As a medical educator, Dr. Masland served as Co-Director of the Combined Harvard Medicine/Pediatrics Training program and as Associate Master of the Cannon Society at HMS. One of his favorite activities was mentoring HMS students and trying to convince them to pursue a career in pediatrics. As Chair of the Intern Selection Committee at Children's from 1983-2002, he sought to rank as many HMS students as possible. Following Dr. Masland's death in 2010, this award was established in his honor to recognize a Children's Hospital faculty member who shares Dr. Masland's passion for teaching medical students.
Donald S. Bae, M.D.
Associate Professor of Orthopedic Surgery
Dr. Bae, a graduate of Harvard College and Harvard Medical School, did his postdoctoral training in the Harvard teaching hospitals and specializes in conditions involving the hand and upper limb in children at Children's Hospital Boston. He teaches in the second-year musculoskeletal pathophysiology course and has served as the director of the BCH orthopedic clerkship. He is also a regular contributor to the CORE Curriculum of the Harvard Combined Orthopaedic Residency. In 2011, he received the Golden Apple Award as Teacher of the Year. He is a highly regarded provider of CME and annually gives numerous national and international lectures on pediatric upper limb problems. He also has supported the community and worked with the Little League to prevent throwing injuries in children. His education innovations have included bringing surgical simulation training and assessment to pediatric orthopedic surgery. Dr. Bae's orthopedic clerkship students have praised him for insuring that each rotation would be an "ideal" experience for every student. He accomplishes this by identifying the students' interests and introducing them to appropriate faculty members, insuring that the students are integrated into all clinical encounters and discussions, and providing a superb didactic program. In addition, he takes the time personally to mentor every student and deal with issues that other faculty have ignored, such as soliciting recommendation writers and building successful applications for residency. It is this on-going commitment to student development beyond rotations that distinguishes Dr. Bae as a faculty member. In his nomination, J. Joseph Gholson called Dr. Bae the "best teacher and mentor that I have had throughout my entire clinical training HMS." Boston Children's Hospital is proud to recognize Dr. Donald S. Bae's dedication to teaching medical students with the 2013 Robert P. Masland, Jr. Teaching Award.
Bulfinch Award for Undergraduate Medical Education
Massachusetts General Hospital
The Bulfinch Award for Undergraduate Medical Education at the Massachusetts General Hospital was established in 2012 and is awarded to a Harvard faculty member at MGH for overall excellence in teaching Harvard medical students.
Marc A. de Moya, M.D.
Assistant Professor of Surgery
Born and raised in Washington, D.C., Dr. de Moya graduated from Temple University Medical School in 1998. He then completed his surgical residency at St. Barnabas Medical Center/Jersey City Medical Center followed by a trauma surgery/research fellowship at the University of Miami/Ryder Trauma Center in 2005. In 2005 he joined the staff in the newly formed Division of Trauma, Emergency Surgery, Surgical Critical Care at the Massachusetts General Hospital. In 2006 he was asked by Dr. Andrew Warshaw to be groomed under the wing of Dr. Charles McCabe to be the next director of the core surgical clerkship. In 2007, Dr. de Moya became the Director of the Core Surgery Clerkship at the MGH and has received several awards for student teaching since. He is currently pursuing a Masters in Health Professional Education from the University of Illinois-Chicago and serves as Program Director for the Surgical Critical Care fellowship and as the medical director of the new surgical ICU at the MGH.
Cynthia N. Kettyle Teaching Award
Harvard Departments of Psychiatry
The Cynthia N. Kettyle Teaching Award, established in 2004, is presented annually to an HMS faculty member who has inspired medical students by his/her warmth, character and dedication to medical student teaching in psychiatry and has exemplified for students the vitality and relevance of psychiatry to medical practice. The award honors a faculty member who has demonstrated a truly outstanding commitment to teaching, mentorship and leadership in psychiatric education. Dr. Kettyle was director of medical student education in psychiatry at HMS from 1993-2004, in addition to serving as director of medical student education at McLean Hospital. She is well known for her efforts to promote excellence in psychiatric education and her exceptional commitment to the well-being and training of medical students. This award serves as a tribute to Dr. Kettyle's contributions to the art of teaching psychiatry.
Stuart E. Beck, M.D.
Instructor in Psychiatry
Massachusetts General Hospital
Dr. Beck received his M.D. from the Oregon Health Services University and completed Psychiatry Residency at UCSF. He has served as Director of Inpatient Psychiatry at CHA and as Associate Medical Director of Inpatient Psychiatry at MGH. His teaching has been recognized with numerous awards including a nomination for the HMS Excellence in Teaching Award in 2004, the American Psychiatric Association Irma Bland Award for Teaching of Residents in 2008, and the St. Elizabeth's Medical Center Certificate for Teaching Excellence in 2011. He has contributed to education at HMS as Psychiatry tutorial coordinator in the Cambridge Integrated Clerkship, as the second year Psychopathology course site co-director at CHA, and as a Core Psychiatry Clerkship attending at both CHA and MGH. Brief excerpts from student nominations speak for themselves: "He is an incredibly gifted clinician, and it was a learning experience just to watch him work. His gentle and persistently optimistic demeanor is one I hope to emulate and carry forward in my future interactions with patients...An (unfortunately) rare skill that Dr. Beck exhibited was the ability to give clear, actionable, and timely feedback delivered with his characteristic warmth. He is just so obviously interested in your learning and clinical improvement as a student, that you can't help but work hard to improve....I have not encountered any other attending, in any field, so generous with their time and energy for medical students...Even having moved on to other rotations, I use lessons learned from Dr. Beck daily in working with difficult patients. The way he treats every patient with the utmost respect and maintains palpable interest in their concerns, even as they may be psychotic, abusive, or just downright aggravating, has stuck with me and I work to emulate it as best I can."
Brent P. Forester, M.D.
Assistant Professor of Psychiatry
McLean Hospital
Dr. Forester graduated from Dartmouth College and Medical School, received a M.Sc. from HMS/MIT, and completed an internship in Internal Medicine at MGH, a residency in Psychiatry at McLean Hospital, and a fellowship in Geriatric Psychiatry at Dartmouth Hitchcock Medical Center. He is Director of the Geriatric Mood Disorders Research Program and coordinator of residency training in Geriatric Psychiatry at McLean. He was recognized for teaching with the Psychopharmacology Teaching Award in 2009 from the MGH/McLean Adult Psychiatry Residents. Since 2007, Dr. Forester has served as Director of the Psychiatry Core Clerkship at McLean, where he also oversees all advanced electives. He is also a Patient-Doctor III Group leader for the BWH Principal Clinical Experience. Student nominations include the following tributes: "Dr. Forester consistently creates a safe learning environment where students are encouraged to ask questions….Dr. Forester is beloved by my classmates who...consistently note his patience, easygoing demeanor, approachability, collegial approach to students, and willingness to serve as an advocate for students...He is respectful of students' ideas and responds often with questions to challenge our assumptions….Dr. Forester's rapport with patients is a model for the physician I want to be."
HMS Psychiatry and Harvard Medical School are proud to recognize Drs. Beck and Forester for their enduring and inspiring commitment to medical student education with this year's Kettyle Teaching Award.
The Charles J. Hatem Award for Faculty Development in Medical Education
The Academy at Harvard Medical School presents the first annual Charles J. Hatem Award for Faculty Development in Medical Education to a member of the HMS faculty who has made a significant and sustained contribution to training other faculty to teach and/or to conduct research in medical education. The award is given in honor of Dr. Charles J. Hatem, the Harold Amos Academy Professor of Medicine, Chair of the Department of Medical Education at Mt. Auburn Hospital, and former director of the Academy Center for Teaching & Learning. Dr. Hatem's extraordinary style of teaching and extensive contributions to faculty development have inspired innumerable faculty to improve their teaching and have raised the standard and value of teaching at HMS.
Graham T. McMahon, M.B.,B.Ch.
Associate Professor of Medicine
Brigham and Women's Hospital
Dr. McMahon is the quintessential medical educator. A graduate of the Royal College of Surgeons in Ireland, he completed post-graduate training in endocrinology, diabetes and hypertension at Brigham & Women's Hospital and received a M.M.Sc. (clinical research) from HMS and a doctorate in education from National University, Ireland. His contributions to medical education are extensive and include teaching at every level of the education continuum, creating innovative curricula, and conducting research in medical education. As the first recipient of the Charles Hatem Award, Dr. McMahon has fulfilled every criterion for achievement in this field. According to Dr. Jonathan Borus, he is a "role model and mentor for faculty interested in developing their skills in medical education and educational research." At HMS, he serves as director of the second-year endocrine pathophysiology course and as associate director of the first-year Introduction to the Profession course. In addition to a commitment to pedagogical innovation, he pays special attention to insuring that the tutors in his courses are well equipped to lead small-group tutorials. As a member of the Academy at HMS, he significantly contributes to faculty development innovations through several interest groups and the Inter-hospital Collaborative, developed and taught in the first Academy course on medical education research methods, and taught research methods through Academy fellowship programs, courses and workshops. At BWH, he co-leads a Medical Education Research Works-in-Progress series, designed and co-leads a weekly faculty development series, heads the selection committee for Support for Excellence in Educational Development grants for innovation and research in medical education, and "co-wrote the proposal for the Brigham Education Academy, focused on providing a sense of community, faculty development programs, support, mentorship and resources for the hospital's educators, which received high priority in the BWH's Strategic Plan for the coming decade." According to multiple nominators, Dr. McMahon's dedication, innovation, and generosity have helped numerous faculty improve their teaching and medical education research, and to develop careers in medical education at HMS, BWH, nationally and internationally.
Association of American Medical Colleges Humanism in Medicine Award
Harvard Medical School Nominee
The AAMC Humanism in Medicine Award annually recognizes a medical school faculty physician who exemplifies the qualities of a caring and compassionate mentor in the teaching and advising of medical students, and practices patient-centered medicine. Every year, students from each US medical school are allowed to nominate one individual to compete for this prestigious award.
Fidencio Saldaña, M.D.
Instructor in Medicine
Brigham and Women's Hospital
Dr. Saldana is a clinical cardiologist, specializing in cardiovascular imaging, at the Brigham and Women's and Faulkner Hospitals, and an Instructor in Medicine at Harvard Medical School. He is Faculty Assistant Dean for Student Affairs, Office of Recruitment & Multicultural Affairs, Director of the Patient-Doctor II course, and director of the cardiovascular section of the second-year Human Systems pathophysiology course at HMS. He also serves as the Assistant Program Director for the Internal Medicine Residency at the Brigham and Women's Hospital. He is a highly committed and award-winning educator who strives to reach out to the underserved. His goal is to continue to mentor, teach, and be an advocate regarding issues in minority health. Dr. Saldana completed his medical degree at Harvard Medical School in 2001. He earned a Master's in Public Health from the Harvard School of Public Health in 2005. He completed his internal medicine residency, chief residency, and cardiology fellowship at the Brigham and Women's Hospital. He is originally from Los Angles, California, and resides in Boston, Massachusetts, with his wife and three children.
for Leadership, Excellence, and Innovation in Medical Education
The Wiczai Award was established in 2000 by Karen C. Kirby in memory of her husband, L. James Wiczai, to honor a staff member from an affiliated hospital who fosters innovation and excellence in medical education and promotes collaboration between Harvard Medical School and the Harvard-affiliated hospitals.
Amy Ribak
Education and Operations Manager for the Ob/Gyn Department
Massachusetts General Hospital
Amy Ribak is the Education and Operations Manager of the Ob/Gyn Department at MGH. Her nominators – the Ob/Gyn clerkship directors at MGH with whom she works, the director of the MGH PCE, and the chairman of her department – describe her as "an absolutely outstanding administrator who is organized, composed, hardworking and incredibly fair and kind to all students and members of the department." Amy "ensures that the medical students, residents and fellows rotating through the department have a positive and constructive experience. She often has astute suggestions that help improve the learning experience for the Harvard trainees." After five years as Clerkship Coordinator, her contributions were recognized by her promotion to Educ
ation and Operations Manager in the Department in which role "she provides valuable mentoring of staff at all levels as they interface with students."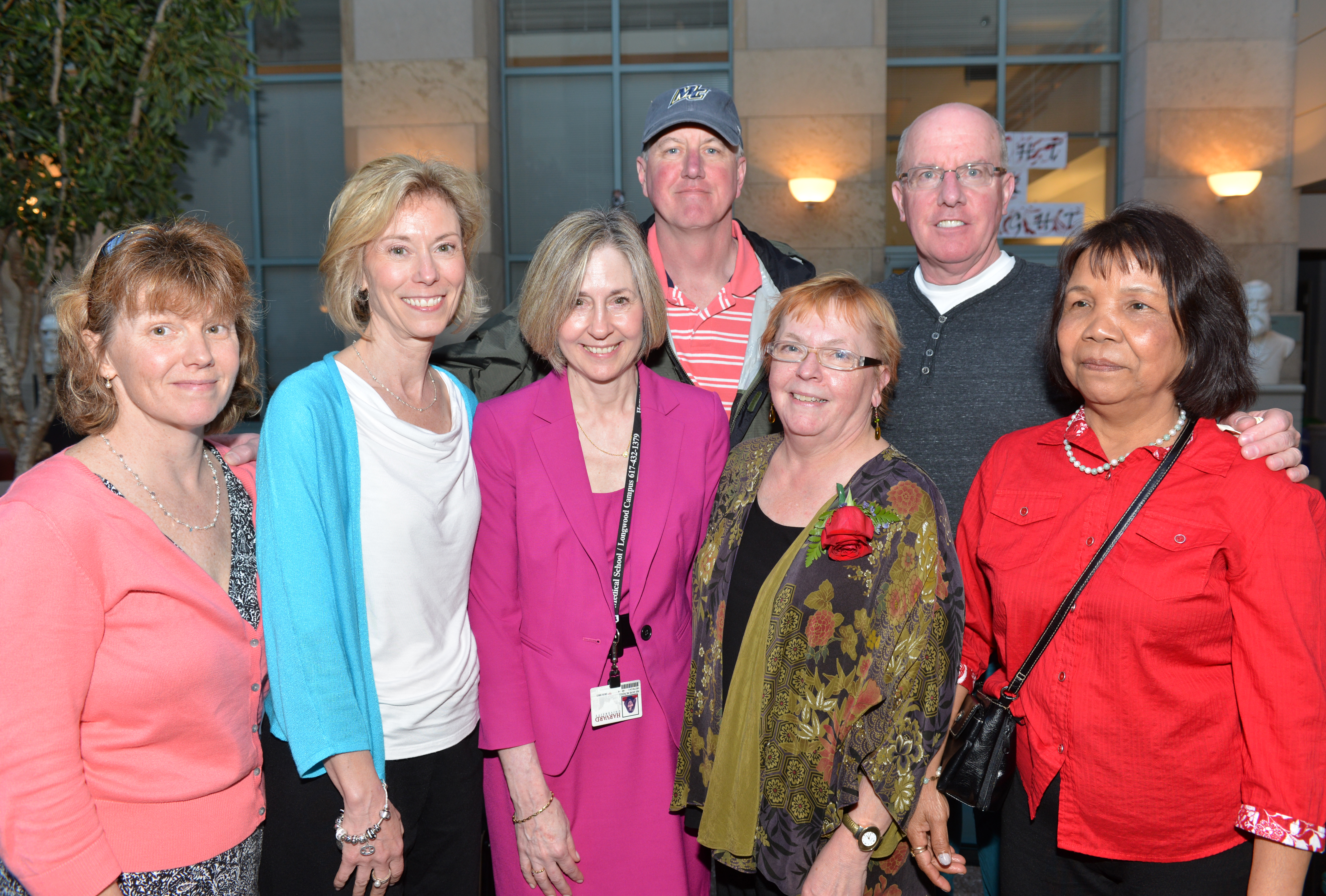 Richard A. Gillis Award for Excellence in Medical Education
The Richard A. Gillis Award for Excellence in Medical Education was established in 2012 in memory of Rick Gillis (1953-2011), Executive Director of Curriculum Programs, whose 27 years of contributions to the MD program at Harvard Medical School exemplify the standards of excellence and the work ethic he inspired in those who were privileged to know him and to work with him. The award is given to a member or members of the HMS staff for their outstanding contributions to the educational mission of the School. This award serves as a reminder of Rick's legacy and the critical role of staff in facilitating, in the words of his hero, President John F. Kennedy, "the infinite potential of the human mind that can be realized through education … [and that] can be translated into benefit for everyone and greater strength for our Nation."
Terese Galuszka
Registrar
Harvard Medical School
Terry Galuszka has served as the HMS Registrar since 2003. The Dean and Associate Dean for Medical Education believe she has one of the most difficult jobs at Harvard Medical School. She is called upon to maintain the highest standards of the School; apply policies that are fair and equitable but are not always popular with students and faculty; protect the privacy of our students and confidentiality of their records; and ensure that students meet the requirements of the MD degree at Harvard Medical School, among her many responsibilities. She performs her responsibilities with grace, composure, and professionalism; she is firm but kind in upholding the School's – and indeed the government's and the LCME's – policies and procedures. In the past two years, she has also done an outstanding job in reorganizing the Registrar's Office staff and implementing modern technologies and processes. It is for all of these reasons and for her strength of character, work ethic, and commitment to excellence that she receives the Richard Gillis Award, honoring our colleague and hers.
Our
Mission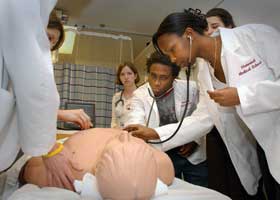 To create and nurture a diverse community of the best people committed to leadership in alleviating human suffering caused by disease