Student Organizations
Student Organizations
Multicultural Student Alliance
The Multicultural Student Alliance is comprised of Harvard Medical School (HMS) student organizations (listed below). The Alliance implements programs and addresses issues that have an impact upon issues of diversity at HMS and Harvard School of Dental Medicine (HSDM). Membership is open to all students.
Latino Medical Student Association (LMSA), Harvard Chapter
The Latino Medical Student Association is a Harvard Medical and Dental Schools regional chapter that is dedicated to the empowerment of the Latino community. LMSA seeks to achieve this goal through a multifaceted approach, which includes academic support through medical school, education about social and health-related issues concerning the Latino population, community projects for underserved Latinos, and the recruitment of Latinos to Harvard Medical School and Harvard School of Dental Medicine. LMSA also organizes social and cultural events to celebrate and promote awareness of the great diversity that exists in the Latino communities of the U.S., Mexico, Central America, South America, Puerto Rico, the Dominican Republic, and Cuba. LMSA collaborates with and supports other minority groups in the medical school as well as in the Boston community. Finally, LMSA is committed to the pursuit of social justice, health equality, and human rights; membership is open to all students interested in these issues. The LMSA website is here.
LGBTQ and Allied Harvard Medical/Dental Students (LAHMS)
LAHMS is the Harvard Medical School lesbian, gay, bisexual, transgender and allied student organization. The goals of this organization are to provide visibility of the lives of gay, lesbian, bisexual, and transgender (LGBTQ) people and awareness of the needs and concerns of LGBTQ patients; a forum to discuss issues particular to being gay and a doctor is provided for organizational members; to involve LGBTQ and other faculty and local hospital house staff members in activities to serve as allies and mentors. The organization sponsors films, speakers, workshops, and social events. The LAHMS website is here.
Native American Health Organization (NAHO)
The Native American Health Organization was formed to establish a foundation for unity among Native American students in the medical area. Through a variety of special programs, NAHO seeks to improve the health status of Native Americans by encouraging and recruiting Native American students into medicine and increasing the awareness of Native American heritage and health care issues. NAHO works closely with the Harvard University Native American Program (HUNAP).
Student National Medical Association (SNMA)
The SNMA is the oldest and largest medical student organization dedicated to people of color and underserved communities. (Community service is the heart and soul of the SNMA. Eliminating disparities in health care delivery, disease, morbidity, and disease mortality are among our highest priorities.) Our programs are designed to promote healthy living and stress the preventative nature of health care delivery. Committed to increasing the number of culturally capable and sensitive physicians, the SNMA is also dedicated to the academic and clinical success of medical students and pre-medical students. Through our signature MAPS, HPREP, and YSEP programs, SNMA members work with youths from elementary school to college introducing them to science and serving as mentors. In this way, the SNMA strengthens the educational pipeline that leads from elementary school to medical school. Finally, SNMA members support each other. We participate in various social activities, network, and provide a note/book exchange. The SNMA website is here.
Our
Mission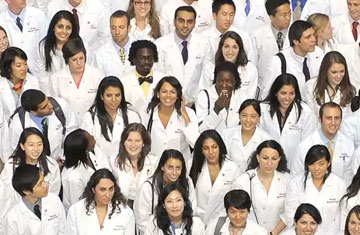 To create and nurture a diverse community of the best people committed to leadership in alleviating human suffering caused by disease.