Commitment to Diversity
Commitment to Diversity
In 1968, the Black American enrollment at Harvard Medical School (HMS) was less than one percent. HMS was not alone in being a predominantly white institution: at that time, only four percent of all first year medical students nationwide were from underrepresented groups (2.8 percent were Black). Until the early 1970's, most Black American doctors were educated at Howard and Meharry medical schools.
However, the social climate of the late 1960's sparked the first nationwide efforts to bring underrepresented students into medical schools. After the 1968 assassination of Dr. Martin Luther King, Jr., HMS Dean Robert H. Ebert created the Committee for Disadvantaged Students, charging it with increasing the number of disadvantaged students at HMS and Harvard School of Dental Medicine (HSDM).
In 1969, the school began an active recruitment program. Sixteen Black students matriculated at HMS and Alvin F. Poussaint, M.D. was appointed Associate Dean of Students during that year. The Office of Recruitment and Multicultural Affairs was established with Dr. Poussaint as the director. Though the medical school initially focused on increasing Black representation, it soon broadened its efforts to include applicants from other underrepresented groups (Puerto Rican, Mexican American, and Native American). The school officially committed itself to admitting a diverse student body, with a significant percentage of students to come from underrepresented groups.
The first challenge facing those who wished to increase HMS's underrepresented population was convincing prospective candidates that their applications would receive serious consideration. Students already enrolled at HMS and HSDM were recruited to help meet this challenge. The Office of Recruitment and Multicultural Affairs currently contacts 60 to 75 undergraduate institutions each year to share information. Current HMS and HSDM underrepresented students also meet with interviewees, conduct tours, and address questions from prospective candidates over lunch.
In 1970, HMS implemented its Pre-Matriculation Summer Program for underrepresented students. Participants were exposed to major basic science courses at the Cambridge campus. This eight–week bridge between college and medical school was designed to ease students' transition into HMS/HSDM and to enhance the likelihood of their academic success.
In 1983, the Office of Recruitment and Multicultural Affairs broadened the scope of the Pre-Matriculation Summer Program to give students the chance to do full-time research in the laboratories of medical area faculty during the summer preceding their matriculation. In 2014, the office partnered with the HMS Center for Primary Care with a focus on primary care placements. Students in this program attend a series of seminars expanding understanding of and opportunities within primary care medicine. In 2016, the summer program partnered with Dana-Farber Cancer Institute to sponsor a four-week program exploring aspects of careers in oncology.
While ORMA has always been supportive of LGBTQ activities, in 2011 we officially became the institutional home for LGBTQ students and their advisors.
The Office of Recruitment and Multicultural Affairs is actively involved in the Revisit Weekend and other quality of life programs that affect underrepresented students. Members within the Black, Latino, and Native American student organizations have traditionally worked very closely with the office in these areas.
Older underrepresented students have also helped ease the assimilation of new students by serving as peer advisers. While social, cultural, and recreational events help bring upperclass students and new students together, the older students also provide a support network and share tips on preparing for the major clinical rotations and the National Residency Match. Students also serve on the various Admissions sub-committees.
These efforts by HMS have produced impressive results. In 1969, HMS accepted 16 Black students for the class of 1973. Since that time, HMS has graduated over 1,300 minority physicians. Many of our alumni have assumed leadership roles in different fields of medicine. The Medical School currently has 158 (22%) students from underrepresented groups (68 African Americans, 39 Mexican Americans, 6 Native Americans, 13 Puerto Ricans, and 32 other Hispanics).
We would like to salute all of the HMS and HSDM alumni, students, staff, and faculty who have contributed to the many years of success of the Office of Recruitment and Multicultural Affairs.
Our
Mission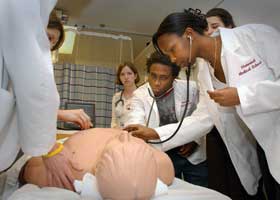 To create and nurture a diverse community of the best people committed to leadership in alleviating human suffering caused by disease