Alvin F. Poussaint, MD
Alvin F. Poussaint, MD
"Is Extreme Racism a Mental Illness?"
Read Dr. Poussaint's commentary on this question in Clinical Psychiatry News here.
Titles:
Professor of Psychiatry
Faculty Associate Dean for Student Affairs
Harvard Medical School, Boston
Mailing Address:
Alvin F. Poussaint, MD
Office of Recruitment and Multicultural Affairs
Harvard Medical School
260 Longwood Avenue, TMEC 244
Boston MA 02115
Alvin_Poussaint@HMS.Harvard.edu
Phone: 617.432.2159
Fax: 617.432.3912
Assistant:
Barbara B. Sweeny
Barbara_Sweeny@HMS.Harvard.edu
Phone: 617.432.2159
Speaker's Bureau:
American Program Bureau
313 Washington Street, Suite 225
Newton, MA 02458
Phone: 800.225.4575
Fax 617.965.6610
Biography:
Dr. Poussaint is a Professor of Psychiatry and Faculty Associate Dean for Student Affairs at Harvard Medical School. He served on the staff of the Judge Baker Children's Center from 1978-2010, including serving as Director of the Media Center from 1994-2010. He is author of Why Blacks Kill Blacks, 1972; co-author, with James Comer, of Raising Black Children, 1992; and co-author, with Amy Alexander, of Lay My Burden Down, 2000. He has written over a hundred articles for lay and professional publications. In 1997, he received a New England Emmy award for Outstanding Children's Special as co-executive producer of Willoughby's Wonders. Dr. Poussaint is an expert on race relations in America, the dynamics of prejudice, and issues of diversity as our society becomes increasingly multicultural. He believes that extreme (violent) racists suffer from a delusional mental illness. He lectures widely on college campuses and also serves as a consultant to government and private agencies. In addition, he is active in consulting to the media on a wide range of social issues. He is concerned with media images and issues regarding the needs of children and the changing family. He is a strong proponent of non-violent parenting and parenting education. Born in East Harlem, he attended Columbia and received his MD from Cornell in 1960. He took postgraduate training at UCLA Neuropsychiatric Institute, serving as Chief Resident in Psychiatry in 1964-65. At UCLA, he received a masters in psychopharmacology. From 1965 to 1967, he was Southern Field Director of the Medical Committee for Human Rights in Jackson, Mississippi, providing medical care to civil rights workers and aiding desegregation of hospitals and health facilities throughout the South. He is former chair of the board of directors of PUSH for Excellence. In 1967, after leaving Mississippi, Dr. Poussaint joined the Tufts Medical School faculty as director of a psychiatry program in a low-income housing development. In 1969, he joined Harvard. From 1975-1978 he was Dean of Student at Harvard Medical School. He has been a vocal consultant to the media as an advocate of more responsible programming. He is a distinguished life fellow of the American Psychiatric Association, a fellow of the American Association for the Advancement of Science, a life member of the American Academy of Child & Adolescent Psychiatry, and a member of the American Academy of Arts and Sciences. He has received numerous awards and is the recipient of many honorary degrees.
Publications:
Books:
Lay My Burden Down: Suicide and the Mental Health Crisis Among African-Americans
by Alvin F. Poussaint and Amy Alexander
Beacon, Boston, 2000
Raising Black Children
by James P. Comer and Alvin F. Poussaint
Plume, New York, 1992
Articles:
"Clinical Manifestations and Diagnosis of Amyloid Polyneuropathy"
by T. L. Munsat and A. F. Poussaint
(Neurology, Minneapolis, 1962; 12(6):413-422)
"A Controlled Study of Imipramine (Tofranil) in the Treatment of Childhood Enuresis"
by A. F. Poussaint and K. S. Ditman
(J Pediatr, 1965; 67(6):283-290)
"The Effect of the Physician's Smoking on the Treatment of Smokers"
by A. F. Poussaint, S. H. Bergman, and E. Lichtenstein
(Diseases of the Nervous System, 1966; 27:539-543.)
The Stresses of the White Female Worker in the Civil Rights Movement in the South"
By A. F. Poussaint
(Am J Psychiatry, 1966; 123(4):401-407)
"A Negro Psychiatrist Explains the Negro Psyche"
by A. F. Poussaint
(The New York Times Sunday Magazine, August 20, 1967:52+)
"Black Power: A Failure for Integration within the Civil Rights Movement"
A. F. Poussaint and J. Ladner
(Arch Gen Psychiatry, 1968; 18(4):385-391)
"The Black Administrator in the White University"
A. F. Poussaint
(Black Scholar, September 1974:8-14)
"Black Suicide"
by A. F. Poussaint
(Textbook of Black-Related Diseases, ed. R. A. Williams, New York: McGraw-Hill, 1975)
"Interracial Relations and Prejudice"
(Comprehensive Textbook of Psychiatry/III, third edition, eds. H. I. Kaplan, A. M. Freedman and B. J. Sadock, Baltimore: Williams & Wilkins, 1980:3155-3161)
"Black on Black Homicide: A Psychological-Political Perspective"
by A. F. Poussaint
(International J Victimology, 1983; 8(3,4):161-169)
An Honest Look at Blacks Gays and Lesbians"
By A. F. Poussaint
(Ebony, September 1990:124-131)
"Black Children: Coping in a Racist Society"
by A. F. Poussaint
(Voices of Multicultural America: Notable Speeches Delivered by African, Asian, Hispanic and Native Americans, 1790-1995, ed. Deborah Gillan Straub, Detroit: Gale Research, 1996)
"Psychology and Psychiatry"
By A. F. Poussaint
(Encyclopedia of African-American Culture and History, vol. 4, eds. Deborah Gillan Straub, J. Salzman, D. L. Smith, C. West New York: MacMillan Library Reference USA, 1996)
"Sexuality"
By A. F. Poussaint
(eds. J. Salzman, D. L. Smith, C. West,
Encyclopedia of African-American Culture and History, vol. 5, New York: MacMillan Library Reference USA, 1996)
"Prostate Cancer: Male Killer Hits Famous & Not-So-Famous"
by A. F. Poussaint
(Ebony, April 1997, 116-120+)
"Racial Issues in Medicine: A Psychosocial Perspective"
By A. F. Possaint
(Humane Medicine: A New Paradigm in Medical Education and Health Care Delivery, vol. II, ed. R. A. Williams, Philadelphia: Lippincott Williams & Wilkins Healthcare, 2001; 33-40)
"Is Extreme Racism a Mental Illness? Point-Counterpoint"
by A. F. Poussaint
(Western Journal of Medicine, 2002; 176: 4)
Our
Mission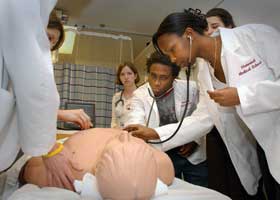 To create and nurture a diverse community of the best people committed to leadership in alleviating human suffering caused by disease