Who was Dr. William Bosworth Castle?
Dr. William Bosworth Castle (1897-1990)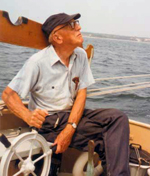 The Society was named after an exemplary physician whose death occurred a few years later, in l990, when Dr. Castle was 92 and a Professor Emeritus of the Medical School. Dr. Castle had had a long and distinguished career as a physician, medical scientist, and educator, and his professional and personal lives were an admirable combination of scholarship, humanity and humility. These qualities affected many students, staff and patients over the years who came under his influence and care.
At Boston City Hospital in the late l920's, Dr. Castle made the observation that a factor produced by the stomach was necessary for the absorption of vitamin B12. This gastric substance known as 'intrinsic factor' was missing in patients with pernicious anemia, a hitherto fatal hematologic disease. His work followed on the findings of Minot and Murphy that large amounts of liver, which contain vitamin B12, could cure patients with pernicious anemia, an observation that led to the awarding of the Nobel Prize in Medicine to these two physicians. Dr. Castle went on to become the George Minot Professor of Medicine at Harvard Medical School and Chief of the Harvard Medical Unit at Boston City Hospital. Under his leadership, the Harvard Unit, and the Thorndike Memorial laboratory--a center for clinical and basic research that was the intellectual core of the unit, sent forth a stream of leaders in academic medicine over the ensuing decades. Dr. Castle's approach was to proceed with laboratory investigation based on questions raised at the patient's bedside. In Dr. Castle, this inquiring, scientific attitude was combined with a caring, humane approach to the sick, many of whom at the Boston City Hospital were the indigent and neglected of the city. His simple, seemingly naive questions to patients and colleagues were often not readily answerable, leading to renewed thought and suggesting courses of further scientific investigation.
The Harvard Medical Unit at the Boston City Hospital no longer exists, but for those who worked and trained there, it has left an indelible impression. Dr. Castle's approach was to unite insightful clinical research with the finest medical care, often practiced under adversity, without regard to the social characteristics or economic condition of his patients. His laudable combination of the science and art of medicine, which resulted in the honor of naming a society after him, presents an example worthy of emulation.