Academic Societies at HMS
The Academic Societies serve to support HMS's 230-year tradition of fostering and enhancing the interaction between students and faculty. All Harvard medical and dental students are members of one of five Academic Societies and remain a member of their society throughout the duration of their HMS experience.
The Academic Societies are educational social units that serve as the organizational framework for each student's experience in general medical education. The Societies monitor the academic progress and professional growth of each individual student; serve as the School's advising and mentoring system; and nurture social interchange and contact between students and faculty.
Five senior faculty members serve as Advisory Deans and Directors of the five Academic Societies. Each Society also includes faculty Associate Directors and Advisors, mentors, students from all class years, and a program coordinator. Each Society serves as the central locus for an extensive student advising system. Each student is assigned a principal advisor in his or her society, who also serves as a liaison to curricular, extra-curricular and career advisors.
The Academic Societies provide a community-based approach to medical education, offering many benefits. These include:
establishing the organizational framework for each student to take full advantage of the many diverse opportunities offered by an HMS education;
encouraging meaningful student interaction and small-group learning as well as peer-group evaluation and feedback mechanisms that help students develop a team-based investigative approach to the practice of medicine;
allowing students to build formal four-year mentoring relationships with HMS faculty as well as encouraging a continuous exchange of ideas between students and faculty members through informal and social events.
---
Situated within the Academic Societies is the Office of Advising Resources. Under the direction of Dr. Regina Mitchell, professional staff provide screening, in-house performance counseling and specialized tutoring, and referral to resources both inside and outside HMS, as appropriate, including neuropsychological testing, medical, and mental health treatment. The Office of Advising Resources also provides a coordinated remediation system for students across the preclerkship and clinical years of the curriculum, in collaboration with the Academic Societies and the faculty and administration of both HMS and HSDM. Learn more.
Our
Mission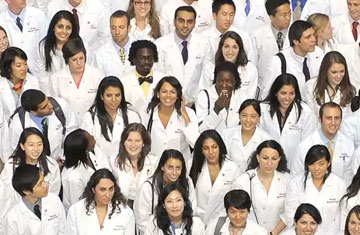 To create and nurture a diverse community of the best people committed to leadership in alleviating human suffering caused by disease.