Research Evaluation Projects
Research Evaluation Projects
Project title: Minority physicians and research careers: Applying the Theory of Reasoned Action
Principal investigator: Edward Krupat PhD, Director, Center for Evaluation, Harvard Medical School
Funding: National Institute of General Medical Sciences, NIH
Project summary: This research study seeks to inform interventions designed to develop a diverse workforce of biomedical researchers. We seek to identify those factors that are associated with students' choices to pursue a research-focused career, with an emphasis on whether different factors influence underrepresented minority (URM) students vs non-minority students, students at the end of their clerkship vs pre-clerkship curriculum, and students who were or were not required to conduct a scholarly research project. This survey project has had the participation of over 700 current Harvard Medical School students and over 500 providing information on their attitudes, activities, career intentions, and demographic characteristics. Upon completion of the data collection, the information provided by the students and alumni will help us to understand better the underlying structures of biomedical career choice.
************
Project title: Assessing the impact of an innovative curriculum at Harvard Medical School: A new paradigm for medical education
Principal investigator: Edward Krupat PhD, Director, Center for Evaluation, Harvard Medical School
Funding: Harvard Initiative for Learning and Teaching (HILT)
Project summary: Harvard Medical School is planning a major revision of its curriculum beginning in the Fall of 2015. Most relevant for the funded study, students will complete their pre-clerkship education in slightly over year, rather than the 18 months in the Old Curriculum. In order to evaluate the effectiveness of the proposed changes, we have developed a comprehensive program of evaluation aimed at determining the impact of the New Curriculum. We will study all members of the last class of the Old Curriculum (entering Fall 2014), comparing them with those in the first class of the New Curriculum.  Four domains of impact have been identified: 1) acquisition of knowledge; 2) critical thinking; 3) student dispositions (e.g., empathy, curiosity); and 4) learning environment. It is predicted that students will acquire an equivalent body of knowledge in a shorter period of time, will develop superior critical thinking skills, and will be inoculated against a loss of empathy and curiosity. We further predict that the learning environment will be transformed from one focusing on performance to a focus on development and mastery.
************
Project title: Academic and professional lapses in medical school: A prospective assessment of their sequelae
Principal investigator: Edward Krupat PhD, Director, Center for Evaluation, Harvard Medical School
Funding: Stemmler Fund of the National Board of Medical Examiners
Project summary: This project builds on prior retrospective research demonstrating that physicians who were sanctioned by their state medical boards were more likely to have difficulties in medical school than a matched non-sanctioned control group. In this research study we seek to determine the post-graduation activities of approximately 100 MD graduates of Harvard Medical School and Case Western Reserve University Medical School whose actions, as students, required them to appear before their medical schools' disciplinary board for reasons involving professional conduct. Comparing the sample to a control group of former students who never appeared before their board (n=200), we seek to identify several different outcomes. Among the outcomes, we will trace their career paths in terms of residency (and fellowship), specialty, licensure, positions held, malpractice history, and history of sanctions by state medical boards.
************
Project title: The HMS Center for Evaluation Follow-Up Study
The Follow-Up Study is an annual survey of residency directors in programs across the country training HMS graduates in their first post-graduate year.  The Study is one part of a multifaceted effort to improve undergraduate medical education at the Harvard Medical School.  It also asks residency directors for their honest assessment of the materials HMS provides as part of our students' residency applications.  Feedback collected through the Study has helped improve the quality and usability of residency application materials.
The Center for Evaluation has conducted the Follow-Up Study for more than ten years.  Data collection and analysis is directed by Stephen Pelletier, PhD, Senior Project Manager, HMS Center for Evaluation.
************
Project title: The Student Assessment Database
The Student Assessment Database in the Center for Evaluation brings together a wide array of student data from various offices of Harvard Medical School.  The anonymized Student Assessment Database includes pre-matriculation data, HMS outcome data (standardized test scores, OSCE performance, clerkship grades, etc.), and post-graduation data.  The Database is a unique resource that allows Center researchers to address important questions, such as:
Are MCAT scores predictive of pre-clinical performance?
Is the performance of basic science matriculants different from those who majored in the social sciences or humanities?
Are OSCE scores and clinical grades related?
What is the relationship between Step I and Step 2 scores?
Are there differences in the academic records of students who go into different specialties?
The Database was created through a collaborative effort of the Center for Evaluation, the Registrar's Office, the Office of Admissions, and HMS Information Technology.  Stephen Pelletier, PhD, the Senior Project Manager at the Center is responsible for the maintenance and updating of the Database.
Our
Mission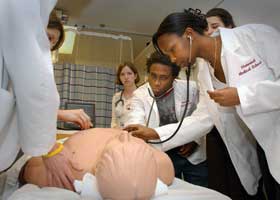 To create and nurture a diverse community of the best people committed to leadership in alleviating human suffering caused by disease