Center Personnel
Center for Evaluation Personnel
Edward Krupat, PhD.
Director, Center for Evaluation
617-432-1689
Edward Krupat is the Director of the Center for Evaluation at Harvard Medical School and Associate Professor of Psychology in the Dept. of Psychiatry at the Beth Israel Deaconess Medical Center. He holds a PhD in Social Psychology from the University of Michigan, and has taught previously as Rutgers University, Boston College, and the Massachusetts College of Pharmacy and Health Sciences (MCPHS). At MCPHS he served as the Director of the Health Psychology Program.
Dr. Krupat's interests revolve around the assessment of outcomes in medical education, and research and teaching concerning the doctor-patient relationship. He has designed and directed the evaluation of several innovative programs to improve clinical teaching and medical student learning outcomes at Harvard Medical School, and is particularly interested in the facilitation and assessment of critical thinking and diagnostic reasoning. Current projects involve identification of predictors of success at HMS, evaluation of innovations in small group learning, following the career paths of HMS graduates, and assessing (and improving) the medical school learning environment.
Dr. Krupat is also involved in research and educational projects focusing on communications between physicians and patients. He has developed the Patient-Practitioner Orientation Scale, an instrument used internationally to assess the beliefs of students, practitioners, and patients about the role of information, power, and relationships in clinical care. In addition, he is one of the developers of the Four Habits Model, which describes the elements of patient-centered care, and developed the Four Habits Coding Scheme to measure patient-centeredness in the behavior of physicians.
Please click here for a list of relevant Center for Evaluation Publications.
Elisabeth Peet, M.A.
Evaluation and Assessment Manager
617-432-2320
Elisabeth Peet (Liz) is Assessment and Evaluation Manager in the Center for Evaluation.  In addition to managing the Center, Liz oversees operation of the School's comprehensive system for student assessment and course and program evaluation.  She partners with course related faculty and staff to design evaluation instruments and insure accurate data collection of student evaluations for all core courses and clerkships and is responsible for development and delivery of the Center's Annual Report.  She manages the Committee on Student Assessment and the Course and Clerkship Review and Evaluation Committee, and manages and provides administrative oversight to the HMS Promotion and Review Board (student disciplinary committee). Prior to her work with the Center for Evaluation, Liz spent several years as Program Manager for the Harvard Macy Institute, managing all phases of development and implementation of the Institute's two continuing medical education programs.  Before her work with the Macy Institute, Liz served as Coordinator of Curriculum Development at Harvard School of Dental Medicine where she played a core role in all phases of development and implementation of a new 4-year problem-based dental curriculum. Liz holds a BA in Psychology and Communication from Simmons College and an MA in Higher Education Administration from Boston College.
Stephen R. Pelletier, Ph.D.
Senior Project Manager
617-432-5798
Stephen R. Pelletier, Ph.D. is the Senior Project Manager in the Center for Evaluation at the Harvard Medical School.  Steve directs and coordinates several projects that are part of the Medical School's Medical Education Reform initiative.  More specifically, he is responsible for the collection and analysis of quantitative and qualitative data, research design and survey development. 
Before coming to the Medical School, Steve was Assistant Director of the Harvard Opinion Research Program at the Harvard School of Public Health.  Steve joined the Program in January 2000 and has played a lead role in the design and analysis of surveys with National Public Radio, the Kaiser Family Foundation, and the Robert Wood Johnson Foundation.
Prior to working at Harvard, Steve was an Assistant Professor of Political Science and Project Director at the Center for Survey Research and Analysis at the University of Connecticut.  While at Connecticut, Steve taught qualitative research methods in the Masters of Survey Research Program and designed, managed, and analyzed survey projects for various Connecticut state agencies, the Chase Manhattan Foundation, The Criminal Justice Policy Foundation and others.  Steve also taught Political Science for seven years at the College of the Holy Cross in Worcester, Massachusetts.
Steve is the author or co-author of more than 25 peer-reviewed articles on politics, public policy, and medical education.
In addition to his work designing and analyzing national surveys at Harvard, Steve has designed, implemented and analyzed numerous statewide surveys in Connecticut, Massachusetts, New York, Rhode Island, Texas for various clients in the political, environmental, gaming, health care, and non-profit sectors.
Aga Jackson
Assessment Coordinator
617-432-1808
Thomas Fleenor, M.Ed
Project Coordinator
617-432-2055
Anahit E. Papazian
Part-time Research Project Coordinator
617-432-3078
Our
Mission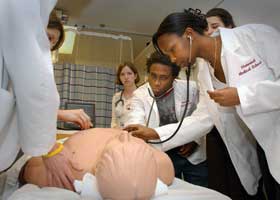 To create and nurture a diverse community of the best people committed to leadership in alleviating human suffering caused by disease