Dean Flier's Letter to Mentors
From the Desk of Former Dean Jeffrey Flier
July 18, 2012
Dear Members of the Harvard Medical School faculty:
Last summer, I invited your participation in our innovative Scholars in Medicine (SIM) program, and I am writing today to offer you another opportunity to partner with HMS in this rewarding teaching experience. The School currently requires all medical students to undertake a scholarly project of their own choosing for the purpose of igniting curiosity, fostering critical thinking and cultivating skilled practitioners who will both master and create knowledge.
I am pleased to report that in our first year, more than 160 medical and dental students embarked on summer research projects that are still under way. Thanks to strong faculty support, students chose projects ranging from basic and translational research to initiatives in community and primary care, health policy, medical humanities and global health. Our hope is that many participants will pursue these research endeavors throughout medical school, ultimately choosing to make them their definitive scholarly projects.
You can reach out to students by completing this brief online form, including one or two paragraphs describing a project a student can engage in with you.(You must log in first.)A description of your program will appear under your name in the Catalyst faculty profiles database, which can be searched by students and their advisors.
For details on the Scholars in Medicine program and the role of the mentor, please visit this eCommons page. Mentors may also be asked to share student stipend funding with the Scholars in Medicine program. For details, click here. (All links require you to first log in to eCommons.)
If you are among the faculty who answered the call last year, I thank you. You should already have received a separate message with information on how you can renew your proposal. If not, please contact program administrators at scholarsinmedicine@hms.harvard.edu.
The success of the Scholars in Medicine program depends on meaningful connections between students and faculty. You, as a mentor, can exert crucial influences, providing inspiration, direction, practical guidance and the courage to clear hurdles. Who among us has not had at least one wise mentor and role model?  Thank you for your consideration.
Sincerely,
 
Jeffrey S. Flier
Dean of the Faculty of Medicine
Our
Mission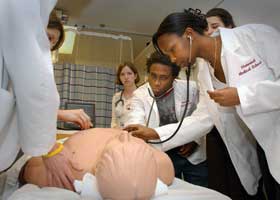 To create and nurture a diverse community of the best people committed to leadership in alleviating human suffering caused by disease