Frequently Asked Questions
Frequently Asked Questions about SIM and the Scholarly Requirement at HMS
What are the goals of the program?
HMS faculty created the Scholars in Medicine Program out of a belief that every Harvard medical student should learn how to pose a scholarly question and answer it. Tackling a scientific problem can spark curiosity, develop critical thinking skills, and provide you with the tools needed for future discovery. Thus, the SIM Program aspires to provide every Harvard medical student with a mentored experience of scholarship and the training to accomplish it. This is accomplished by:
Introducing students to the challenges and rewards of carrying out, analyzing and writing up a scholarly project and
Developing a mutually beneficial partnership between a student and a faculty mentor.
The process of discovery will be as important as the outcome; you and your mentor will be partners in this process. The mentor-mentee relationship that results will add value to your Harvard education and we hope it will have lasting personal value.
Click here to read about the program and several ongoing projects by current second year students.
What characterizes a good scholarly project?
A good scholarly project addresses a question that has been carefully chosen and clearly defined so that it can be answered during the course of the project. The question should be your own, even if it is part of a larger research program.
A wide variety of questions will be supported. Your project might address a fundamental biological question, a clinical outcome, or a question related to population health. You could ask a question about health policy, study the provision of health services, or undertake a community-based participatory research project. Your question might involve testing a specific hypothesis, or may perhaps be more open-ended: for example, you might work on ethnography or study the history of medicine. Some students may start with a clinical improvement project in the hospital or a service project in the community, and formulate from that experience questions they would like to answer.
A scholarly project will:
be a student-driven, though mentored, project,
pose an answerable scholarly question
establish a one-on-one mentoring relationship with a faculty member
engage with the existing scholarly literature
demonstrate original work in design and implementation
employ appropriate methods
generate relevant observations and/or data
reflect original work by the student in the analysis, evaluation, and write up
How do I find a scholarly project and a mentor?
Finding the best project usually begins with finding the right mentor in your chosen field of interest. You can learn a great deal about potential mentors by reading some of the work they have published. In your discussion with potential mentors, ask them to suggest some questions that you might work on; often you will choose one of those ideas to develop as your project. Note, it is not expected that students will independently come up with project ideas, as usually they do not have enough background in the field.
During the first year of medical school we will expose you to a diversity of fields of medical scholarship and provide many resources for your search to stimulate your academic interests. Your second year spent in one of the area hospitals will expose you to many medical disciplines and faculty.
You will prepare your project, with the advice of your mentor, by writing a detailed proposal which you submit to the Scholars in Medicine Office for faculty review and approval.
When should I get started?
We expect most students will prepare their scholarly project proposal at the end of second year or beginning of third year. They will then spend part of their remaining time at HMS carrying out their project or students may elect to take an extra year to carry out intensive work on their scholarly project.
Does the scholarly requirement apply to students in London Society or pursuing graduate degrees such as MD/MBA or MD/PhD?
MD/PhD students will fulfill the scholarly project requirement with their dissertation. London Society students are already required to submit a thesis. Students who complete the MBA, MPH, MPP, MPA or MEd degrees during medical school will be expected to complete the first-year HMS research course and submit a scholarly project to Harvard Medical School. Their scholarly projects can be undertaken, starting in the year of their other degree study, as joint projects between Harvard Medical School and their respective other degree programs, and will be subject to joint review and approval.
Could you provide examples of how students will meet the scholarly requirement?
The vignettes below describe the paths taken by four fictional students to fulfilling the scholarly requirement.
During the summer following his first year, Student A uses a publicly available dataset that provides longitudinal data from Massachusetts compared to neighboring states which did not institute payment reform to determine whether Massachusetts healthcare reform increases self-reported utilization of healthcare resources by patients with type 2 diabetes mellitus. He continues work on the project in Year 2 by doing additional analyses of the demographic and disease characteristics of patients responsible for the increased utilization and decides to make it his scholarly project. He completes the analysis and writes a manuscript for publication in his Year 3 elective month, submitting his final scholarly project Report in Year 4.
Student B begins a service improvement project in the summer following Year 1, surveying low-income patients in a community-based family medicine practice about attitudes towards pap smears in order to understand why the follow-up rate is low for abnormal pap smears. Based on their responses, she decides to design a new system to communicate results to patients. She completes the design work in Year 2, plans and participates in the assessment of the outcomes by the practice team, part of which happens in Year 3, and analyzes and writes the results for her scholarly project during Year 4.
Student C arrives at HMS with a strong interest in basic scientific research. Her summer research project on stem cells is only partly successful, but the field fascinates her. She uses her Year 3 elective month to write an application to the Howard Hughes Medical Institute for 5th year funding and works in the lab for one year. In her final year she continues some lab work and writes her scholarly project report. She receives permission to submit her project report as an Honors thesis as well.
Student D comes to HMS wanting to carry out a global health project. During her first summer she joins a mentor who has an established project in Brazil. While working on this project, she becomes acquainted with the local site and collaborators, and begins to identify potential future projects. Working with her mentor in Year 2, she develops a specific project and she submits materials for IRB approval before starting PCE. Using one month of elective time during PCE, she responds as needed for IRB approval, submits grant proposals to fund a fifth year, and makes a 2-week visit to the site to arrange final details for the project. She takes a global health summer course at the start of Year 4 and then spends nine months at the site conducting the project. She returns to HMS in summer of Year 5 and alternates months doing clinical electives, analyzing the data, and writing up the results. She submits her project for consideration for honors.
Can you show me a timeline with key SIM milestones?
The following timeline summarizes when the SIM requirement can fulfilled over the course of the four years of medical school:
Year 1
January: Attend an information session on the Scholars in Medicine Program
Year 2
Use your time to research mentors and potential projects
Year 3
Feb 15: Submit your mentor name and project focus
Year 4
July 1: Last deadline for SIM proposal submission
Oct 1: Statement of intent due for honors thesis; all students submit outline of Report to Faculty Committee on Scholarship in Medicine
Feb 1: Deadline for submission of honors thesis
Feb 1: Deadline for submission of final draft of scholarly project for mentor's approval
Mar 1: Last deadline for submission of SIM scholarly report
What is the review process for the SIM proposal?
The Scholarly Project consists of a rigorously argued proposal. The faculty mentor co-signs the proposal. Both faculty mentor and student sign a mentoring contract as well. A member of the Faculty Committee on Scholarship in Medicine who is expert in the field will review the proposal; the student is expected to respond satisfactorily to the reader's critique before approval.
The expected minimal length of scholarship is three to four months over the course of medical school. It is anticipated that many students will elect to spend more time on their projects, particularly those in the experimental biological sciences and those who wish to carry out global health research outside the US.
What should the final report look like?
The scholarly project report will be submitted electronically and will typically include the following elements:
Title Page
Abstract
Table of Contents
Glossary for any abbreviations
Section I: Introduction (background including a clear statement of the scholarly question and its significance, as well as an up-to-date review of the relevant literature)
Section II: Methods
Section III: Results (observations, data analysis)
Section IV: Discussion, Conclusions, and Suggestions for Future Work
Section V: Summary
List of references annotated in text
Tables and Figures
In some cases results of the scholarly project will have been published before submission of the final report. It will be permissible to include a published manuscript as part of the report, but in those instances we expect the inclusion of additional information to clarify the student's role and the role of collaborators in the project. In other cases, the purposes of the report will be better served by an alternative format; the format of the report will be the responsibility of the assigned reader.
Down the road, could I use my SIM project to apply for graduation with honors?
Yes, if approved by the Faculty Committee for Scholarship in Medicine.
The MD degree with Honors in a Special Field is awarded to graduating degree candidates who have performed original and meritorious investigation in a medically-related subject and have demonstrated ability, scholarship, and special knowledge of the field of which the chosen subject is a part. An original thesis, describing basic or clinical research, or other scholarly investigation (e.g., in the social sciences, ethics, history of medicine) involving a minimum of four to six consecutive months (usually more in the experimental biological sciences) must be submitted, and will form the basis for an oral exam. The MD Honors Thesis must be distinct from any prior or concurrent graduate-level thesis (e.g., MPH, PhD).
Candidates who would like to be considered for Honors in a Special Field must consult with one of their Society Fellows, complete an Honors Statement of Intent Form and submit it with the appropriate signatures. To be considered for Honors, a student must be in good standing at the Medical School. Oral examinations are held from February through April of fourth year.
1st Year Students
Make an Impact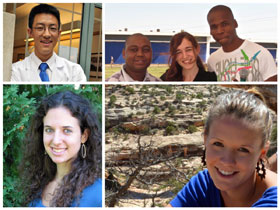 Debut Scholars in Medicine master medical research basics.
Read about their experiences here.
Our
Mission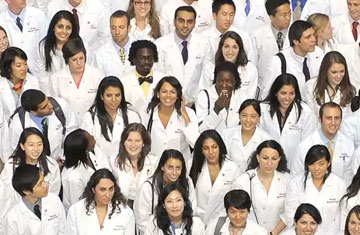 To create and nurture a diverse community of the best people committed to leadership in alleviating human suffering caused by disease.