Pathways
Pathways
Beginning in August 2015, Harvard Medical School launched an innovative new curriculum – Pathways.  This bold revision of the MD curriculum incorporates pedagogical approaches that foster active learning and critical thinking; earlier clinical experience; and advanced clinical and student-tailored basic/population science experiences that will provide customized pathways for every student.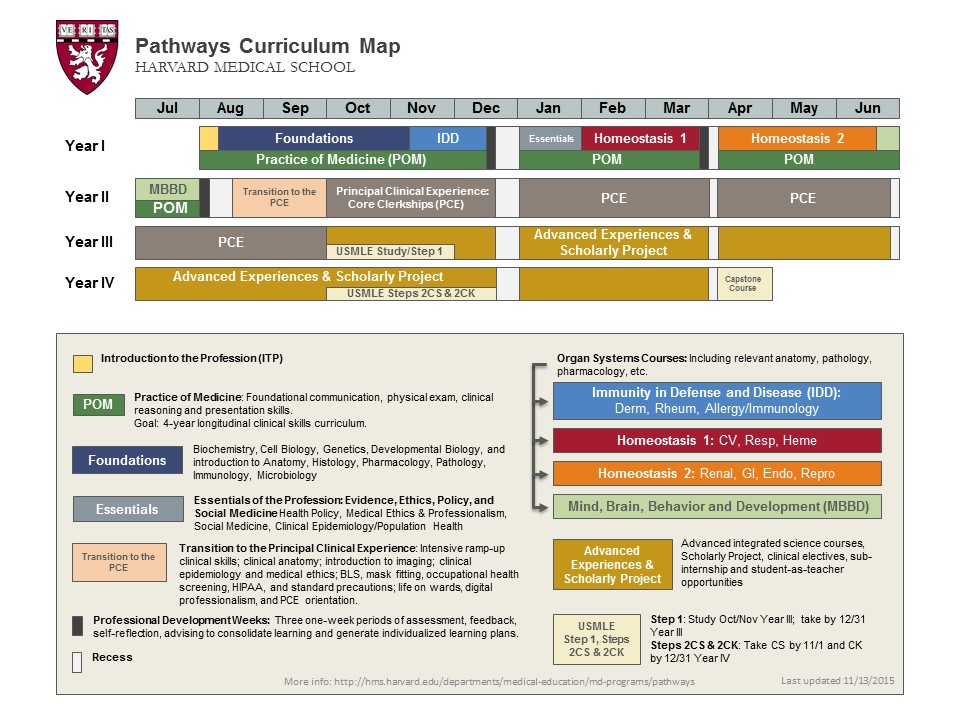 The core basic/population science knowledge needed to succeed in clinical clerkships is taught prior to the core clinical year, while the richness of more advanced science that is best suited to students after they have had intensive clinical experience will follow completion of the core clinical clerkships. After the intellectual transformation that occurs during the core clinical year, students will be more receptive to courses in advanced scientific and clinical topics; required and/or selective courses in pathophysiology and pharmacology; selective courses in basic/translational science, social/population science, and medical humanities; individual, faculty-mentored scholarly projects; clinical electives and subinternships; and Steps 1 and 2 of the national boards.
Foundational Pathways - Years I & II
The Pathways curriculum begins with the foundational building blocks to study medicine, including fundamentals of anatomy, histology, biochemistry, and molecular and cellular biology; genetics; immunology; and introductory pharmacologic principles. This introductory period includes two new courses, Foundations and Immunity in Defense and Disease, designed to equip students with the knowledge to navigate the study of organ systems.  These two courses are followed by a month focused on the fundamental social and population sciences – health care policy, social medicine, clinical epidemiology and population health, and medical ethics and professionalism - to provide a foundation of knowledge on which students will build throughout the four years of medical school. The remainder of the preclerkship curriculum is organized around organ-system-based modules – Homeostasis I and II and Mind, Brain, Behavior and Development – during which structure and function and normal and abnormal processes for each organ system are integrated—anatomy, physiology, pathophysiology, pathology, pharmacology, imaging, and nutrition. In this design, students learn about two complementary organ systems simultaneously in parallel blocks, which allows students more time to digest each system and difficult concepts, to consolidate learning, and to appreciate the complementarity between systems. From the first week of medical school, beginning with the Introduction to the Profession, students engage in a longitudinal clinical course, The Practice of Medicine, which is integrated with the basic and social science courses and during which students learn the fundamentals of patient-doctor communication, the physical exam, the dynamics of working in clinical teams and systems, and the process of developing a differential diagnosis.
The Pathways curriculum fulfills an aspiration for earlier clinical exposure by moving the Principal Clinical Experience (PCE – core clinical clerkships) into Year II. The new preclerkship clinical skills course Practice of Medicine will be integrated with the longitudinal Primary Care Clerkship during the PCE, yielding the potential for two years of continuity in a single ambulatory-medicine practice.
Advanced, Tailored Pathways - Years III & IV
The Pathways curriculum organization acknowledges that core basic/population science knowledge and skills are needed prior to the clinical year, but that the richness of more advanced science is best suited to students who have already had clinical ward experience. The expectation is that, having lived in a clinical context for a year, students then return to be more engaged in learning advanced basic and population sciences that are now much more relevant and compelling to them.
One of the greatest features of the Pathways curriculum is the opportunity for students to customize their route through Years III and IV to prepare optimally for whatever aspect of the profession of medicine has attracted their curiosity and passion. While rigorous demands and high expectations are set for students in Years III and IV, the expanded time following the PCE allows for considerable flexibility as students pursue advanced integrated science courses, clinical electives, and scholarly research projects, and take advantage of myriad opportunities across Harvard University and around the world.
Please note that the curriculum is undergoing continuous review and improvement and is subject to change at any time.
A Video Introduction
A new MD curriculum from August 2015 onward.
Course Summaries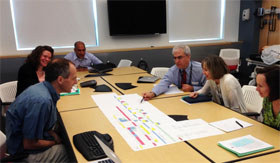 The Pathways Curriculum Design Steering Committee and Course Design Teams worked to create detailed plans for Pathways courses. The most up-to-date overviews of each component of the Pathways curriculum can be found here (PDF).