The Principal Clinical Experience
The core clinical curriculum in the third year provides a clinical base for exposure to the broad disciplines of medicine and experiences essential to credentialing as a licensed physician. During this year, students often make decisions about career choice. In May 2008, HMS implemented the Principal Clinical Experience (PCE), an integrated approach in which the clinical year occurs primarily at a single site (Beth Israel Deaconess Medical Center, Brigham and Women's Hospital, Cambridge Health Alliance, or Massachusetts General Hospital; for the Beth Israel Deaconess and Brigham and Women's Hospital PCEs, Children's Hospital provides the pediatrics experience). The PCE is a 12-month integrated program of study (running from May of Year II through April of Year III) comprised of 1-month to 3-month clerkship rotations supplemented by a longitudinal multidisciplinary curriculum that incorporates mentoring, assessment, and ambulatory care experiences. All students are required to complete the 3-month Medicine, Surgery, and Pediatrics and Obstetrics and Gynecology (formerly Women's and Children's Health) Clerkships and the 1-month Neurology, Psychiatry, and Radiology clerkships during this 12-month period. Students are also required to complete the longitudinal components of the PCE, which run in tandem with the block clerkships and include the multidisciplinary PCE course, the Primary Care Clerkship, which runs from September to April, and Patient-Doctor III. Students at Cambridge Health Alliance are enrolled in the Cambridge Integrated Clerkship and follow panels of patients rather than learning clinical subjects in departmental block clerkships.
Our
Mission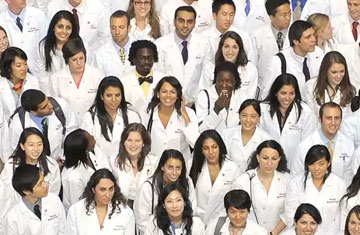 To create and nurture a diverse community of the best people committed to leadership in alleviating human suffering caused by disease.