Fundamentals of Medicine
Curricular design at Harvard Medical School emphasizes content integration within and across many of our courses. The first-year curriculum is designed to build from molecules to cells to organisms, beginning with a molecular framework that integrates seamlessly with the transition to anatomy. In the second year, the teaching of pathophysiology is presented in an integrated way that incorporates aspects of pharmacology, pathology, and nutrition associated with individual systems. In addition, a sequence of courses in medical ethics/professionalism, social medicine, clinical epidemiology, scholarship in medicine, and health policy are integrated with the teaching of the basic biological sciences and with introductory clinical exposures.
Introduction to the Profession, the first course required for all entering medical and dental students, is designed to provide a broad overview of the profession from a variety of perspectives; to introduce students to problem-based, collaborative learning; and to clarify the goals, expectations and demands placed upon students as they make the transition to physicians-in-training.
 
Biomedical sciences are presented through a sequence of block courses extending through the first year and most of the second year. These courses encompass the following areas: The morphological sciences; the biochemical, pharmacological and physiologic sciences; the developmental and molecular biological sciences; pathological, microbiological and immunological sciences, and the neurosciences.
 
Social and Population sciences are learned through a sequence of required first-year courses in social and population-based medicine. This sequence, which addresses important issues confronting physicians in the 21st century, includes Introduction to Social Medicine and Global Health, Clinical Epidemiology and Population Health, Introduction to Health Care Policy, and Medical Ethics and Professionalism. These courses present students with an introduction to the social factors that influence health and disease both domestically and globally, the principles of clinical epidemiology and biostatistics required for the evidence-based practice of medicine and critical appraisal of medical literature, an overview of health care policy issues and options, and the ethical dimensions of medical decision-making.
 
Pathophysiology is presented throughout most of the second year in Human Systems, a course organized around organ systems. This course is designed to provide close correlation between structural and functional changes in disease and the ways in which these changes become manifest at the clinical level. A focus on the pharmacology, nutrition, and pathology of individual systems is integrated into the study of each organ system and its physical examination.
 
Clinical skills and the patient-doctor relationship are addressed in a three-year sequence. Instruction in history-taking and physical examination is presented in the first and second years. Economic, social, and ethical aspects of patient care in the context of the clinical clerkship experience are examined in the third year.
 
Scholarship in Medicine. In January of Year I, students who plan to apply for HMS funding for a Summer Research or Global Health/Community Project are required to enroll in one of two courses designed to provide the conceptual tools that are fundamental to producing a scholarly project. The Scholarship in Medicine (SIM) course focuses on biological and patient-oriented research, while the Physician in Community (PIC) course focuses on medicine in society (e.g., community or international scholarship). Students anticipating doing a funded research project will be required to take the SIM course, while students planning to do community or international summer project will be required to take the PIC course. These courses are elective for students who do not plan to apply for HMS funding for a project in the summer following Year I.
Our
Mission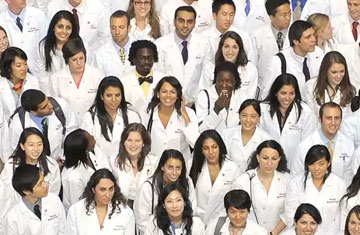 To create and nurture a diverse community of the best people committed to leadership in alleviating human suffering caused by disease.