HST Admissions FAQs
FAQs for Prospective M.D. Students
Q: Is HST an MD/PhD Program?
A: No. The HST MD program is a track within Harvard Medical School, and is distinct from the MD/PhD program. While a portion of each accepted class of HST MD students is offered funded positions in the Harvard-MIT MD/PhD program through the MTSP grant or other support sources, a significant fraction of HST MD students pursue another degree while enrolled. Overall, slightly more than 40% of students enrolled in HST's MD program decide to pursue a PhD as well (it is this large number of individuals pursuing dual degrees that has lead to the misconception that HST is an MD/PhD Program). HST MD students may receive the PhD from the wide range of doctoral programs at Harvard or MIT, and may apply for funding from the Medical Scientist Training Program (MSTP) at HMS.  
Q: Is financial aid available?
A: MD applicants are encouraged to apply for scholarships and other forms of aid through the Financial Aid office of Harvard Medical School. In addition, HST MD students are eligible for RA program financial support while they are working in research labs in order to complete the HST thesis requirement. This can occur while a student is carrying a course load, or during an additional year ("5 year plan"). Information about the level of support for the current RA program can be found under Financial Support at this site. Teaching assistantships are also available to HST students, helping to defray the cost of education.
Q: What is the difference between HST and Pathways?
A: There are several differences in the two pathways to the MD degree at Harvard Medical School, some philosophical, some logistical. The HST medical sciences curriculum seeks to educate leaders in biomedical sciences and academic medicine. Preclinical courses, taught in semester format to more easily integrate with the schedules at Harvard and MIT, employ a range of pedagogical approaches to educate students in modern biomedical sciences, pathophysiologic processes, and important concepts in modern biology and biotechnology. All students in the HST program must complete a thesis as part of their graduation requirements. 
The Pathways curriculum uses a problem-based approach to medical education that emphasizes small-group tutorials and self-directed learning, complemented by laboratories, conferences and lectures. Courses are taught in block format. Emphasis is placed on the patient-doctor relationship, the social context and problems of modern medicine and health care, and the prospects created by the progress in biological sciences. 
Q: What prerequisite courses do I need to take before applying to HST?
For the MD program, in addition to the general requirements for admission to Harvard Medical School which one may find at this website, applicants to the HST Program must be comfortable with upper level mathematics (through differential equations and linear algebra), biochemistry and molecular biology. In addition, one year of calculus-based physics is required. Applicants must demonstrate evidence of research experience.
Q: What are the options for MD-PhD programs?
A: Candidates to the MD program may apply simultaneously, or during their second year of medical school, to a PhD program in the Division of Medical Sciences at Harvard Medical School; one of HST's PhD programs; or any graduate department at Harvard or MIT. The PhD degree may be earned not only in the biological and basic medical sciences, but in a wide range of fields including mathematics, physics, various branches of engineering, chemistry, psychology, economics, history, etc. Additional information on the  MD/PhD Program at Harvard Medical School is available on the web.
Q: Does the HST MD program accept transfer students?
A: No, the program does not accept transfer students from other medical schools.
Our
Mission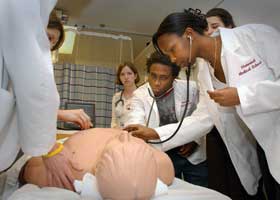 To create and nurture a diverse community of the best people committed to leadership in alleviating human suffering caused by disease