Course Requirements for the HST M.D. Degree
HST M.D. Course Requirements
Basic Science and Pathophysiology Course Requirements - 54 credits
Year I
​HT015 Matlab for Medicine
HT190 Introduction to Biostatistics
HT010 Human Anatomy
HT030 Pathology
HT160 Biochemistry and Molecular Genetics
HT175 Immunology
HT020 Musculoskeletal Pathophysiology
HT164 Diagnostic Methods of Medicine
HT060 Endocrinology
HT080 Hematology
HT090 Cardiovascular Pathophysiology
HT100 Respiratory Pathophysiology
HT110 Renal Pathophysiology
HT199 Research
HT220 Introduction to the Care of Patients
HT934 Introduction to Global Medicine
Year II
HT040 Mechanisms of Microbial Pathogenesis
HT070 Human Reproductive Biology
HT120 Gastroenterology
HT130 Neurosciences
​HT199 Research
HT150 Principles of Pharmacology
IN710 Introduction to Clinical Medicine
PS 700M.J Psychopathology
*Thesis required*
Due by the first Monday in February of Year IV.
In order to proceed to the Principal Clinical Experience all students must complete certified training sessions in Mask Fitting and Basic Life Support, HIPAA and OSHA requirements, and an annual TB test, and required immunizations must be up-to-date.
 
Our
Mission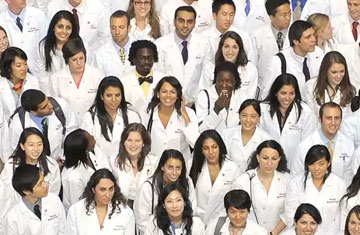 To create and nurture a diverse community of the best people committed to leadership in alleviating human suffering caused by disease.