M.D.-Ph.D. Program
M.D.-Ph.D. Program
Approximately forty percent of HST's MD students also choose to pursue a PhD degree through the Harvard-MIT combined MD-PhD program. Each MD-PhD student arranges his or her program of graduate study individually. In the dual-degree program, students may pursue graduate study for the PhD at Harvard Medical School in the Division of Medical Sciences or in any graduate department at Harvard University or MIT. Students earn their PhD degrees in many fields, including the biological and basic medical sciences, mathematics, physics, and various branches of engineering, chemistry, psychology and economics. 
The majority of joint degree students apply for admission to the MD-PhD program at the time they apply to the HST MD program. Others join the MD-PhD program at a later time, such as during the second year (basic science PhD candidates) as program affiliates, becoming full members after the student is accepted into a PhD program at Harvard or MIT. 
Financial support for the combined-degree training may be available from any of a number of sources, including Training Program Grants from the National Institutes of Health, special fellowships, and research and teaching assistantships. These support mechanisms are coordinated by:
The Office of the MD-PhD Program
Harvard Medical School
TMEC 168, 260 Longwood Avenue
Boston, MA 02115
(617) 432-0991 
mdphd@hms.harvard.edu 
Further information may be found at the MD-PhD program website.
Our
Mission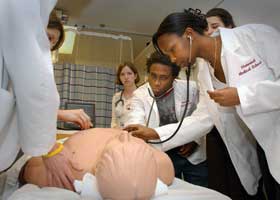 To create and nurture a diverse community of the best people committed to leadership in alleviating human suffering caused by disease