Academic Calendar
Academic Calendar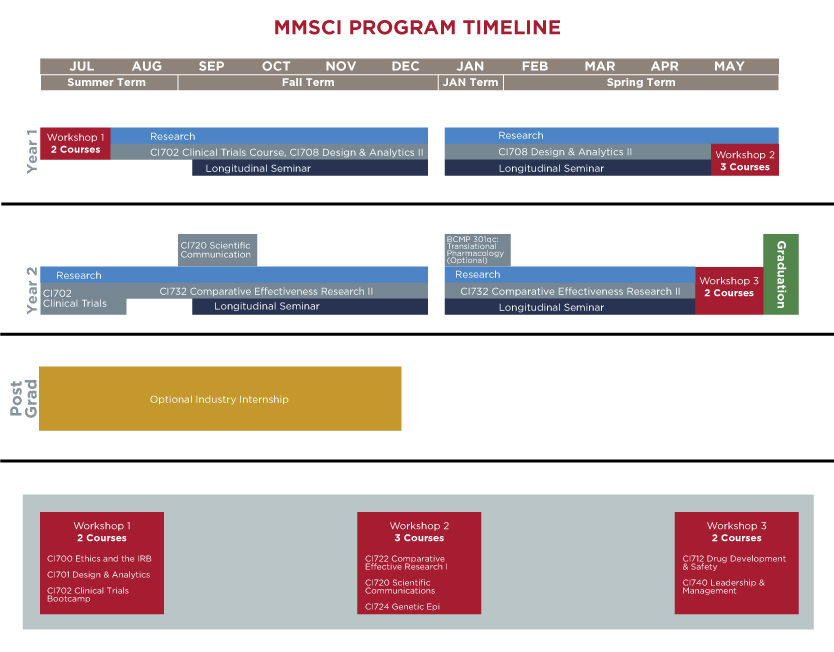 PROGRAM SCHEDULE
APPLICATION DEADLINE: April 1, 2018 for international students. May 1, 2018 for US students.
THREE INTENSIVE WORKSHOPS:  The central pillars of the MMSCI program will consist of three intensive workshops at the beginning, mid-point and end of the two years. The didactic sessions will be complemented by journal clubs, office hours, computer laboratory classes, team-based projects and presentations.
LONGITUDINAL IN-PERSON CLASS:  Between each workshop, further exploration of contemporary research topics will occur at weekly interactive sessions. Novel pedagogic approaches for this longitudinal series include the use of 'flipped classroom' methods, where students review and dissect learning material in advance of facilitated discussions.
MENTORED RESEARCH EXPERIENCE: The core feature of the MMSCI program is the mentored research experience in a Harvard-based research group. During the two years of the program, under the guidance of their primary mentor and dedicated thesis committee, each student is required to develop and execute his or her individual research projects. In order to graduate, students must submit and defend a thesis based on their mentored research experience. This should take the form of two original manuscripts in which the student is first-author.
WORKSHOP 1:
July 9th -27th, 2018
Harvard Medical School
Year I - August 2018 – May 2019
WORKSHOP 2:
May 6th – 24th, 2019
Harvard Medical School
Year II – September 2019 – May 2020
WORKSHOP 3:
April 20th – May 8th, 2019
Harvard Medical School
GRADUATION: MAY 22, 2020