Spotlight Stories
Spotlight Stories
Learn about programs/initiatives happening across our campus through these @HMS spotlight stories!
---
Combating a Crisis
Med School curriculum responds to opioid epidemic
By LEAH KOSSAK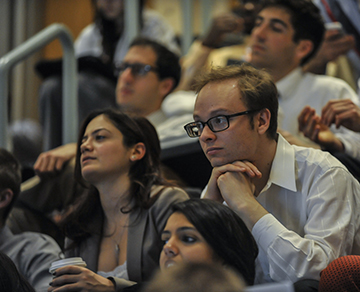 The current opiate crisis has been brewing for many years. Todd Griswold, assistant professor of psychiatry at Cambridge Health Alliance, saw the crisis already evident in Boston-area health clinics as far back as 2002.
"Young people in the Somerville area were abusing pain medications — mainly Oxycontin — at the time," Griswold says. "We saw symptoms of opioid use disorder: changes in pupil size, symptoms of anxiety and depression, but most importantly a decline in function and the inability to meet the demands of being a student, worker, partner or parent. When we looked at death rates over the year among our patient population, opioid use disorder was the primary cause."
Since 1999, the rate of overdose deaths involving opioids — both legal prescription pain relievers and heroin alike — has nearly quadrupled, according to the Center for Disease Control. This death rate correlates with a quadrupling of opioids prescribed in the same time period.
Today, Massachusetts and the nation are in the throes of a full-blown opioid epidemic. On April 20, the U.S. House of Representatives passed a dozen bills to help stem the resulting death toll. The bills focus on everything from tackling pain management for pregnant and postpartum women to having pharmacists fill only the amount the user needs so that there won't be additional unused opioids that could be abused.
While community leaders, legislators and law enforcement officers grapple with the crisis, Griswold and other medical education leaders are making important changes in the way future doctors are trained. Griswold hopes that by training new doctors to properly prescribe medications to patients with acute and chronic pain, and to identify signs of substance use disorder or the potential to develop one, fewer people will become addicted to these powerful drugs.
Teaching compassion
After witnessing the epidemic balloon and spread firsthand while doing clinical work, Griswold is now working with medical education to combat it. As the HMS director of medical student education in psychiatry, he is spearheading the revamp of the HMS curriculum to teach students better pain medicine prescribing practices, learn the signs of addiction and to de-stigmatize substance use disorders.
"It's my personal opinion that substance use disorders have not received the emphasis that they should in medical education," Griswold says, adding that his main goal in the curriculum reform is to encourage all students to have compassion, rather than judgment, for people who are affected by this condition.
Dean for Medical Education Edward Hundert leads curriculum changes for next generation of doctors. Photo: Steve Lipofsky Last fall, Dean for Medical Education Edward Hundert requested that Griswold represent HMS on the Governor's Opioid Addiction Working Group. The group, comprised of professors and faculty from the four Massachusetts medical schools, was developed to address the opioid epidemic through teaching the next generation of doctors how to prevent and treat prescription drug misuse.
All of the schools — Harvard Medical School, Boston University School of Medicine, Tufts University School of Medicine and the University of Massachusetts Medical School — have since been working on individualizing curricula to incorporate the competencies developed by the group.
The HMS Curriculum Cabinet unanimously endorsed the implementation of this opioid curriculum. Griswold and his colleagues are mapping all the competencies identified by the Governor's task force onto the four-year curriculum with a goal of having everything in place by next fall.
Changes to the HMS curriculum have already been implemented, starting with the main preclinical psychiatry course, "Introduction to Clinical Psychiatry and Psychopathology," directed by Griswold last fall.  This mandatory course for second-year HMS students now emphasizes opioid use disorder, medication assisted treatment and also contains presentations on adolescent substance use disorder. The first year Practice of Medicine course has been updated as well, to include a greater emphasis on opioid use disorder.
In clinical education, the goal of the curriculum change is to integrate additional reforms across all clerkships, rather than continuing to house substance use disorder training under psychiatry.
Beyond psychiatry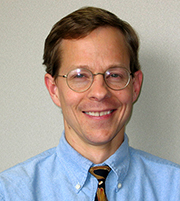 Todd Griswold, assistant professor of psychiatry at Cambridge Health Alliance"One challenge is that there are many different clinical sites working with many different faculty at Harvard Medical School," said Griswold. "Moving forward, one of the priorities of the curriculum reform will be to develop best practices for integrating the new curriculum across all settings — including all of Harvard's 16 teaching hospitals — in multiple clinical areas such as medicine and primary care, surgery, anesthesia and emergency medicine."
Regarding post-clerkship education, Griswold says that students who want to get a lot more training in this area currently have opportunities to take addictions electives. Although he is not an addictions psychiatrist himself, Griswold wants to leverage the depth and breadth of addiction expertise across HMS.
The medical students themselves have been passionate about the curriculum change. HMS medical students, including students from the Student Coalition on Addiction, have taken an active role in addressing the opioid epidemic.  "The students have been fantastic in terms of organizing themselves and advocating for changes in education related to substance abuse disorders," Griswold says. "I've met with them and have been in steady contact while working on curriculum development."
Changing perceptions
"There is always a challenge in the public sphere to get financial support or treatment for stigmatized conditions," Griswold says. "Substance abuse services are often the first ones to be eliminated when there are state budget cuts in healthcare."
According to Griswold, there are three changes that need to occur before reform on a highly stigmatized condition can work effectively. First, effective treatments need to be developed, then education among the general public in addition to the medical community, and finally, effective public advocacy.
Griswold believes there are now effective treatments developed, and is encouraged by the changes he sees happening in the medical community. The public perception of substance use disorders is steadily changing as well. "Looking at articles in the newspaper about the epidemic, it is not just being presented as a problem, but as a public health problem for which there are medical treatments."
However, there are still social battles to win before public advocacy will completely change the still stigmatized condition. "We see all three of these changes underway right now for substance use disorders," he says, "but we have a long way to go."
During his own medical school training, Griswold was doing a rotation in the detox unit at St. Luke's—Roosevelt Hospital. There, a psychiatrist who helped direct the unit gave him a piece of advice that has stuck with him since:  "I was told that a lot of people don't want to work with patients with addiction. But when people get better, they get really, really better."
@HMS
Editorial Staff
Editor: Katie DuBoff
Contributors: Shannon Patterson, Chelsea Keyes, Linda Miklas, Tania Rodriguez, Susan Vomacka