Growing Green: Sustainability Committee Covers Harvard Longwood Campus
Growing Green: Sustainability Committee Covers Harvard Longwood Campus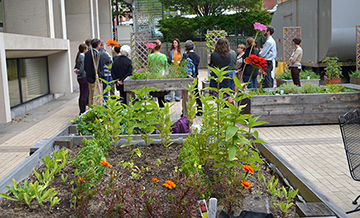 If you're going green, less is often more. But for the HMS and HSDM sustainability committee, bigger is better.
In an effort to make the most impact across the Harvard Longwood Campus, the sustainability team merged with the committee at Harvard School of Public Health, EcoOpportunity (EcoOp), in March. The green teams' unification into a single EcoOp committee enables Harvard students, faculty and staff from across the Longwood campus to standardize best practices and join together for a common cause. Events are now cross-advertised and meetings are held at both HMS and HSPH.
Since the spring, EcoOp members have been busy with hosting events, including the first combined Green Labs Competition, and with welcoming new leadership.
Creating Green Space
Most recently, EcoOp's garden subcommittee helped support Countway Community Garden's Harvest Festival in September. Volunteers and community members gathered to hear local herbalist Danielle Laberge lecture on the medicinal properties of herbs. Garden enthusiasts brought home-cooked baked goods, recipes and remedies to share at the annual event. Guests were also treated to tea made from some of the 30 varieties of herbs grown in the garden.
"It's about creating a space in this busy, concrete Longwood area where things can grow," said Ashley Sway, access services manager at Countway Library and Countway Garden co-manager. "We hope to encourage people to know that gardening in an urban environment is possible, it's fun, and it's sustainable."
In addition to supporting green space outdoors, EcoOp kicked of its first joint HMS-HSPH event in April with the 2014 Earth Week sustainability fair, followed by the rollout of the LMA's first Green Labs Competition in July.
Friendly Competition
In an effort to reduce energy use in laboratory spaces, EcoOp sponsored the Green Labs Competition over the summer, which included 144 lab participants from 16 labs across the HMS and HSPH campuses. In total, 29 -20oC freezers were defrosted, and 36 -80oC freezers were defrosted. Participants also discarded 28,229 unneeded samples.
Jon Clardy's lab, in the Department of Biological Chemistry and Molecular Pharmacology, won first place in this points-based competition. Points were awarded based on the number of freezers defrosted (with more points given for -80oC freezers than for -20oC freezers defrosted) and number of samples discarded. Points were also awarded for lab members who took an online survey, and also if they submitted a project or initiative that saved energy or reduced waste in their lab.
The new HMS Laboratory of Systems Pharmacology and Denesh Moazed's lab in the Department of Cell Biology, were runners up. These labs joined the HSPH winners, the Phyllis Kanki and Russ Hauser labs, in receiving a breakfast event for their great efforts. Many other lab members across the campus won bike helmets, sporks or reusable bags.
New Leadership
EcoOp's efforts are spearheaded by co-chairs Hardeep Ranu, research lab manager in the HSPH Department of Epidemiology; David Havelick, program manager in the HSPH Department of Epidemiology; and Katrina Rudnicki, HMS coordinator of operations at the Institute of Chemistry and Cell Biology-Longwood.
Ranu joined EcoOp in 2009 and is focused on engaging researchers and promoting energy and waste reduction practices in HSPH labs. Ranu became the newest co-chair in July.
Havelick has served EcoOp since it launched in 2008. "EcoOpportunity has provided a valuable way to develop skills, to connect with people from across the Harvard Longwood Campus, to work on initiatives that really make a difference and to learn more about sustainability and the way institutions of higher education work," he said.
Rudnicki became involved with the HMS Green Team in 2005 when she noticed there was a push to increase recycling in offices and kitchens, and thought more attention could be focused on encouraging sustainable practices and purchasing for the labs.
"It has been a lot of fun for me to help my lab and other labs on campus become aware of sustainable practices," she said. "The consolidation of the HSPH and HMS/HSDM committees is really a step in the right direction. We're keeping sustainability efforts moving forward at HMS and are boosting the visibility of our efforts."
Moving forward, EcoOp's biggest job may be to inspire the members of the LMA to join together reduce their environmental and health impacts," said Ranu. "We want to help the Harvard Longwood Campus become a leader in sustainability efforts at Harvard University."
To learn more information about EcoOp visit http://www.hsph.harvard.edu/ecoopportunity/ or attend an upcoming meeting. Contact ecoop@hsph.harvard.edu for more information.
@HMS
Editorial Staff
Editor: Katie DuBoff
Contributors: Shannon Patterson, Chelsea Keyes, Linda Miklas, Tania Rodriguez, Susan Vomacka