Emergency Preparedness
Emergency Preparedness
When an emergency occurs, the need to communicate is immediate. If IT operations are disrupted, customers will want to know how they will be impacted and administrative staff may need to be notified.
An important component of the preparedness program is the crisis communications plan. All of IT must be able to respond promptly, accurately and confidently during an emergency in the hours and days that follow. Many different audiences must be reached with information specific to their interests and needs. The image of the department can be positively or negatively impacted by public perceptions of the handling of the incident. In an attempt to streamline and increase communications during stressful events IT has implemented a SMS system around Group Me.
Why we chose GroupMe:
GroupMe has been selected as communication vehicle for HMS IT because it is designed specifically for group communications. GroupMe is solely for emergency communications, so that HMS IT staff members and HMS/HSDM system administrators can stay in contact during a service outage that prevents email communications.
 
Who to contact with questions:
GroupMe is an "invite only" list – IT will invite you when services your department relies on are effected
Contact the IT Service Desk with any questions.
When should we use it:
GroupMe is used internally by IT as an emergency communication tool in the event of a quad-wide IT service outage  (e.g. email, file server access, Internet connectivity). IT will include you with any event impacting a service supported/needed by your department.
Here is the streamlined workflow process we have defined for extreme emergencies when many IT staff need to be mobilized at once.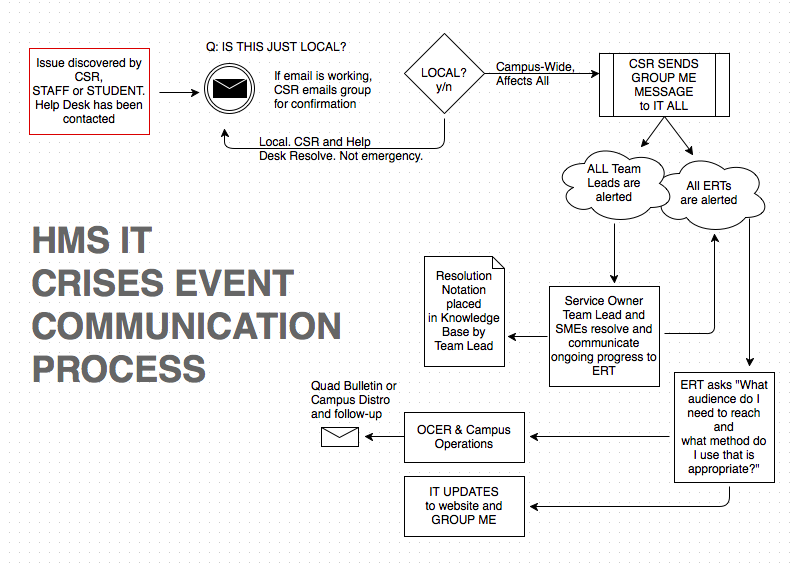 You can learn more about Emergency Preparedness at Harvard Medical School by visiting the HMS Emergency page.