2008 Prize Recipient
For helping to enlighten the nation on the importance of brain research through his frequent interviews with dedicated scientists in the field.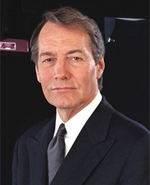 Emmy award-winning journalist Charlie Rose is executive editor and anchor of Charlie Rose, the nightly one-hour interview program that engages in one-on-one in-depth conversation and round table discussions about important issues and ideas of our time.
Since 1991, Charlie Rose has become a unique venue for individuals in politics, performing arts, literature, film, science, medicine, and business.
Charlie Rose has received numerous journalistic awards and honorary degrees. He is a member of the Council on Foreign Relations.  He has also agreed to be a contributor to CBS News 60 Minutes.
Charlie Rose was born in Henderson, North Carolina. He graduated from Duke University with a BA in history and a JD from the Duke Law School. He lives in New York City.
On the
Brain
Since 1992, the Institute has published On The Brain, a newsletter that focuses on topics in neuroscience.