Academic and Attendance Requirements
Academic and Attendance Requirements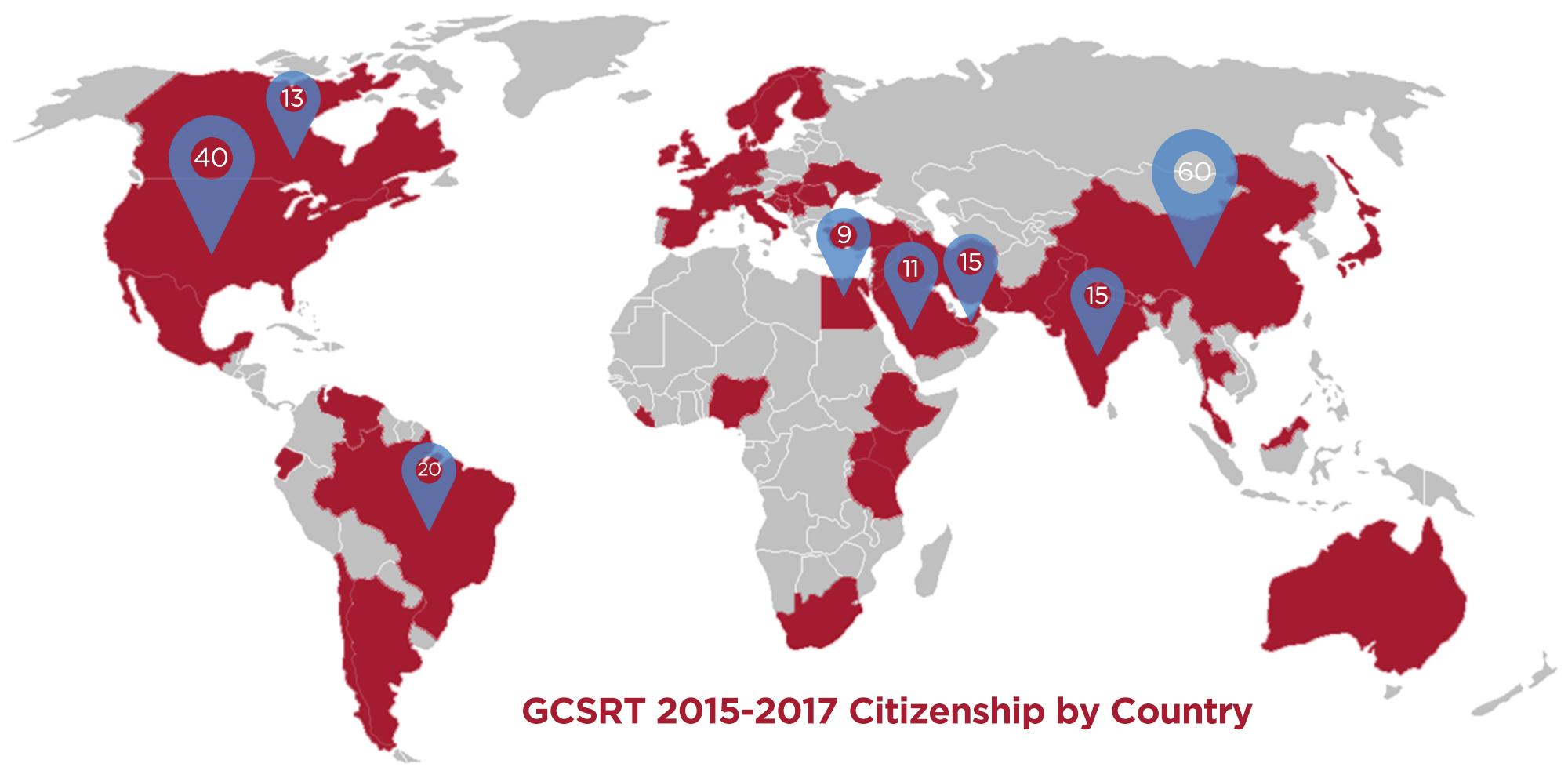 GCSRT 2015-2017 Citizenship by Country (Red countries represent 2015-2017  GCSRT students' citizenship)
To obtain a "Certificate of Completion" GCSRT students must fulfill all of the program's academic and attendance requirements listed below:
ACADEMIC REQUIREMENTS
GCSRT Foundation Courses
The GCSRT Foundation Courses curriculum provides a strong foundation of knowledge and skills across the broad spectrum of clinical science. Students are required to complete all related individual course-related assignments and receive a "pass" by participating in all components of the foundation courses.
Concentration and Elective Courses
All GCSRT students must meet the requirements of the concentrations and elective courses in which they are enrolled.
Submission of Course-Related Assignments
The program requires all assignments, typically quizzes, to be submitted on time and achieving a passing score (a minimum score of 70% unless otherwise noted).
Team Assignments
Students are put into teams at the beginning of the year. Each student must actively contribute to all five (5) team assignments.
Examinations
The program requires that students must pass two multiple choice question exams to demonstrate proficiency in learning the presented material: the first (midterm exam) will be held in December and the second (final exam) will be administered in May.
Capstone Proposal
The program requires the Capstone Proposal, as well as the peer reviews, to be submitted by the appointed deadlines noted in the timeline provided at the beginning of the year. A "pass" must be obtained on the final submission.
ATTENDANCE REQUIREMENTS
Attendance at Workshops
Attendance at the workshops is a required feature of this program. 
Attendance at Webinars and Team Presentations
The program requires students to attend scheduled live webinars. However, if a student cannot attend the live webinar due to occasional scheduling conflicts, it is possible to review the recording of the webinar. Students are expected to attend a minimum of 75% of all live webinars.