Loyal Support Lives On
Financial Aid and Education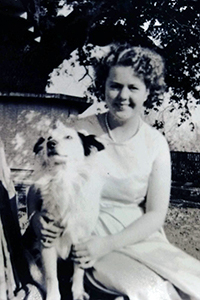 Intelligent. Quiet. Kind. That's how Jennifer Granko describes her Aunt Meta. Born in Richmond, California, in 1915, Meta Strickling was the eldest of two children. Her dream was to go to college and become a French teacher, but it was too costly, so she attended secretarial school instead. Eventually, she became a stockbroker— "she was a bit of a pioneer," Granko says.
Sadly, Strickling was widowed twice before meeting John Tomasch, MD '31, a young bachelor who lived in her apartment complex. They both loved travel and adventure. After they were married, they traversed the world, including taking many hot air balloon rides along the way. In retirement, they were avid golf partners. Meta Strickling Tomasch loved golf so much that her friends would say, "If they opened your head, it'd be full of golf balls." 
Having the opportunity to pursue this education without the stress of a heavy debt burden has given me the freedom to use my curiosity to shape a future in which I hope to touch many lives.