Honoring a Decades-Long Friendship
Cutting-Edge Research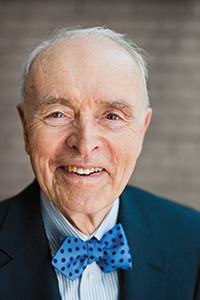 John F. "Jack" Cogan Jr., AB '49, JD '52, and John A. Mannick, AB '49, MD '53, were extremely accomplished. Cogan, who died in January at the age of 93, was a former managing partner and chairman at the Boston law firm Hale and Dorr (now WilmerHale), where he worked for nearly 50 years. He was simultaneously a leader in the financial services industry. Mannick, who died in October 2019 at the age of 91, was an international pioneer in vascular surgery who served as surgeon-in-chief at Brigham and Women's Hospital (BWH). He was equally influential as a researcher, providing seminal contributions in transplantation immunology.
As impressive as those credentials are, each man's greatest accomplishment may be the one they achieved together: a 74-year friendship. The two met as undergraduates at Harvard College in Kirkland House in 1945, when Mannick was roommates with Cogan's brother Charles. Though they were both freshmen, Jack Cogan was two years older than Mannick because he had enlisted in the Navy after high school, serving during the World War II battle for Okinawa. Mannick would later serve in the Korean War as a U.S. Air Force flight surgeon.
The pair's friendship was fortified over the ensuing decades via dinners, family vacations, and regular tennis matches. By 2019, "They were each other's oldest friend on the planet," says Catherine V. Mannick, JD '82, AM '89, one of John Mannick's three daughters. "As the two of them aged together and friends and family left them, their bond became very, very strong."
My dad would have been incredibly moved. He would have been speechless and honored.