Appreciative alumni provide crucial support
Alumni gifts in FY20 ranged from $10 to over $100,000, with a median of $250 and average of $2,344.
Harvard Medical School alumni give for myriad reasons: to show gratitude for the School's exceptional impact on their lives, to honor the people who made their time as a student memorable, to help future generations of HMS students achieve their dreams, and to empower the research community to make life-changing discoveries.
Whatever the reason, philanthropy offers alumni a tangible way to support the School's mission. In fiscal year 2020—July 1, 2019, through June 30, 2020—that tangible impact amounted to more than $5 million raised by nearly 2,200 MD alumni. The majority of alumni designated their gifts to support two areas: financial aid and education, which helps ensure that the School is accessible and affordable for all admitted students, and "where it is needed most," which provides vital, discretionary funding that HMS Dean George Q. Daley, AB '82, MD '91, PhD, can leverage to propel his plans and vision for the future of the School.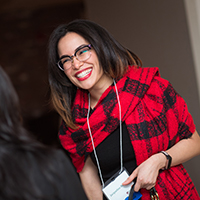 Jacqueline Boehme, MD '15, a former Alumni Council member and a member of her 5th Reunion Committee, who was a financial aid recipient, gives back despite her limited resources as a resident. She participates in the recurring giving program, directing her monthly support to the Community and Diversity Fund.
"It's essential to promote diversity within an educational environment," says Boehme, a former Alumni Council member who recently started a critical care fellowship in Florida. She credits HMS with giving her the confidence to seek success, and she encourages others to get into the early habit of giving regularly.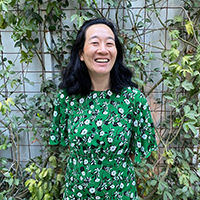 Joanna Mimi Choi, MD '09, a new member of HMS's Federman Loyalty Circle after making her fifth consecutive annual gift, says her motivation to give stems in part from having received a generous loan forgiveness award from HMS.
"When I graduated, that gave me the freedom to pursue the career I wanted, in terms of pursuing public health and working with the underserved," says Choi, a member of the Alumni Council who works as a pediatrician in California. She chose to let the School decide where her gift is needed most.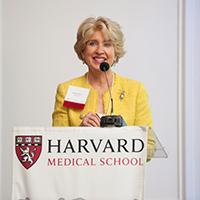 Julia Haller, MD '80, ophthalmologist-in-chief at Wills Eye Hospital in Pennsylvania, directed her support toward revitalization efforts at the Tosteson Medical Education Center (TMEC) in honor of her 40th Reunion, for which she volunteered as a co-chair. "The TMEC and its orientation and simulation facilities help steer the best and the brightest as they take their first clinical steps," says Haller, who named an orientation room in the Clinical Skills Center with her gift.
A member of the Dean's Council, which is HMS's leadership annual giving society, and the Federman Loyalty Circle, Haller says HMS has had a huge impact on her life. "I still hear mentors' voices," she says.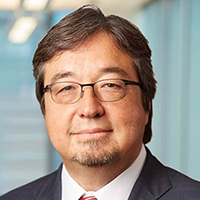 Alfred Sandrock Jr., MD '88, PhD '88, gave in honor of Ed Furshpan, PhD, and David Potter, PhD '56, both former HMS neurobiology professors who died in 2019. He credits them with teaching him not only about neuroscience but also about being a citizen of the world.
"They believed in helping underrepresented minorities, and their actions spoke loudly. They were role models in every sense of the word," Sandrock says.
A member of the Dean's Council and executive vice president of research and development at Biogen, Sandrock's recent gift through his donor-advised fund (DAF) supports the Ed Furshpan and David Potter Native American High School Summer Program and the REACH Scholarship Fund, which makes it more feasible for those who are historically underrepresented in medicine to accept their offers of admission. He says a DAF is an easy way for him to budget his philanthropy and earn tax benefits.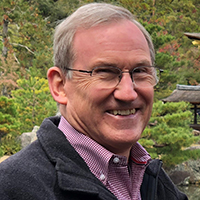 Robert Shamberger, MD '75, former chief of surgery at Boston Children's Hospital and co-chair of his 45th Reunion Committee, says supporting student scholarships is one of the best ways to guarantee that HMS is accessible for all promising students. He funded his scholarship gift by transferring money from his IRA, which he says allowed him to avoid federal income tax on the IRA distribution.
"I believe that all of us who have graduated from Harvard Medical School owe a debt to the School for our education and for propelling our careers forward," says Shamberger, who is a member of the Dean's Council and Federman Loyalty Circle.