Attacking Lyme Disease From All Angles
Cutting-Edge Research, Therapeutic Innovation, Financial Aid and Education
A single tick bite can transmit multiple disease-causing organisms. Infections with more than one organism can result in wide-ranging disease presentation and may alter how the immune system responds to the infection.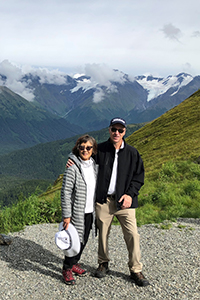 To the Fairbairns, the symptoms—debilitating fatigue, joint pain, cognitive problems—were as worrisome as they were mystifying. All four members of the family had them.
Eventually, all four—parents Emily and Malcolm Fairbairn, MBA '94, daughter Nina Fairbairn, AB '17, and son Grant Fairbairn, Harvard College Class of 2021—tested positive for the bacterium that causes Lyme disease. After months of hitting diagnostic brick walls, the family had a unifying explanation for their symptoms, yet getting them under control took a year. Their conditions are now chronic, with recurrent flare-ups that require ongoing medical management.
The family's experience is not uncommon. In an effort to help spare others with the disease a similar odyssey of pain, worry, and confusion, the Fairbairns have made a $5 million donation to Harvard Medical School, split among three current-use funds supporting different Lyme disease initiatives. This support builds upon the family's previous $1 million gift to HMS to advance Lyme research.
"I call Lyme the Rodney Dangerfield of diseases. It gets no respect," Emily Fairbairn says. "For our family and others who have contracted Lyme disease, the status quo is unacceptable. In order to take on the status quo, we have to bring in world-class researchers."
The Fairbairn Family Neuro-Immunology Lyme Disease Research Fund provides $2 million to be shared by Jun Huh, PhD, and Isaac Chiu, AB '02, PhD '09, both assistant professors of immunology in the Blavatnik Institute at HMS. "There is growing evidence that in the setting of infection, the immune system and the nervous system engage in a complex interaction," Chiu says. "We hope to understand exactly how this happens in the setting of Lyme disease, which can in turn inform the design of therapies that can minimize tissue damage or even prevent disease development following infection with the pathogen."
A second $2 million gift establishes the Fairbairn Family Lyme Disease Seed Research Fund. This funding will support grants for researchers looking at different aspects of Lyme disease at HMS and its affiliated hospitals, with a goal of investigating more broadly how the bacteria that cause Lyme disease interact with cells, tissues, and organs and can result in acute and chronic disease— knowledge that can inform new and more effective diagnostics and therapies and could help propel vaccine research.
"These grants will facilitate cutting-edge, adventurous science and the ability to ask questions that are going to move the field forward in jumps instead of incremental steps," says fund administrator Mark Namchuk, PhD, executive director of therapeutics translation at HMS.
A third gift of $1 million launches the Fairbairn Family Lyme Disease Education Fund, which supports efforts to inform the public about ways to prevent Lyme disease and about the latest research on the pathophysiology of the condition.
Most of the funding will be used to develop new content for Harvard Health Publishing, which provides health information to people around the world, drawing on the expertise of more than 11,000 HMS faculty physicians.
"As a top-tier research institution, we have incredible reach," says David Roberts, MD '95, HMS dean for external education, who will administer the fund. "By leveraging this platform, we can greatly improve understanding of this disease and the lives of those who are affected."
Even though official reports put the annual number of Lyme disease cases at around 300,000 people per year, the National Institutes of Health estimates that the actual number is much higher. Other tick-borne infections have also increased dramatically in recent years.
"Much more needs to be done to better understand this complex disease and its devastating consequences," says Emily Fairbairn. "In recent years, NIH funding for Lyme disease research has amounted to less than $90 per newly diagnosed patient per year. For context, West Nile Virus has received about $20,000, and this disease needs billions of dollars, not millions. We are hoping that this investment will make strides in attracting even more funding to better understand, prevent, and treat this important disease."
There are no consistently accurate tests for Lyme disease, and most diagnoses require complex clinical assessment and astute clinical judgment in addition to testing for the causative organisms. For people who develop chronic forms of this disease, there is no established cure and the most common treatments do not work reliably for everyone.