Burroughs Wellcome Fund Career Award for Medical Scientists
Burroughs Wellcome Fund Career Award for Medical Scientists
HMS Deadline: April 7, 2015
Foundation Deadline: October 1, 2015 (Anticipated deadline)
Number of Harvard nominations: Five. If a woman or underrepresented minority is nominated within the initial five candidates, a sixth candidate may be nominated provided that candidate is a woman or underrepresented minority.
Description: The Burroughs Wellcome Career Award for Medical Scientists addresses the ongoing problem of increasing the number of physician scientists and keeping them in research. The Burroughs Wellcome Fund believes that this bridging award, supporting the last year(s) of a mentored position in addition to supporting the beginning years of an independent position, will facilitate the transition to a career in research.
Proposals may be in the areas of basic biomedical, disease oriented, and translational research. Burroughs Wellcome Fund encourages nominations from candidates who work in reproductive science. Proposals in epidemiology should contact the foundation to determine eligibility. Proposals in health services research or involving large-scale clinical trials are ineligible.
Amount of support: $700,000 over five years
Eligibility Requirements:
Applicants must:
Have an MD, DDS, DVM, or equivalent clinical degree.

Be a clinical fellow, resident, instructor (non-tenure track), or a postdoctoral researcher and have at least 2 years of research experience by October 1, 2015. Instructors are eligible only if they were appointed on or after July 1, 2013.

Not be more than 120 months past their most recent doctorate on October 1, 2015.

Devote a minimum of one year and a maximum of two years to the postdoctoral portion of the award.

Be committed to a full-time career in research as an independent investigator at a North American degree-granting institution.

Devote at least 75% of their time during the award period to research-related activities.

Be citizens or permanent residents of the U.S. or Canada at the time of application.

Candidates that have faculty appointments with institutional start-up funds or hold an R01 grant from the NIH are not eligible. Candidates cannot hold concurrent BWF awards or NIH K99/R00 awards.
Application Instructions: See standard HMS Foundation Funds application form and instructions.
URL: www.bwfund.org/pages/188/Career-Awards-for-Medical-Scientists/
Additional notes: Harvard University is the nominating institution for these awards. Therefore, the HMS Foundation Funds Committee will select HMS' nominees and subsequently forward their applications to the University Committee on the Biological Sciences (UCBS). Likewise, applications from all other Harvard schools will also be submitted to the UCBS. Final review/selection of applications will be conducted by the UCBS.
Our
Mission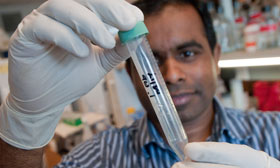 To create and nurture a diverse community
of the best people committed to leadership in alleviating human suffering caused by disease