Burroughs Wellcome Fund Career Award for Medical Scientists
Burroughs Wellcome Fund Career Award for Medical Scientists
Foundation Deadline: October 1, 2015 (Anticipated deadline)
Number of Harvard nominations: unlimited
Beginning with the 2015 deadline, the Career Awards for Medical Scientists (CAMS) and the Investigators in the Pathogenesis of Infectious Disease (PATH) programs will move from institutional nominations to self-nomination.  All proposals must be submitted from accredited degree-granting institutions in the U.S. or Canada on behalf of the applicant. 
Applications must be approved and signed by an authorized official responsible for sponsored programs (grants/contracts office, office of research, etc.) at the degree-granting institution prior to the submission deadline.  Candidates must be citizens or permanent residents of the U.S. and Canada.
If you are interested in applying for this award. Please coordinate with HMS Sponsored Programs for institutional signature. The signature MUST come from HMS Sponsored Programs. 
URL: www.bwfund.org/pages/188/Career-Awards-for-Medical-Scientists/
Our
Mission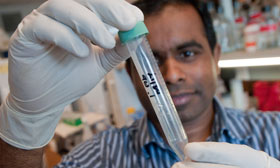 To create and nurture a diverse community of the best people committed to leadership in alleviating human suffering caused by disease