Loan Repayment Assistance Program (LRAP)
The Harvard Medical School Financial Aid Office is pleased to continue a pilot debt-relief scholarship program targeted to alumni who have just completed their post-graduate medical training (residency/fellowship). Funding for this program is currently available through 2015. This program, called the HMS Loan Repayment Assistance Program (LRAP), has been established as part of the graduate/professional financial aid initiative announced by former Harvard University President Lawrence Summers. LRAP is designed to provide debt-relief scholarships to young alumni with modest incomes and high debt-to-income ratios. By helping to address the financial challenges that can dissuade HMS alumni from accepting employment in public service positions, we hope to expand the range of job options that our graduates can consider in the critical early years of their careers.
The LRAP pilot is funded from July 1, 2003 through June 30, 2015. The program is currently being offered to HMS graduates from the classes of 1997 and later who have completed their residency/fellowship training. In the event that applicant demand exceeds available funds, first priority will be given to those working in public service areas such as primary care of the medically underserved, health policy, and clinical research. The HMS Financial Aid Office will use the data gathered during this pilot to study the feasibility of eventually offering guaranteed debt-relief scholarships to all HMS graduates meeting the LRAP eligibility criteria.
Eligible Jobs
First priority for funding will be given to those physicians working full-time pursuing public service careers in traditional MD fields. While we have initially identified primary care of the medically underserved, health policy, and clinical research as areas of urgent national need, we welcome applications from other types of positions as well. Please note that HMS reserves the right to redefine public service priorities at any time. As part of the application process, alumni are asked to submit personal statements explaining how public service fits into their current positions and overall career plans.
LRAP awards are generally based on estimates of future income. Estimated LRAP awards are always verified and adjusted retroactively if necessary, once actual earnings can be documented from tax returns.
While LRAP is normally limited to those graduates employed on a full-time basis, the program will provide assistance for up to six months for a parental leave. LRAP will also cover part-time work after the birth or adoption of a child.
We strongly encourage students and graduates who are unsure as to whether their planned employment will meet the program criteria to consult with the Financial Aid Office. Graduates are strongly cautioned not to rely on LRAP support without having received an award notice from the Financial Aid Committee.
Eligible Borrowing
LRAP is solely and specifically intended to be used to repay eligible education loans. Eligible borrowing includes all education loan program borrowing. While all educational loan borrowing is considered, this program is intended to assist specifically with debt incurred pursuing the MD degree. Disproportionate borrowing as a result of other degree pursuits may impact eligibility for LRAP funding. When applying or reapplying for LRAP, participants must document that their loans are in good standing, with no past-due payments. LRAP assistance will not be offered for past-due loans.
LRAP assistance is not available for loans from family and friends, for credit card and consumer debt, or for personal loans from banks or other sources. There is no retroactive assistance and no assistance for periods of loan forbearance or deferment. In order to be remain eligible for LRAP, graduates must provide proof of good standing from the servicers of all applicable loans and may not have an outstanding term bill balance with Harvard University.
Income and Asset Guidelines
Participants allocate, according to the Expected Contribution chart included in this document, a limited percentage of their earnings toward their total annual education loan repayment. LRAP will provide grant assistance to cover any difference between the graduate's total eligible debt payments due in that year and the expected contribution toward eligible loan payments.
Graduates with spouses or domestic partners will be evaluated on the basis of either (1) their own income (if their spouse/partner makes less than they do), or (2) half of the joint income (if the spouse/partner makes more than the LRAP participant). Any annual education loan payments for the spouse/partner will be subtracted from his/her income before determining the joint income. A dependency allowance of $6,000 for each child, plus reasonable expenses incurred for child care are taken into consideration before determining the expected contribution rate; allowances are applied proportionately to the salaries of each parent.
Assets are taken into consideration in determining the amount of an LRAP award. Graduates will receive an asset protection allowance of $15,000. For applicants with spouses or domestic partners, the protected asset amount is doubled.
Salary Guidelines
Gross Income
Expected Contribution Towards Loan Payments*
$90,000 or less
none
$90,001-$109,999
28% above $90,000
$110,000-$134,999
35% above $110,000, plus $5,600
$135,000 or more
50% above $135,000, plus $12,500
*before adjusting for contribution from assets, if any.
**Please note: Salary guidelines are specific to HMS Alumni pursuing traditional fields in the practice of medicine. Awards are based upon availability of funding.
LRAP will provide assistance for up to six months for a parental leave. LRAP eligibility will be calculated as if the graduate were working full-time during this period.
LRAP also covers part-time work after having children. This policy applies only for parents of children not yet of age to enter first grade and part-time work must be at least half time. For purposes of eligibility and contribution rates, the full-time salary equivalent is considered.
If two HMS graduates are married/partnered to each other and would both qualify for LRAP based on their individual incomes, then both can participate independently in the program. Total joint assets will be divided equally between the two participants in the LRAP evaluation.
Special Note Concerning Domestic Partners: Participants listing domestic partners on their applications will be required to complete a Statement of Domestic Partnership.
Tax Considerations:
LRAP assistance is reported to the IRS as "other income" for the tax year in which it was received, and a Form 1099-MISC is issued. For this reason, the LRAP award includes an additional 25% allowance toward the tax liability.
Application Process:
Because this program is still in a pilot phase, we are currently able to accept applications only from those alumni from the classes of 1997 and later who complete their post-graduate training (residency/fellowship).
Applicants are expected to first apply for any government or employer sponsored loan repayment programs for which they are eligible. Alumni already receiving assistance through such programs will ordinarily not be considered for LRAP assistance.
Applicants enter the program by submitting the LRAP application along with the supporting documentation described below. The application deadlines for LRAP assistance are July 15 for the July - December award cycle and January 15 for the January - June award cycle.
Applicants must also submit an Employer Certification Form and documentation of good standing from their lenders. In addition, participants must also provide signed copies of their 2014 federal tax return and w2 forms.
Participants are required to report changes in income, job, monthly loan payment amounts, employment status, family size or other financial circumstances promptly; the level of LRAP assistance will be adjusted accordingly.
Our
Mission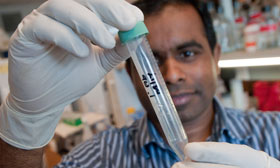 To create and nurture a diverse community of the best people committed to leadership in alleviating human suffering caused by disease