Josiah Macy Jr. Foundation honors former president with Academy professorship
In 2001, George E. Thibault, MD '69, helped establish the Academy at Harvard Medical School to recognize outstanding teachers and to promote innovations in medical education.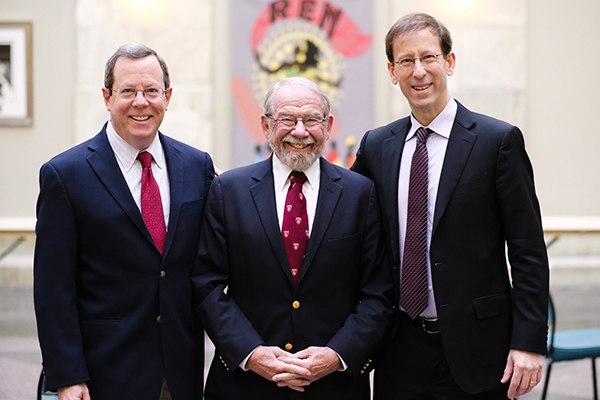 Fast forward 17 years, and Thibault found himself reflecting on his career as a medical educator while delivering the Medical Education Grand Rounds at HMS, a monthly series hosted by the Academy.
At the close of the April event, Dean for Medical Education Edward M. Hundert, MD '84, announced that the Josiah Macy Jr. Foundation, which is the only national foundation dedicated solely to improving the education of health professionals, had established the George E. Thibault Academy Professorship at Harvard Medical School with a gift of $2 million. The professorship honors a decade of impactful foundation leadership by Thibault, who stepped down from his role as president in June.
"One of the most meaningful things we have in academia is an endowed chair for a beloved mentor whose name can ripple through the generations because of the impact they've had and continue to have through their mentees."
Dean for Medical Education Edward M. Hundert, MD '84