Omenn invests in rising stars in biomedical informatics
Inspired by his enriching experiences as a Harvard Medical School student—engaging in productive laboratory research, participating in the Second Year Show, and serving as class president, to name a few—Gilbert S. Omenn, MD '65, PhD, has always endeavored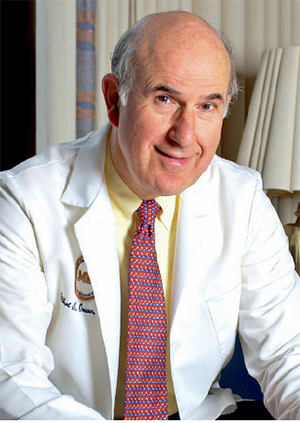 A professor of computational medicine and bioinformatics, internal medicine, human genetics, and public health at the University of Michigan, Omenn was a key advocate in urging HMS to create a formal Department of Biomedical Informatics (DBMI), which it did in 2015. Now, he's strengthening the department with a $2 million gift to establish the Gilbert S. Omenn, MD '65, PhD Associate Professorship in Biomedical Informatics. This endowed professorship will help HMS recruit and retain outstanding young faculty.
"I'm really excited about this gift," says Isaac Kohane, MD, PhD, Marion V. Nelson Professor of Biomedical Informatics and chair of DBMI. "Gil has helped get the best and brightest to join our efforts to change the way medicine is practiced, to more of a knowledge- and data-driven discipline. This gift enables us to bring together people with quantitative reasoning skills and an understanding of molecular biology and genetics. We can recruit these rising stars by providing a named professorship to recognize them and further accelerate work at Harvard Medical School."
Kohane further praised Omenn for his contributions to the department. "Gil has also been very helpful in directing us programmatically to the most scientifically rich areas to explore and suggesting an important set of industrial and academic strategic relationships to help further the department's agenda," he said.
Omenn, who is chair of the HMS Visiting Committee, a member of both the Advisory Committee on Education and the DBMI Advisory Council, and former president of the Harvard Medical Alumni Association, is proud to invest in the development of the department. He says there's a shortage of specialty training in this rapidly expanding scientific discipline—a field he stresses is critical to the future of human health.
"Biomedical informatics is essential for analysis and modeling of big data from genomics, proteomics, neurosciences, electronic medical records, and wearable sensors. And it is essential for predictive, preventive, personalized, precision medicine."
Gilbert S. Omenn, MD '65, PhD